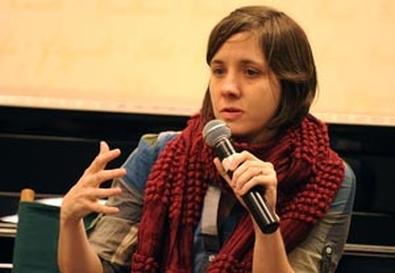 Heidi Armbruster was visiting family in Wisconsin on April 16 when she got the call about "The Call." In two days, the New York actor would fly to Seattle, where she would begin rehearsals for the world premiere of Tanya Barfield's new play at Intiman Theatre. But then the phone rang. On the other end of the line was Armbruster's director, Andrew Russel, who also was the Intiman's associate director. He informed Armbruster that Intiman's board of trustees had that morning canceled the remainder of the theater's 2011 season and laid off its staff. Armbruster was losing an eight-week job. Russel had lost a permanent one.

"I think the big thing to remember is that of course there's sadness and disappointment at not being able to work on this play," Armbruster said. "But then you think, 'Well, everybody in Seattle lost their jobs too.' It's almost easier as an actor, because I'm sort of accustomed to being unemployed."

"The Call" was one of four productions canceled when the Intiman board shut down the season. Three of those plays—"The Call," Julia Cho's "The Piano Teacher," and Colman Domingo's one-man show "A Boy and His Soul"—were fully cast. Intiman management had already quietly begun making preparations to move the fourth—J.M. Synge's large-cast "The Playboy of the Western World," to be helmed by Intiman artistic director Kate Whoriskey—off the schedule, despite public assurances that the theater's recent financial trouble would not impact its artistic program.

That trouble became public knowledge in February, when the theater announced that it needed to raise $500,000 by the end of March and another $500,000 by the end of September to continue operating. At March's end, the prognosis looked good. Board president Kim Anderson said in a statement at the time that the theater had raised $450,000—$50,000 short of its goal, but enough to provide "a clear signal that encourages us to keep moving forward." The theater would stay open.

But two weeks later, everything changed. Consulting managing director Susan Trapnell, who had been hired in March to help the board develop a long-term plan for financial stability, told The Seattle Times that, in retrospect, fundraising goals "weren't set high enough" to save the season. In addition to canceling 2011's remaining productions, the theater would lay off its entire staff of roughly 20—including Whoriskey, a headline-making hire who not even two years earlier had been handpicked by the highly regarded Bartlett Sher to succeed him as artistic director.

"I've never been in a position where I've had to tell so many people that they don't have work, and it's very hard," Whoriskey told The New York Times, adding that she would be returning to New York immediately to resume her directing career.

In an email sent to Back Stage on April 21, the staff's last day in the office, Intiman director of institutional advancement Becky Lathrop wrote, "On behalf of the staff, I can say that we are all disappointed that the season could not come to fruition. However, we have high hopes for Intiman finding a way to reopen/reinvent/regroup, and we wish the stakeholders success in their attempts to do that."

Since going public in February about the theater's financial condition, the Intiman's leadership had emphasized that the troubles were due largely to mismanagement by former managing director Brian Colburn. But the theater was hardly alone in its predicament. Regional theaters, like all other artistic institutions, have taken a beating in the great economic downturn.

"When someone's based out of New York, it's much easier for regional theaters who have been struggling financially to cast locally," said Armbruster, who was scheduled to appear alongside a mix of New York and Seattle actors in "The Call." "I would say that I have felt sort of a shrinkage in the opportunities in the regions for actors that are in New York."

One of Armbruster's would-be castmates in "The Call," Sameerah Luqmaan-Harris, was also preparing to fly out to Seattle when she was informed that the season had been canceled. She sees hope in the success the Intiman had in rallying its supporters, even if those efforts weren't enough to save the season.

"People want to keep regional theaters alive, and I think there's been a great push to keep the Intiman alive," she said. "I think the reason that they're closing is so that they can fully address all their internal budgetary issues, so that they can come back for future seasons."

Luqmaan-Harris has since received notes of thanks and support from Barfield, Russel, and Whoriskey. Like Armbruster, she said that the greatest disappointment is artistic—not seeing the play get the premiere it deserves. But, for the immediate future, it's back to the work of looking for work.

"It's a good reminder of the business that we're in and that nothing is guaranteed," Luqmaan-Harris said. "I truly believe that something great is just around the corner. I'm just back to auditioning and trying to get the next show."