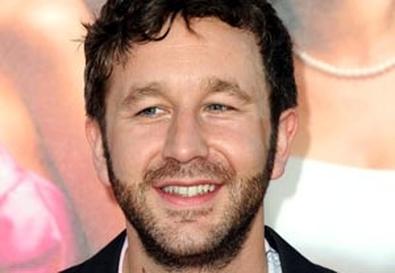 Unless you're an avid fan of British sitcoms, chances are you haven't heard of
Chris O'Dowd
. But as hapless computer technician Roy on "
The IT Crowd
," the Irish O'Dowd rose to popularity on the comedy, which airs in America on IFC. And after appearances in such films as "Pirate Radio," "Dinner for Schmucks," and "Gulliver's Travels," O'Dowd is set to make his biggest splash yet in "
Bridesmaids
," playing a police officer who develops a crush on Kristen Wiig's harried Annie. Below, what you need to know about the charming O'Dowd:
1. He likes his anonymity
.
Though "Bridesmaids" director Paul Feig was a fan of "The IT Crowd," O'Dowd says he's pretty sure nobody else involved with the film knew who he was. "Obviously, I'd be a complete stranger to most people," he admits. "When I auditioned for 'Bridesmaids,' it was last May and I don't think any of my other films had even come out. And that's okay; I have no problem at all with people not knowing who I am. I think it's more fun and exciting for people to discover me."
Though it helps to have friends in high places— in "Gulliver's Travels," O'Dowd worked with Jason Segel, a frequent collaborator of "Bridesmaids" producer Judd Apatow. "Judd called around and got some references, and I believe Jason was kind enough to say some positive things about me. Thank goodness I decided to be nice to him; it finally paid off."
2. He's not sure he was ever actually offered the "Bridesmaids" job
.
After an initial audition, O'Dowd was sent to meet with Apatow. What was that like? "Just a lot of cocaine," O'Dowd jokes. "No, it was actually a little weird. I went to his offices in Santa Monica and the other producer was there and we just had a nice chat. At the end of the meeting, he said, 'Yeah, I think this is going to be fun, I think you're going to enjoy yourself.' So I kind of realized I must have got it. There was no point where they actually said, 'You're doing the film.' It was weird, but I was too excited to care."
3. He says he's better at auditions than in the actual films
.
O'Dowd is the rare actor who will admit he does well in audition situations. "I always feel like I have nailed the whole idea of being in a room for 20 minutes. Four months on set, I'm a pain in the arse," O'Dowd remarks. "But in 20 minutes, people don't get bored of me."
4. He's done his time in dramas, but prefers the world of comedy
.
O'Dowd studied at the London Academy of Music and Dramatic Art (LAMDA), where he first began to find himself being drawn to comedy. "Sometimes the whole drama world is great, but it takes itself very seriously sometimes. I find it hard to not laugh at that kind of stuff," he notes.
Though he has appeared in such dramas as "Vera Drake" and the British miniseries "The Crimson Petal and the White," he finds himself more challenged by comedy. "I don't know if it's harder, but I think comedy needs more work. You're much more conscious of when you're failing at it, thanks to the incredible lack of laughter. Whereas drama is a much more subjective kind of thing. Some people can think what you're doing is great, while others might not. But comedy works if people laugh. If they don't, it's not working."
5. He doesn't mind being the girl
.
In "Bridesmaids," O'Dowd plays the love interest to Wiig's main character, and he patiently waits for her to figure out that he's the right guy. It's a gender role reversal from most romantic comedies, which the actor embraced. "I was conscious of that, and I kind of loved it. It's been far too long since we've had a believable female ensemble comedy like this. And to play any kind of part in that is nice." O'Dowd adds that he is often the straight man in some of the more outrageous scenes. "My stuff is very grounded; there are no pratfall moments for me. I made a point of just trying to play everything very real and very natural."
6. He would love to star in a musical
.
Up next, O'Dowd will appear in the film "Friends With Kids," which reunites him with "Bridesmaids" co-stars Wiig, Jon Hamm, and Maya Rudolph. But when asked about his dream role, he says he'd be interested in a musical. "If I could find a musical that was believable—like, I understood why they were singing—I would be up for it. A film like 'Once' does it really well, so I'd love to do something like that...but a bit wacky. So if you could make that happen for me, it would be great."
Mention a sequel to "Bridesmaids," and inspiration strikes. "Wait, let's do 'Bridesmaids 2' as a musical!" he exclaims. "Could you write that this is confirmed, just so I can see the look on Judd's face?"