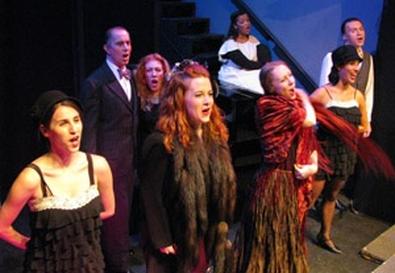 If the man who was arguably the most prolific composer of hit movie songs in the 1930s and 1940s remains relatively obscure, it certainly won't be the fault of this committed company. Ryan Rep dubbed its performance space the
Harry Warren
Theatre in 1981, shortly after the Brooklyn-born composer's death. The troupe successfully petitioned the city to name the street that runs alongside its theater Harry Warren Way. And in 1997 the company staged a revue of Warren's work that took somewhat the same approach as its current offering. That show was called "Harry…Who?"
This new show, with a title more befitting a master's thesis, was compiled by Warren's granddaughter Julia Riva. This sounds more promising than it turns out to be. For one thing, Riva decided to focus on Warren's pre-Hollywood period: the 1920s into 1931. Then, like most of his New York songwriting contemporaries, Warren and his lyricists mostly wrote novelty songs, with titles like "Rose of the Rio Grande" and "Nagaski." His best-known number from this period is "
I Found a Million Dollar Baby (in a Five and Ten Cent Store
)." We do get a teaser film clip of the title song from Warren and lyricist Al Dubin's 1932 movie "42nd Street" at the end of this 80-minute revue, but it only leaves us wanting more songs from the 20 motion pictures that brought Warren 11 Oscar nominations and three wins. I yearned to hear "At Last" and would even have settled for his 1953 Italian-American hit "That's Amore." Where, I'd like to know, is Act 2?
There's a further, more serious disconnect between Riva's limited song choices and her narrative. As Warren's heir, she should have some insight into his life and work and be able to answer the questions she poses: Why isn't he better known now, and why wasn't he in his lifetime? Riva wasn't alive during the period of this piece, and by her own admission Warren told her little about his early life. She admits to gleaning details from other relatives and written sources. This renders suspect the dialogue between Riva and her deceased grandfather (an appealing John Sannuto). How well did she really know him? How much is reinvention? Some of her text makes no sense: Warren, testy about being forgotten, asks why Julia hasn't written his biography yet. She snaps back that she's too busy trying to resurrect his reputation. Worse yet, Riva is reading her lines—which she wrote—from a script, and not very confidently, whereas Sannuto and the other actors with speaking roles have memorized all their dialogue.
Most of the players are first-rate, with musical director and pianist
Kenneth Gartman
a deservedly center-stage, full participant in the proceedings.
Michelle Seipel
is a knockout in her rendition of "I Know Now," Warren's soaring early love song. Brent McBeth's choreography and Barbara Parisi's direction of the 10-person cast are as good as could be on the tiniest of stages. Rick Pulos' media design is helpful, with stills and film clips, including some of Warren himself playing and singing. Like the rest of this production, they leave us wanting much more.
Presented by Ryan Repertory Company at the Harry Warren Theatre, 2445-47 Bath Ave., Brooklyn, N.Y. June 23–30. Tue.–Thu., 7:30 p.m.; Fri., 8 p.m.; Sat., 5 and 8 p.m.; Sun., 3 and 8 p.m. (718) 996-4800 or www.harrywarren.info.