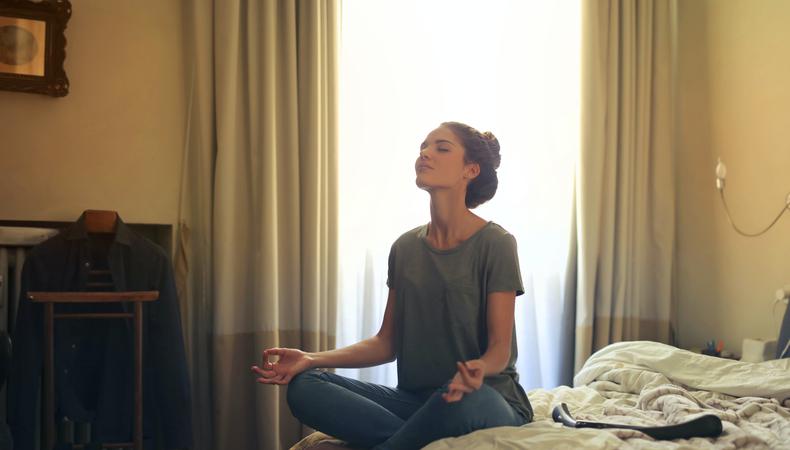 The ability to calm and focus the mind is essential to an actor's success, especially in an audition. I see how neglected this discipline is when I'm teaching. I've found that problems arise for an actor not so much from lack of understanding, but from the lack of focus and concentration it takes to apply what is being taught and follow it all the way through the process.
It used to surprise me when I saw actors struggling to sustain concentration for a 90-second reading. But when you consider that we're living in a time of chronic technological and social overload, it's actually no surprise at all. We have so much information coming at us from all different directions and devices. Our ability to stay with a thought or a feeling for more than a nanosecond has been seriously compromised. Frankly, our minds are in chaos.
One of the simplest and most effective ways to move from chaos to clarity is through a meditation practice. Meditation is a very big part of my life, and I have had a dedicated daily practice for the past nine years. Recently I've become intrigued and inspired by all of the different ways mindfulness meditation is being used to improve people's quality of life. In fact, some of the largest corporations in the world, as well as hospitals, universities, governments and even the army have implemented mindfulness programs to improve focus, concentration, and clarity.
With so many different individuals and groups reaping the benefits of mindfulness meditation, it only seemed fair that there should be a dedicated practice designed to meet the needs of the auditioning actor. So, with the help of two of my teachers, I did just that—and the "Meditation for Actors" class was born!
The practice we created helps actors regain control of their wild, distracted minds. It strengthens concentration and establishes a stable inner environment that allows the actor to explore their emotional life safely, deeply, and kindly. This practice also develops and refines the ability to focus and fully live in each moment and makes space in the mind, body, and heart to breathe, to listen, and to create. In fact, the applications of meditation to the acting process are seemingly endless.
I have been very inspired by the depth, clarity, specificity, and strength that meditation has brought to the work of the actors who have taken this class. Callbacks and bookings are on the rise, and rooms that used to intimidate are now being handled with control and presence. These actors are living proof that sometimes the most effective technologies aren't the newest, but the ones that have been tried and true around for 2,600 years or so!
This is part one of a four-part series. Follow along with the rest of the Meditation for Actors practice below: