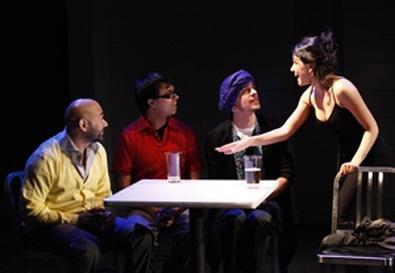 IWho is Abulkasem? Everyone and no one, apparently. The characters in Swedish playwright Jonas Hassen Khemiri's witty satire on immigration and ethnic identity each invoke this seemingly magical name for his or her own purposes. For Arvind (Debargo Sanyal), an awkward and endearing Indian immigrant, it's a name that gives him the confidence he needs to approach the exotic beauty at the next table (Francis Benhamou). To a mysterious "panel of experts," Abulkasem is both a cipherÑthe kind of average kid no one really remembersÑand a slippery international terrorist.

Abulkasem could simply be a MacGuffin: a great whatsit that drives the characters on stage but has little significance to the audience. More likely, it is a conveniently Middle EasternÐsounding name in which people can read whatever meaning they choose, whether sinister or benevolent. It's an indefinable, shape-shifting specter that hovers over the production and an effective device for Khemiri (whose father is Tunisian) to play with common perceptions of the Arabic male.

"Invasion!" has enjoyed considerable success in Europe, although judging by the hip-hop patois and Bon Jovi references in Rachel Willson-Broyles' translation, I would guess that she has Americanized the proceedings considerably. It's a convincing job, effortlessly slangy and New Yorkish, with none of the stilted locutions that plague so many translations. (One of the play's sharpest scenes is also its most identifiably Swedish, in which an Arabic character's recitation of ABBA lyrics is translated into extremist rhetoric by a professional interpreter.)

Khemiri throws a lot at you; this is a high-energy, often hectic experience, with theatrical and political ideas bouncing off each other like pinballs. You won't absorb it all in one go, but director Erica Schmidt manages to divert the torrent into a more or less manageable flow and creates a tight ensemble feeling among the multitasking four-person cast (which also includes Andrew Guilarte and Bobby Moreno).

Presented by the Play Company at Walkerspace, 46 Walker St., NYC. Feb. 21–March 12. Mon.–Fri., 7:30 p.m.; Sat., 2 and 7:30 p.m. (212) 352-3101, (866) 811-4111, www.theatermania.com, or www.playco.org. Casting by Judy Henderson.