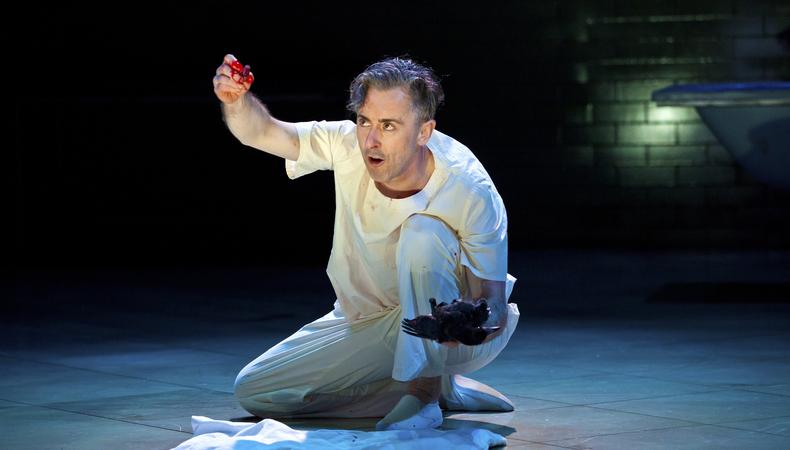 There's plenty of sound and fury in Alan Cumming's near-solo adaptation of "Macbeth," but it signifies a great deal more than nothing. This startlingly fresh approach to one of the Bard's most produced works offers not only a sensational vehicle for the actor but also gives us new perspectives on a familiar classic.
Set in a bleak isolation ward of a mental facility—given an appropriately drab and depressing tone by scenic designer Merle Hensel—the bold staging casts Cumming as a patient acting out Shakespeare's tale under the watchful eyes of several surveillance cameras and two attendants (Jenny Sterlin and Brendan Titley, in subtle turns), who occasionally take on minor parts in the drama. It would have been challenging enough for the star to enact all the major roles, which he does with dexterity, delivering a savagely conflicted Macbeth; a serpentlike, seductive Lady M.; a foppish Duncan straight out of a Noël Coward drawing-room comedy; a heroic MacDuff; and a brash, macho Banquo, among others. But in addition to this versatile display, Cumming also supplies a gripping subtext for the nameless patient.
We never find out where he got those bloody scratches on his chest or what landed him in this nuthouse, but from the actor's eloquent expressions and the heartbreaking manner with which the patient relates to a tiny sweater—brought in with his belongings—it's clear that there was a violent act, probably fatal, perpetrated on a child. This adds resonance to the slaughter of Macduff's offspring, the obsessive washing of Lady Macbeth's hands, and the very utterance of the word "murder," which Cumming endows with terrible weight. Through the harrowing tales of both the driven Thane and the tormented mental case, Cumming unsparingly leads us into dark and frightening corridors of the human mind.
Aided by Fergus O'Hare's disturbing, static-laden soundscape, Natasha Chivers' nightmarish lighting, and Max Richter's sorrowful music, directors John Tiffany and Andrew Goldberg ingeniously find ways to convincingly and forcefully stage the action: the witches' sabbath, the marching of Birnam Wood to Dunsinane, the sleepwalking sequence—all come to thrilling life by the simplest means. In addition, the production features the most terrifying banquet scene I've ever encountered. Without revealing too much, you'll actually feel Macbeth's mind-numbing horror at seeing the departed Banquo.
Originally produced by the National Theatre of Scotland and subsequently seen in last summer's Lincoln Center Festival, the inventive show will have a regrettably brief run on Broadway, presumably so Cumming can start filming another season of "The Good Wife." Acting students and fans of daring, scary theater are urged to get a ticket before they are all snatched up.
Presented by Ken Davenport, in association with Hunter Arnold and Carl Daikeler, Cody Lassen, Joan Raffe and Jhett Tolentino, Julia Broder, Luigi and Rose Caiola, Michael Desantis, Neil Gooding Productions, John C. Hall, Marguerite Hoffman, Ken Mahoney, Elliott Masie, Dean Roth, Bellanca Smigel Rutter, and Kat White at the Ethel Barrymore Theatre, 243 W. 47th St., NYC. April 21–July 14. (212) 239-6200, (800) 447-7400, or www.telecharge.com. Additional casting by Cindy Tolan.
Critic's Grade: A