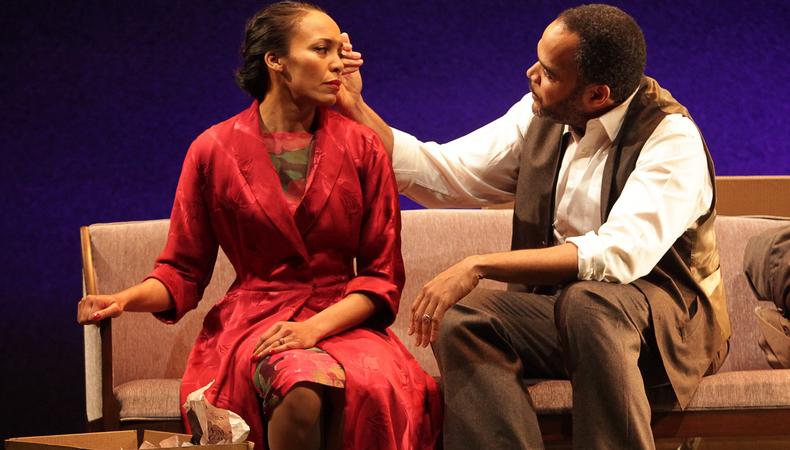 Because it takes place simultaneously in the 1950s and the 2000s and involves an African-American family purchasing a home in an exclusive all-white suburb of a major American city, Kirsten Greenidge's "Luck of the Irish" may sound awfully reminiscent of Bruce Norris' Pulitzer Prize–winning "Clybourne Park." Rest assured, it's not. Greenidge's involving, naturalistic drama is far more interested in psychology and character than Norris' satire. Arriving at Lincoln Center's new Claire Tow Theater in the wake of the promising "Slowgirl" and the powerful "Disgraced," "Luck of the Irish" finds LCT3 artistic director Paige Evans on a roll.
Rex and Lucy Taylor want to buy a home in an upscale Boston-area neighborhood, but as it is the 1950s and they are black, no one will sell to them. Through a connection where Rex, a doctor, works, they find Joe and Patty Ann Donovan, a working-class Irish Catholic couple overwhelmed with debt and children. For a fee, the Donovans agree to buy the house for the Taylors and then sign the title over to them. Joe is not racist, but Patty Ann, who envies the Taylors' financial success, is. She pressures Joe to hold out for more money before providing his John Hancock.
Nearly 50 years later, Rex and Lucy have died, leaving the house to their granddaughters, Nessa and Hannah, whom they raised. When Joe Donovan sheepishly comes by to tell the women that his wife wants her house back, they are at first merely bewildered. But as Mrs. Donovan escalates her campaign to force them out, the sisters become increasingly worried, as they can't find the title. Further complications ensue when the younger, single Nessa starts to think she'd rather sell the house. Hanna and her husband, Rich, plan to make it a home for their young family.
Greenidge moves imaginatively between past and present, something director Rebecca Taichman ably reinforces in her careful staging of the transitions. Eisa Davis is a memorable Lucy, a woman who wields poise as a weapon. Wearing Oana Botez's sumptuous period dresses like armor, Davis mixes graciousness, intelligence, and indomitability into a potent cocktail. As Rex, Victor Williams accentuates the doctor's decency and determination and excels at communicating Rex's subtle maneuvering of his "betters" to get his way. In the present, Carra Patterson and Marsha Stephanie Blake are convincing sisters, with Patterson's Nessa as loose as Blake's Hannah is tight, something Blake uses to good advantage in a funny rant about multivitamins. Frank Harts is an engaging, centering presence as Hannah's husband.
Dashiell Eaves, Amanda Quaid, Robert Hogan, and Jenny O'Hara see to it that the younger and older Donovans are all of a piece. Eaves' youthful dreamer still glints occasionally in Hogan's exhausted octogenarian, while the riveting Quaid's steely resentfulness has curdled toxically in O'Hara's delusional matriarch.
My only complaint would be that the inevitable climactic scene merging the two timeframes doesn't pack quite enough of a wallop, a rare misstep in an astute play that otherwise knows exactly where it's going and how to get there.
Presented by LCT3/Lincoln Center Theater as part of the Steinberg New Works Program at the Claire Tow Theater, 150 W. 65th St., NYC. Feb. 11–March 10. (212) 239-6200, (800) 447-7400, or www.telecharge.com. Casting by Daniel Swee.
Critic's Score: A-