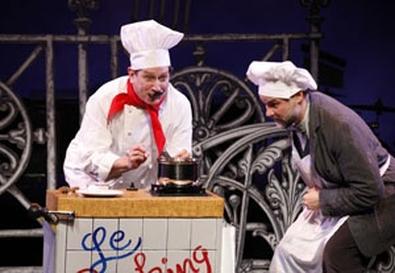 It only goes to show you what a wacky world we're living in when the bizarre shenanigans Eugene Ionesco created more than half a century ago now seem ordinary. The French-Romanian playwright was a pioneer in the theater of the absurd, presenting comedies with outlandishly implausible scenarios, such as people turning into rhinoceroses, an entire British family with the same name, and mobs adoring a headless dictator. These kooky elements were designed to satirize what Ionesco saw as dangerous political and social trends, exposing them to ridicule. But today, with "Pokémon"-quoting pizza executives running for president and talent-free gold diggers becoming millionaires on reality TV, Ionesco's nutsy proceedings can appear positively tame.
His "Exit the King," which recently had a successful Broadway mounting, and "Rhinoceros" still pack devastating punches, but a revival of "Ionescopade," a short-lived 1974 "musical vaudeville" presented by the York Theatre Company, is good for only a nostalgic giggle or two. The revue, originally conceived by Robert Allan Ackerman and featuring inoffensive but forgettable songs by Mildred Kayden, is composed of short fragments and scenes from the author's oeuvre and offers light stings rather than roundhouse blows. Brief segments rapidly follow one another—sort of like an existential "Laugh-In"—evaporating before the audience can digest them. Most have minimum impact and are pretty dated.
For example, in "Everyone Is Like Me," a cabaret singer croons about his unusual sexual tastes being commonplace as he changes genders—what a shocker! In another tired segment, an evangelistic leader reminds the audience that "The Best Is Yet to Be" only to see his flock led off by a scantily clad vamp. In the age of Chaz Bono and Ted Haggard, these numbers fail to raise an eyebrow or inspire a laugh.
But ta few still-out-there moments are genuinely sharp-edged and funny. "The Bobby Watson Family" imagines a variety spectacle starring the identically monikered clan mentioned in "The Bald Soprano." Decked out by designer Nicole Wee in clever variations on the same black-and-white costume, the entire seven-member cast grinningly performs a tribute to empty-headed conformism. I also enjoyed the antics of Samuel Cohen as the Ionesco figure, who acts as a silent master of ceremonies, introducing and sometimes taking part in the vignettes. Cohen endows his compere duties with an impish charm, combining corny but cute magic tricks with circus pratfalls.
The cast is game, and a few manage to put their own vibrant personal stamp on the wispy material. Nancy Anderson, a snazzy song-and-dance gal who's been a standout in York productions such as "Jolson & Co." and "Yank!," is hilariously deadpan as one of the Bobby Watsons singing a 1960s-ish ballad about her dead cat. Paul Binotto movingly delivers "Madeleine," a tearful tune on lost love, and is frighteningly intense in a monologue from "The Killer."
Director-choreographer Bill Castellino gives the proceedings a professional polish and uses the limited space at the Theatre at St. Peter's to utmost advantage.
Presented by York Theatre Company at the Theatre at Saint Peter's, 619 Lexington Ave., NYC. Feb. 2–26. Tue. and Wed., 7 p.m.; Thu.–Sat., 8 p.m.; Sat. and Sun., 2:30 p.m. (212) 935-5820 or www.yorktheatre.org. Casting by Carol Hanzel.