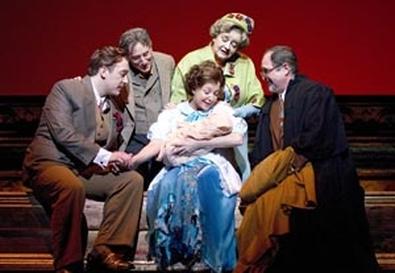 Iris Rainer Dart says she is profoundly relieved to be home on the West Coast following the grueling experience of writing the book and lyrics for her first Broadway musical, "The People in the Picture," currently running at Studio 54 in a Roundabout Theater Company production. The reviews were mixed and she herself has some reservations about the show. Though the piece was 15 years in the making, she remains convinced the kinks could have been ironed out with a multi-city tour prior to the Broadway opening.
Citing the late writer Larry Gelbart, who remarked if Hitler came back the best revenge would be to send him out of town with a musical, she retorts the best revenge would be to send him "in-town" with a musical that hasn't had out-of-town tryouts. Rainer Dart concedes taking a show on the road as a steppingstone to Broadway is no longer routine because of the wild expense involved.
Regardless, the Roundabout likes doing premieres and, most central, the show's star Donna Murphy did not want to go on the road because of family obligations, notes Rainer Dart, adding she wasn't about to risk losing Murphy, an actor she views as a stunning talent with an impressive range. "I saw her in three different roles that were completely separate." she says. "If anyone could play Bubbie it was Donna Murphy." Rainer Dart was equally taken with Murphy's "process" and her thorough homework.
"We talked for hours about the character: who she was, where she was, and her given circumstances." "The People in the Picture" tells the story of Bubbie—a star of Yiddish theater in Warsaw, Poland, prior to the Holocaust—and her troubled relationship with her daughter who wants the past to remain buried and her granddaughter who is determined to know her history.
Rainer Dart has had quite a journey in her own right. She was an actor and a television writer, but she is most widely known as the author of the best-selling novel "Beaches." It is curious, she remarks, that she left the highly collaborative medium of TV for novels because she wanted to work on her own, but now is in the team-oriented world of theater. Not that there's any real comparison, she points out. For the most part, she has been in control. Consider her determination to write the lyrics in addition to the book.
Likening herself to the young Sylvester Stallone, who said he would not sell his script "Rocky" unless he got to play the title character, Rainer Dart was not willing to bring on a composer unless he accepted her as lyricist. She interviewed many potential composers who were not open to the idea, including one very well-known musician "who said, 'If I don't like your lyrics, I'm going to bring in a new lyricist.' And I said, 'If you don't like my lyrics, I'm going to bring in a new composer,' " Rainer Dart recalls.
She found her perfect collaborator in Mike Stoller (of Leiber and Stoller fame). He was fully open to her serving as wordsmith and, equally important, his own music had all the right elements, she says. His songs—e.g., "Hound Dog," made famous by Elvis Presley—"were melodic and tuneful and would work in a theater. And his 'Is That All There Is?,' which Peggy Lee sang, made me believe he had the right European sound. He suggested Artie Butler as his collaborator [on the music] and, though I wasn't sure at first how that would work, the music is seamless."
'The Least Likely to Succeed'
Rainer Dart started as a child actor in her native Pittsburgh, performing on local TV and in an interracial theater in a settlement where her father served as a social worker. "That was in the Hill District that August Wilson made famous," she recalls.
Later, to her amazement, she was accepted into the prestigious drama program at Carnegie Mellon, then known as Carnegie Tech. Rainer Dart admits frankly she was not a very good actor and "the least likely to succeed." A major stumbling block was stage fright. She notes that in an ironic twist of fate, she would have to confront her fear of public appearances years later when she went on book tours.
Her first foray into writing occurred in college when she scripted two varsity shows with fellow student Stephen Schwartz, who was three years her junior. The experience was an epiphany, not least because the shows were hits and she won BMI Awards for books and lyrics. "I realized I had a flair for writing and was much happier sitting in the back of the theater correcting my work than going on stage and worrying about how I looked."
After a few stints as a television actor, which brought her neither pleasure nor success, she moved into television writing in the '70s, becoming one of the few women writers on the scene. Indeed, on "Cher" and "The Sonny and Cher Show," she was the only woman writer, Rainer Dart says, adding she had to prove her mettle, mostly by "not crying," even when criticism was rugged.
Brutal honesty was the name of the game and no one was too concerned with hurt feelings. Still, as the sole woman on the show, she had a close relationship with Cher, who ultimately became the model for the lead character in "Beaches." Initially she had hoped Cher would play the part in the film version, but in the end it went to Bette Midler.
Rainer Dart looks back at the movie with mixed feelings. "The studio had asked me to write it and I turned it down," she comments matter-of-factly. "I knew they would change too much of the story. I watched them shoot a scene that I never would have written. It was a catfight set in a department store. I don't write catfights; I'm a feminist. Bette said, 'Do you feel sad every time you see a scene that isn't in your book?' I said, 'Honey, look around and see all the people working because of an idea that danced across my mind. And, honey, you're starring in a movie of my book. How bad can it be?' "
Rainer Dart fully accepts the fact that in film and on television, writers don't have the same clout that they have in theater, unless they're also producers and/or directors such as Woody Allen or Tina Fey. Theater has another major virtue, in her experience: She has not encountered any ageism. "I only want to write for the theater from now on," she says. "Theater enables me to be my age and work."
"The People in the Picture" is playing through June 19 at Roundabout Theatre Company Studio 54, 254 W. 54th St., NYC. Tickets: (212) 719-1300 or www.roundabouttheatre.org.
OUTTAKES
– Appeared in "The Fugitive," "Hawaii Five-O," "Mod Squad," "Love, American Style," and "The White Shadow," among others
– Wrote episodes for "Chico and the Man," "Love, American Style," and TV special "The Shape of Things"
– Served for eight years as a governor's appointee to the California Arts Council