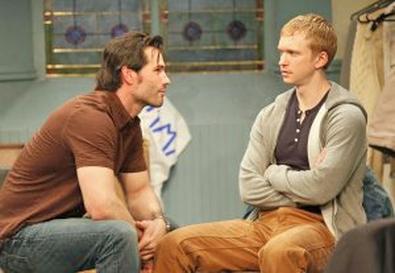 "I am not my penis; I only think I am," says one character in "The Irish Curse," the funny, poignant, sentimental, sometimes insightful, eventually repetitive comedy first seen in this country at the 2005 New York International Fringe Festival. (It also played Edinburgh and Dublin.) Martin Casella's 90-minute intermissionless work takes the form of a self-help-group meeting to evoke the fear, reticence, and self-destructiveness of a group of men who meet every week in a Brooklyn church. Instead of alcohol, sex addiction, or any number of possibly controllable difficulties, these five Irishmen must deal with genetics: They all have small endowments. The men's jokes about themselves are delivered in graphic descriptions that bounce between "dick" and "willy." Their obsessions are amusing, their hurts are real, and, before the talk begins to circle around itself, the play is penetrating.

Each tries to compensate for his, er, shortcomings. Rick imagines himself a stud who gets it on with every babe he bumps into: on the bus, in the subway, on his bike, at the gym, at church. Joe's wife left him and their two daughters for a more fully packaged guy, while Stephen is a gay cop who, fearing intimacy, prefers anonymous sex. They're led by Father Kevin, a priest with acting ambitions who has appeared on (what else?) "Law & Order" and who has his own hang-ups.

Into their midst this one evening comes Kieran Reilly, practically just off the boat from Ireland. He has the same insecurities about his ability to perform, fearing being laughed at by the girl he's about to marry. But he's also the catalyst for the others to examine what really matters in their lives, which they apparently have never before confronted. It's obviously a lack of self-esteem and an inability to define themselves in something other than physical terms that is at the root of remarks like "I'm tired of being invisible—between my legs."

Although Kieran is somewhat of an antagonist in forcing the men to own up to their true problems, the evening lacks not only a forward thrust but revelations that go beyond the obvious. There's even an unoriginal rant about the phallic reasons men go to war. "What it boils down to," says Joseph, "is they're terrified that the Catholic next door or the Arab down the road's got a bigger weenie!"

Casella's sharply drawn characters are performed by a credible and appealing ensemble, under the astute direction of Matt Lenz. Brian Leahy's cheerful Rick, Dan Butler's anxious Joseph, Austin Peck's braggart Stephen, Scott Jaeck's sympathetic Father Kevin, and Roderick Hill's vulnerable Kieran make an audience feel for these men.

The dialogue is often coarse, and the stereotypical situation not quite believable, but the evening is never smarmy. On what seems like a narrow canvas, "The Irish Curse" paints a picture that is at once expansive and liberating.

Presented by Craig Zehms and Sarahbeth Grossman, in association with Piglet Productions, Anthony George, and Lawrence E. Lewis III, at SoHo Playhouse, 15 Vandam St., NYC. Opened March 28 for an open run. Tue.–Fri., 8 p.m.; Sat., 3 and 8 p.m.; Sun., 3 and 7 p.m. (212) 691-1555 or www.theirishcurse.com. Casting by Pat McCorkle and Joe Lopick.