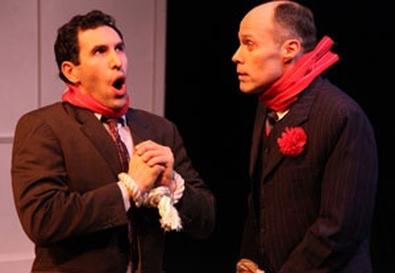 Rarely do a talented (and well-cast) group of actors, an innovative creative team, and witty, well-written material land in the same theater at the same time. But Prospect Theater Company makes it look easy. Cara Reichel has meticulously helmed this hilarious throwback to the golden age of musicals, and the production and the work give hope for the fate of the American tuner.
Prospect premiered the show in 2006, when it won the New York Innovative Theatre Award for best production of a musical. Since then it has popped up at festivals and been further developed at established institutions such as the Eugene O'Neill Theater Center's National Music Theater Conference, the Village Theater in Issaquah, Wash., and the National Alliance for Musical Theatre's Festival of New Musicals. While the idea could be considered too meta—a musical comedy about producing a musical comedy about a musical comedy star—that's not the case. By simultaneously relying on and commenting on the standard musical form, "Iron Curtain" breathes new life into the genre. Book writer Susan DiLallo, composer Stephen Weiner, and lyricist Peter Mills prove that you don't have to push the envelope to create good theater. Sometimes classic and simple is best.
The premise, however, is anything but safe. It's somewhat reminiscent of that other show-within-a-show musical, "Springtime for Hitler" in "The Producers." Strapped for ideas and cash, struggling songwriters Howard Katz and Murray Finkel answer an ad in Variety and end up kidnapped in Moscow during the height of the Cold War, forced to rework a failed production at gunpoint.
Katz and Finkel are a typical odd couple. The lean, balding Katz, played to deadpan perfection by Todd Alan Johnson, wallows and pines for his girlfriend, Shirley Dooley (a sweet, clear-voiced Maria Couch), while the serially optimistic and fame-hungry Finkel (an infectiously happy David Perlman) falls for the lovely Russian chorus girl Masha (the comic Jenn Gambatese). However, nothing is what it seems.
Gordon Stanley and Bobbi Kotula steal the show as a Russian minister in charge of musical theater, Yevgenyi Onanov, and as the show's dictator of a director, Hildret Heinz. Stanley makes the musicals-loving apparatchik entirely sympathetic, while Kotula deliciously hams up every scene as the sex-crazed Heinz. Her second-act showstopper, "A Frau Divided," is easily the best solo number of the evening. The hard-working and lively ensemble executes Christine O'Grady's appealing choreography effortlessly, and their energy never wanes. Sidney Shannon's period-appropriate costumes and Brian Prather's convertible sets complete the attractive design.
DiLallo's book keeps the constantly shuffling subplots on cue. Mills' clever lyrics complement Weiner's melodic score, made even more mellifluous by Remy Kurs' orchestrations and acute music supervision. Though the show runs a little long, it never drags.
While communism is ideal comedy fodder, the government oppression also acts as a sort of metaphor. Whether it be the Berlin Wall or the Occupy movement dividing a country, musical theater is the universal peacemaker. And as Onanov belts the wonderfully heartfelt "If Not for Musicals," with classic figures like Gene Kelly and Ado Annie encircling him, "Iron Curtain" makes a powerful case for the value of the arts in any society. You'll remember why you fell in love with musicals in the first place.
Presented by Prospect Theater Company, by special arrangement with Fireboat Productions, at Baruch Performing Arts Center, 55 Lexington Ave., NYC. Nov. 10–Dec. 4. Tue. and Wed., 7:30 p.m.; Thu.–Sat., 8 p.m.; Sat. and Sun., 3 p.m. (Additional performances Mon., Nov. 21, 7:30 p.m., and Tue., Nov. 22, 1 p.m.; no performances Wed., Nov. 23, and Thu., Nov. 24.) (212) 352-3101, (866) 811-4111, www.theatermania.com, or www.prospecttheater.com. Casting by Jason Najjoum.