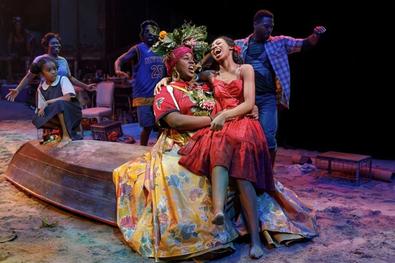 "Once on This Island" star Alex Newell is stopping the show eight times a week—literally. His big number, "Mama Will Provide," is no stranger to the mid-performance standing ovation, a feat rarely elicited by even the most seasoned theater divas. He dropped by Backstage HQ to discuss making his Broadway debut in the Michael Arden-directed revival, what he has brought forth from his days on "Glee," and how he manages to protect his killer cords to ensure mama can in fact provide that rafter-raising tune night to night.
'Once on This Island' is more than immersive.
"Michael [Arden's] creation and concept and idea is that we are on an island where a hurricane just came and tore apart the island completely and we are rebuilding it. There's trash everywhere; there are makeshift homes. We are trying to have a sense of community and rebuild it at the same time. It's shown in the theater. There is a power pole in the middle of the theater, there's sand, there's water held back by sandbags. It's real life, it's not even immersive after a while. My skirt literally slaps sand in people's faces every night."
On the visionary direction of Michael Arden.
"I was a part of 'Glee' which was [also] out of the box. It's forward-thinking and it's all about acceptance. I am so fortunate to work with someone who's like that again. It is an honor and just something that I can't say thank you enough for."
Performing a showstopper is thrilling—and exhausting.
" 'Mama Will Provide' happens in the show where the curtain should go down and an intermission should happen and there should be another hour and a half after. That's my moment where I feel like I'm Jennifer Holliday because when she played Effie [in 'Dreamgirls'] there were all these rumors about how exhausted she was after singing the Act 1 finale, 'And I Am Telling You.' [They say] she would have to be carried to her dressing room. After singing 'Mama Will Provide' I'm like, 'I am physically exhausted and should be carried up four flights of stairs to my dressing room. I am so happy you're all clapping but I really want to move on with the scene so I can go backstage and drink my water!' But you can't say you don't want [the applause]. Broadway was a goal of mine—it's always been. And on television, you never really get instant gratification…. To stand in front of your peers, to stand in front of people who are just like you [as] fans of musical theater, and for them to stand and clap in the middle of the show, there is no other word than just being fully blessed in that moment."
He has a vocal health secret weapon.
"As soon as 'Mama Will Provide' is over, I almost instantaneously start warming down. I do a cool down just making sure my cords are back into a normal flow. I warm up twice a day: once when I wake up in the morning, I just do a 30 minute [warm-up], and then when I get to the theater, I warm up, I sing through 'Mama Will Provide' a couple of times, and then I'll drink a concoction which I call my 'throat,' which is ginger crystal, oregano oil, ginger oil, and manuka honey. It's awful. It feels like straight gasoline on the cord. But you know what? It rips through anything down there. And I get checked up all the time. You gotta keep everything fresh! I'm not 18 anymore, I can't just wake up, cough, and go."
Plus, straw singing is a musical theater performer's best friend.
"You put a straw in your mouth and you just buzz through it. It creates tension to make your cords [touch]. You can also put it in a little glass of water and just make bubbles. You know your parents used to yell at you for doing that and now I'm just like, 'Look at me, mom!' "
Inspired? Check out Backstage's musical theater audition listings!