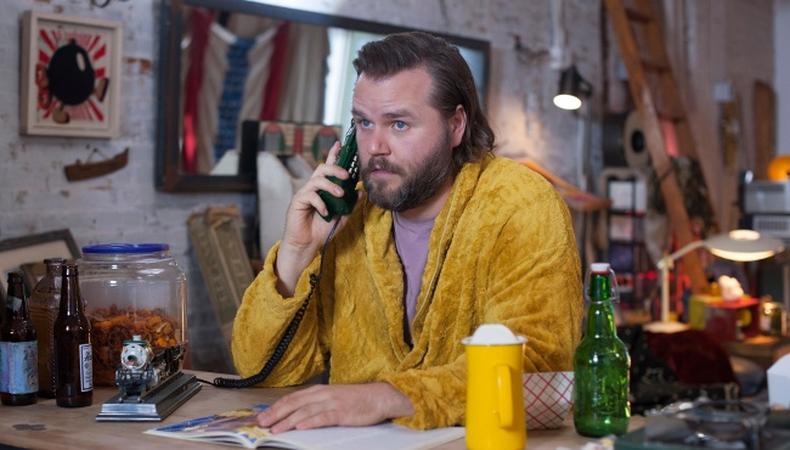 Hulu's newest original series, "Deadbeat," follows a regular guy with the irregular ability to communicate with the dead. Starring Tyler Labine as Kevin, "Deadbeat" premiered at SXSW and launched on Hulu April 9. A show that embraces a twisted—but smart and endearing—sense of humor, "Deadbeat" was born from shared laughs between the show's creators–
executive producers.
Brett Konner and Cody Heller met while working for director-producer Davis Guggenheim. "We became good friends and found ourselves laughing at the same things and responding to the same kind of humor," says Heller. About four years ago, they began writing together, and found they were both intrigued by the idea of making a supernatural ghost drama into a comedy.
Instead of having a strong female protagonist, like Jennifer Love Hewitt on "Ghost Whisperer" or Patricia Arquette on "Medium," Konner says, "We thought, What if we had a male protagonist who had these abilities from a very young age? He probably wouldn't turn out super well-adjusted…. [Like] if you track the little boy from 'The Sixth Sense' and he turns into the Dude from 'The Big Lebowski,' but with this ability to talk to ghosts." The fruits of their labor gave them "Deadbeat," which earned them jobs on "The Inbetweeners" and "Wilfred," but the duo didn't give up on the series that got them started.
When they pitched the idea to Hulu, they knew they'd found a home. Hulu's ability to allow viewers to watch episodes back to back gave Heller and Konner the opportunity to create more serialized storylines as opposed to the wholly self-contained sitcoms on traditional networks. The developing relationship between Kevin and his former idol, Camomile (Cat Deeley), is one serialized element the show is able to really delve into.
"Deadbeat" is a story that relies heavily on the lead character, Kevin, who needed to come across as charming despite his social awkwardness. Konner and Heller were aware that their lead would have to say some pretty awful things, "that if delivered by the wrong person can sound pretty ignorant and hateful, but because he's so endearing and harmless, it tends to make you laugh," says Heller. They were thrilled to get Tyler Labine. "There's a real vulnerability to Kevin that I think Tyler was happy to explore," says Konner.
But shooting entirely in New York made casting other roles more challenging. "There were just less people to choose from. But we managed to get amazing 'ghost stars,' as we call them," says Heller. Shooting so far out of sequence was also a challenge. "It was so impressive to see the actors be able to get a handle on where their character is from scene to scene. One day they could be shooting a scene from the pilot, and then a scene from the finale, and then a scene from Episode 4," says Heller. "That's something you don't really know as a casual viewer, just how hard it was to find where you are emotionally in your arc," adds Konner.