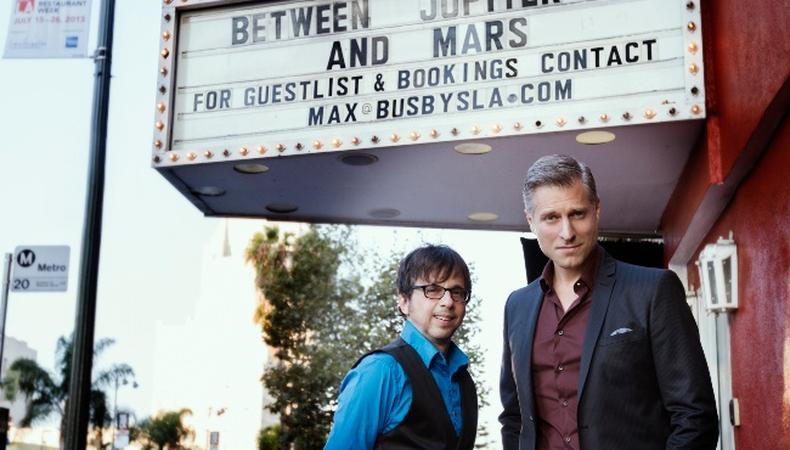 Speaking to several creators and producers of Web series, a common denominator becomes apparent: immediacy. From the time a Web series wraps to the time audiences can watch it is a matter of seconds, but for Rob Bruner, Dino Antoniou, and their series "Between Jupiter and Mars," immediacy was not a concern.
"The biggest thing is discipline," says producer Antoniou. "The temptation is to have your work seen, and it's very easy to get a cut that is just good enough."
Instead of "just good enough," they strove for great. "Between Jupiter and Mars," which both creators star in, tells the story of Benji Cohen (Bruner) who is Hollywood's top agent until a chance encounter with a psychic tells him he needs to drop his flashy, high-powered lifestyle to become a manager for the misfits of Hollywood. If he doesn't, the results could be cancerous. Cut to Benji sitting in the doctor's office discussing his colon cancer.
Both Bruner and Antoniou have been working professionally in The Biz for years, covering every angle: directing, acting, producing, writing, and social media. Bruner says he's written many features and TV pilots, but getting them made was difficult. About "Between Jupiter and Mars," he says, "It was great to land on a workable idea that we thought was original and we thought we could actually make."
Antoniou adds, "If it came out and it was something we both looked at, decided that it was just not up to the standards that we set out with to begin with, then we were gonna shelve it."
From writing (which Bruner did with partner Campbell Massie) to editing to distributing, their discipline was always there.
Though the entire first season was shot in six days, the editing wasn't quite as quick. The episodes went through three rounds of edits with three separate groups before they got the seal of approval, and even when they were done, they weren't ready to be released.
"I was kind of pumping the pavement to find a distributor," says Bruner, noting that getting a distributor to sign on was very important to the team. "I was hounding My Damn Channel, and they eventually watched it and said, 'Yeah, we wanna do this.' " It took patience, but the launch of "Between Jupiter and Mars" was delayed until My Damn Channel came on board, Bruner explains.
Since then, the response has been positive. "Between Jupiter and Mars" has been accepted to several Web fests including ITVFest, HollyWeb Festival, and the New Media Film Festival. With this kind of success, it's only logical that Bruner and Massie are writing a second season—and the idea of re-creating the series for TV is not out of the question either, the two say.
The project has been eye-opening for Bruner and Antoniou, leaving them thankful they were organized and had a solid plan. "We knew it was going to be hard," says Antoniou. "I think we learned a lot in the process."
Check out the rest of our ITVFest Presents Now Streaming articles here!