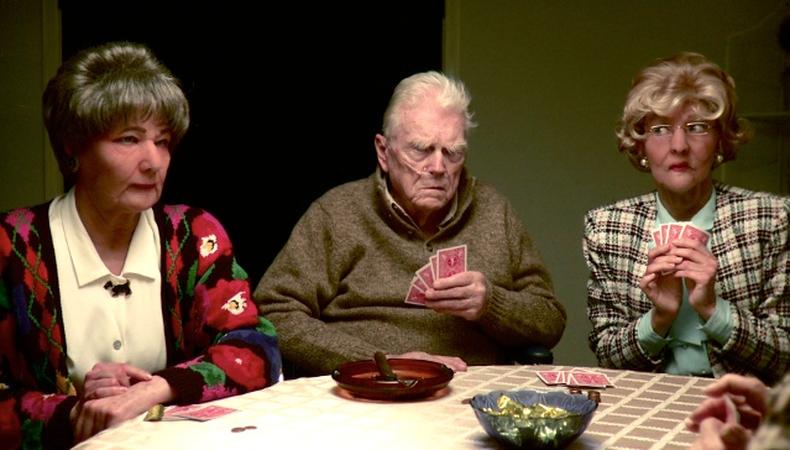 It's not very often that actors make themselves look older to get work in Hollywood; women making themselves look older to get work is even more unheard of, but that's exactly what happened for the making of Web series "Old Souls."
"Look at Betty White; she's just tearing it up in this town. She has no competition because everyone's retired," actor-director Sarah Smick remembers joking with her longtime friend Honora Talbott. It was their own experiences, White's success, and a desire to turn Hollywood's obsession with youth and beauty on its head that led to "Old Souls."
Talbott and Smick star in the amusing and thought-provoking "Tootsie"-style series, which follows the two actors as they disguise themselves as senior citizens to get acting work. They cast several supporting characters, a process Smick says she loved. "I'm an actor, so I love watching actors do their thing and do good work."
That level of "respect and freedom and understanding about what you're doing in terms of your craft" was something Smick strove to bring to the set as the series' director. She had never directed before, but it was something she wanted to pursue, and the idea seemed to provide the perfect opportunity to get her feet wet.
Sitting in the director's chair is something Smick encourages more women to try, even if the thought is frightening. "I was really nervous, [but] there's not enough women doing this. [I thought] I'm going to do it and I'm going to be willing to make mistakes and learn from them. [I'm going to] trust that my abilities are enough, because I think women tend to underestimate their own abilities more than men do."
And do not underestimate the ability required to make "Old Souls." Smick admits the project itself was a large undertaking because of the series' prosthetic makeup demands. "It was very physically exhausting, but then we're acting in pretty much every scene, and as any actor knows, acting is physically and emotionally draining, and then on top of that I was directing, which requires a whole other level of focus and awareness and communication and decision making," she says.
But now, after directing and starring in her first feature, Smick feels like "Old Souls" was more tiresome. "That's ridiculous to say, that shooting a Web series is on par with shooting a feature in terms of the exhaustion category...but I've got to say, the prosthetic makeup thing really killed us at points."
Their hard work paid off, earning them the best of ITVFest award. "It's such a great format to use to generate a calling card for yourself, if your goal is to then go on and work on bigger projects."
Smick is following up "Old Souls" with her first feature, "Friended to Death" starring herself and Ryan Hansen, in limited release May 2 and on VOD May 9.
Check out the rest of our ITVFest Presents Now Streaming articles here!