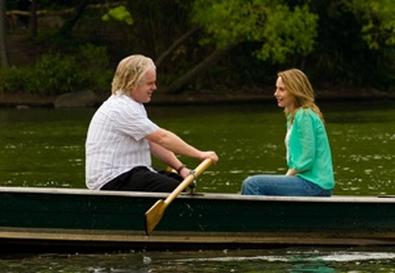 In his directorial debut, Philip Seymour Hoffman—no newcomer to playing frustrated losers—proves he can direct pathetic as well as he can perform it. Adapted for the screen by the source's playwright, Bob Glaudini, "Jack Goes Boating" tells the story of two couples: one newly formed and one on the brink of destruction. The primary relationship of interest is the new one of Jack (Hoffman), a lonely and neurotic middle-aged limo driver, and Connie (Amy Ryan), a nervous new hire at a funeral seminar telemarketing firm. Jack and Connie struggle to overcome their personal hang-ups, which abound. They are set up by the married Clyde (John Ortiz), who works with Jack, and Lucy (Daphne Rubin-Vega), who works with Connie. Clyde and Lucy seem much more put-together: attractive, hip, and less neurotic than Jack and Connie. However, this façade breaks down, as repressed issues in their marriage bubble to the surface, culminating in a scene that spells birth for one couple and death for the other.
Glaudini's script is amazingly nuanced and is given life by performances that match it in subtlety. Hoffman's Jack is particularly great, especially in his character's explication of the film's theme of the importance of our illusions: those that destroy us, those that motivate us, and those that merely keep us going. For Jack, these stories are vital; we get the impression that the only way he has been able to make it through his lonely existence is by investing himself blindly in an optimism that is illusory and ironic. Lonely and depressed, he has no concrete reason to harbor such optimism, but he clings to it nonetheless. In addition to Hoffman's stellar performance, the film's co-stars offer something very special, particularly Ortiz. Clyde, like Jack, is similarly controlled by mental images. However, while Jack's illusions are optimistic, Clyde's mind is filled with visualizations of his wife's infidelities, and just as Jack suffers a brief mental breakdown at a dinner party, Clyde's fixation on the image of his wife with another man threatens their relationship that night.
Though the direction is somewhat stagey, resulting in a few tonally awkward moments, "Jack Goes Boating" features solid writing and fully realized performances that allow it to transcend such missteps and tell a tale that is worth the optimism surrounding Hoffman's ascent to the director's chair.



Genre: Black Comedy. Written by: Bob Glaudini. Directed by: Philip Seymour Hoffman. Starring: Philip Seymour Hoffman, Amy Ryan, John Ortiz, Daphne Rubin-Vega.