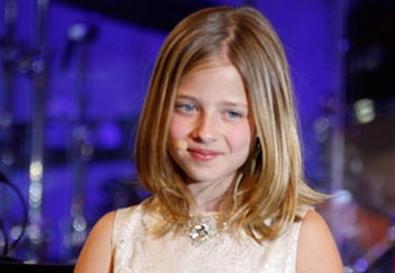 NEW YORK (AP) — When Jackie Evancho was a young girl — well, younger than her 11 years — she remembers singing songs like "Twinkle, Twinkle Little Star" around the house and getting a response far less adoring than the ovations she now commands.
"My family thought I was horrible," she says with a laugh, adding that things changed after her tonsils were removed.
Her father, Mike, has a decidedly different take. He and his wife, Lisa, always thought Jackie had a nice voice, but didn't think it was much more than that.
"We didn't know it was anything special until she did a local talent competition," he recalls of his daughter, the second eldest of four. "The reaction from people kind of said, 'Hey, she might have a better voice than we thought.'"
Talk about an understatement.
David Foster — who has worked with vocal powerhouses including Barbra Streisand, Whitney Houston, Josh Groban and Celine Dion — says of Jackie's voice: "I've never seen a mature voice like this in all my years. It's just amazing."
He's not the only one who has been wowed. Though the classically inspired singer was the runner-up on "America's Got Talent" last year, she's been winning in every way since. Her Christmas EP, "O Holy Night," went platinum after its release last fall, and her first official album, "Dream With Me," debuted at No. 2, behind an Eminem collaboration, after its release earlier this month. She's had her own PBS special, Oprah Winfrey requested her presence on one of her final goodbye shows, while both Susan Boyle and Streisand appear on her new CD — and Jackie more than holds her own against the two powerhouse divas.
Much like a preteen Charlotte Church did a decade ago, Jackie has voice that belies her age and diminutive stature. Though there is a youthful quality in Jackie's voice, it's hardly childlike: It's a soprano that deftly traverses the musical scales with power and grace. Though she may not be ready for the operatic stage, she effortlessly sings songs like "Nessun Dorma" and "Somewhere" (with Streisand) on her album debut. Even when she's singing the Disney classic "When You Wish Upon a Star," she sounds light-years away from most of her childhood peers.
"I don't really think much of my voice, and I don't try to think much of my voice, but if I had to describe my voice, I mean — I've heard people say that my voice is angelic, so I guess it's angelic," says Jackie, wearing a cute sundress in the picturesque offices of her label headquarters, with her father sitting in the room.
"I've also heard people say my voice is horrible," she adds with a laugh. "I really don't know how my voice is. To me it's a child's voice. It's just a normal voice to me. That's what I hear in my head. I know I hear some quality, but I don't hear what everyone's talking about, where I sound like a 20-year-old opera singer. I don't hear that."
She also doesn't act like one either — except in the studio, says Foster, who is the producer of Jackie's album.
"She's very childlike in every way, except when she gets on the mic," says Foster, who met the young singer when she auditioned to appear on stage with him a few years ago, before she became a sensation on "America's Got Talent."
"She's a regular kid who just has this extraordinary talent," he added. "It doesn't weigh her down."
With her growing success, her parents are working hard to make sure she remains that way.
"I tell people a lot that my new job is unfortunately saying no, because we do get a lot of phone calls — 'Can Jackie can do this, can Jackie do that?'" says her father. "We just have to be very selective."
He adds: "It's pretty important that she stay a normal kid, because, as she gets older, if this were to all end, that's where I could see potential problems occurring, if she gets used to being treated a certain way because of her singing abilities," he said. "We make sure that it's not happening now."
Her parents need not look far to see the troublesome paths that other child stars have traveled. While wild-child antics typically involve those tween or teenage stars who have grown up in the pop or acting spotlight, classical crossover also has its own example of young talent gone awry in Church, who, like Jackie, was a preteen when she shot to fame with an adult-sounding, operatic voice. The British singer sold millions and was a crossover sensation, but faltered under the white-hot spotlight and an ill-advised transition to pop music. She's now considered more of a tabloid personality.
So far, singing pop music is the farthest thing from Jackie's mind. While she professes a love of Lady Gaga, it's her ambition that impresses her the most: "I love people like that, because they're not afraid to follow their dreams. They're not afraid to crash and fall at some point, because they always know that they're gonna get up in the end."
And though Jackie loves to listen to pop radio, it's not what she wants to sing.
"I've never wanted to sing pop music," she says. "I still listen to pop, you know, I always listen to it, and some days I think, 'I wonder why my voice doesn't cooperate with that music.' But you know what? Other days I go, 'My voice, so happy in this genre, I cannot believe I am so happy here, and I'd rather be doing classical crossover than pop.'"
Jackie, who lives with her family in suburban Pittsburgh, will be spending part of her summer vacation on a nationwide tour, though she will get some time with family (and an array of pets, including a dog and some ducks).
She now goes to "online school," as she calls it.
"I wish I could go to normal school every day if I could, but I can't. I guess that's one of the prices (of success)," she says.
"You can't be a regular kid and have this career," Foster says. "If she wants to be a regular kid, then stop singing."
But that has never been an option for Jackie.
"This is definitely what I wanna do, and it's always going to be what I wanna do — at least that's what I think," she says.
---
Copyright 2011 Associated Press. All rights reserved. This material may not be published, broadcast, rewritten, or redistributed.