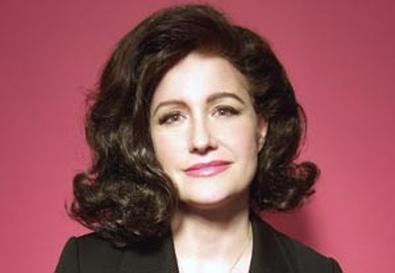 "The Jackie Look" is performance artist Karen Finley's vision of what Jacqueline Kennedy Onassis would say if she were to visit Earth for a one-night-only presentation. Not surprisingly, in Finley's imagination, Jackie has developed a radical self-awareness of her appropriation as a public image of grief and womanhood. In other words, she sounds an awful lot like Karen Finley.
The evening's main source of delight is Finley's impersonation of her subject. At once studied and ironic, it's affectionate toward Jackie and damning toward the culture that turned her into a caricature. It's all there: the white pants, the brown hair thick and curly, the dark sunglasses, the button-up black coat, the white pearl necklace, the self-protection, and the icy intelligence. Finley employs Jackie's awkwardness as a public speaker to comic effect as she takes the audience through the JFK Assassination Museum website (www.jfk.org), barely suppressing her ire as she points out items in the museum store: assassination post cards, a set of JFK spoons. Rarely has the line between memorialization and exploitation been so finely combed.
After this dynamic and imaginative beginning, Finley pulls out a speech that Jackie has "prepared" to deliver to the audience. The actor matches her own impassioned style with a clever use of Jackie's thin voice. Finley dips suddenly into lower and more-frightening tones whenever Jackie gets emotional, reminding us that the struggle to remain in character was the former first lady's constant condition.
Nonetheless, the speech kills the play's energy. Finley's monologues work best as sacrificial rituals that both shame and inspire her audiences. Here, twice removed from us—first by her impersonation, second by her reading—the magic is gone. In its place is a lecture on celebrity, photography, and the public performance of trauma. There are some affecting diversions, including a show-and-tell of Jackie's ceramics work and a memorable interpretation of Caroline Kennedy's famous vocal tic, "you know." But one leaves wondering whether Finley thought she was performing at an academic conference rather than a theater.
Presented by Karen Finley at the Laurie Beechman Theatre, West Bank Café, 407 W. 42nd St., NYC. Jan. 30–April 24. Sat., 7:30 p.m. (212) 352-3101 or www.ovationtix.com.