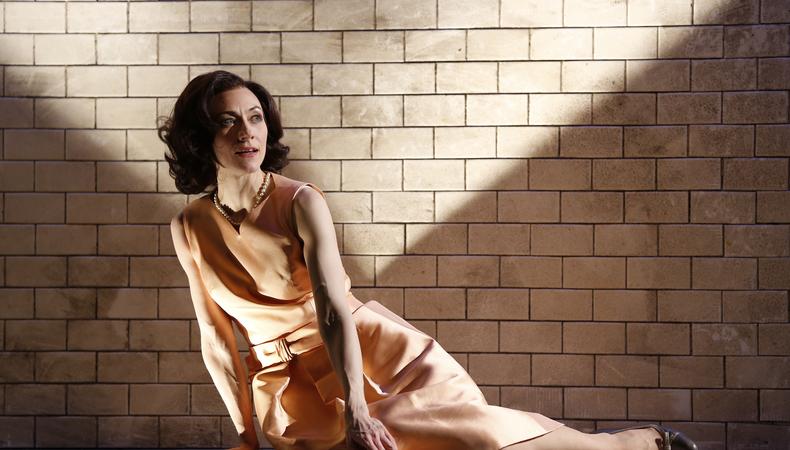 It's a bit late in history for a cultural reckoning with Jacqueline Kennedy Onassis. Since she and the era she represented were shattered by a Texas bullet, her careful and cold public image has come to stand for the artificiality that made postwar America a temporary—and secretly unhappy—paradise. Warhol picked up on this symbolism as early as 1964, and the former first lady's reputation hasn't much changed since then.
It's the anachronism of its critique that makes the New York premiere of Elfriede Jelinek's "Jackie" a bit of a letdown, despite its bracing production and the exceptional event of seeing Jelinek stateside. A Nobel Prize–winning Viennese novelist and playwright who has been a significant force on the German-language stage, Jelinek has had shamefully few American productions. The Women's Project Theater's decision to take her on, using Gitta Honegger's dynamic and lively translation, is to be commended.
The company might have chosen a more provocative play than "Jackie," however. Published in 2005, it is a long and somewhat rambling monologue delivered by Jackie O. (Tina Benko) as an apologia for the way she lived her life. "I am my clothes, and my clothes are me," she tells us, while ranting against the careless and overly vulnerable Marilyn Monroe. Erasing herself into her public image was the key to her survival, not the mark of her insecurity, Jackie asserts, while dragging duct-tape mannequins of the men and children she buried (including Jack, Bobby, and Aristotle). The effect is somewhere between a lecture and a fever dream, with much to admire but few new insights.
Benko, thankfully, plays the former first lady with a ferocity that demands attention. She is a precise and intelligent actor with a thin, sharp physique that she uses to make her heroine a force to be reckoned with. Benko abandons the real Jackie's thin and high-pitched voice and the fragility of her public demeanor. Instead, she is aggressive in her composure, as though her Jackie is constantly proving how effortlessly she can play herself.
Benko and director Tea Alagic manage to find infinite variety in Jelinek's long text, and the designers follow suit. Brian H Scott's manic light shifts (including a lot of spotlights, not surprisingly) are complemented by Jane Shaw's startling sound, which is punctuated by camera clicks that sound like gun shots. Susan Hilferty's squeaky-clean costumes (Chanel suit, Hermès scarf, White House–era wig, heels, and a trench coat) contrast with Marsha Ginsberg's dank set, which looks like a rusted and abandoned pool, to offer a snapshot of the contradictions that make up Jackie's psyche.
It's not clear what motivates Jackie's sudden confessional outburst, and Alagic offers little sign of the decay caused by Jackie's late-in-life cancer, a suggestion by the playwright that might have given color and urgency to the production. Nonetheless, Benko's performance and a chance to catch a whiff of one of Eastern Europe's leading avant-gardists make this smashing of an old icon worth a visit.
Presented by Women's Project Theater at New York City Center Stage II, 131 W. 55th St., NYC. March 5–31. (212) 581-1212 or www.nycitycenter.org. Casting by Alaine Alldaffer and Lisa Donadio.
Critic's Score: B