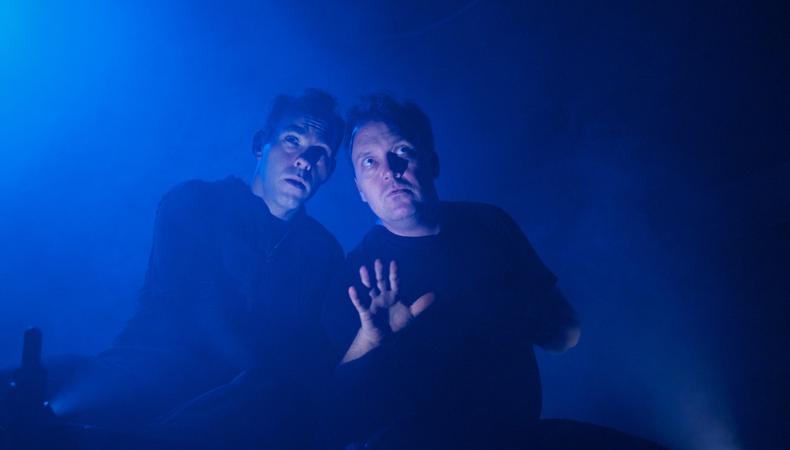 When Charles Dickens wrote "A Christmas Carol" in 1843, he had no idea he was creating a huge growth industry. By 1844, stage adaptations of his novel were on view in London and New York, and since then there have been countless productions on radio, TV, and film, as well as proliferating stage versions (in one recent year, there were at least 12 renditions in the Los Angeles area alone). Then there are the endless adaptations and spinoffs.
Tom Mula's revisionist "Jacob Marley's Christmas Carol" is staged in the middle of a huge warehouse, with a bare rectangular performance space defined by rows of folding chairs. The only set pieces are a staircase, two aluminum ladders, and a rolling 6-foot tower. Aside from a pair of glowing neon tubes, the props are merely suggested via pantomime and sound effects. Just four actors play all the roles. Jeff Elam is Marley, Travis Stanberry is Scrooge, Ian Andrew Jones is Marley's supernatural sidekick Bogle, and Keri Blunt is everyone else, from Bob Cratchit to Mr. Fezziwig.
Miserly Marley is fleeced of all he owns by his even more miserly partner Scrooge, and the shock kills him. He finds himself shackled with chains and cashboxes in an odd Dickensian hell, from which he can escape only if he can redeem Scrooge in 24 hours. But when he summons up the Ghost of Christmas Past, it's his own past that's on view. He must somehow save both Scrooge and himself.
Director Casey Kringlen gives the play a dynamic, hyperkinetic production in which the actors provide the special effects, using small flashlights with colored lenses to light faces in magenta, blue, white, gold, and ghoulish green as the action demands. Stanberry's Scrooge is broadly sketched, highly stylized, and relies on an oddball physicality. As Bogle, Jones is athletic, eccentric, and sassy. Blunt creates a gallery of sharply defined characters, while Elam, in the only fully developed role, initially seems over the top, but as the show progresses he becomes more human and sympathetic, credible and multifaceted.
The actors offer the dedication and skill to compensate for occasional lapses in the script. Trying to tell both Scrooge's tale and Marley's doesn't always make for an easy fit, but it's consistently interesting and works most of the time. Only toward the end does the show bog down under the strain of managing two separate emotional redemptions and tying up all the loose ends.
A word to the wise: Six01 Studio can be decidedly chilly; I envied the patrons who had the foresight to bring blankets. Dress warmly.
Presented by And So We Make Art at Six01 Studio, 601 S. Anderson St., L.A. Dec. 14–29. (800) 838-3006 or www.brownpapertickets.com.
Critic's Score: B+