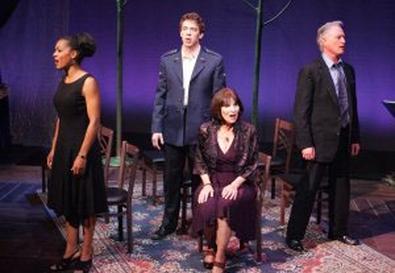 The statement in the title is no longer true, but thankfully the exquisite oeuvre of Belgian-born singer-songwriter Jacques Brel (1929–1978) lives on. Premiering Off-Broadway in 1968, this enchanting revue (conceived and translated into English by Eric Blau and Mort Shuman) has been enthralling audiences internationally ever since. Director Jon Lawrence Rivera's revival includes changes made in the 2006 Off-Broadway production. The songs are quintessentially French yet driven by compelling themes of universal relevance: war, love, longing, death, and the exuberant joys of life. The efforts of Rivera and a terrific four-member cast parlay this vehicle into a class-act entertainment.
The show is plotless, but a unifying element in this version is an outdoor funeral setting, eloquently conveyed by John H. Binkley's lovely set design, Adam Blumenthal's breathtaking lighting effects, and Dianne K. Graebner's tasteful costumes. The four gifted actor-singers are Eileen Barnett, Gregory Franklin, Zachary Ford, and Jennifer Shelton. Music director Brent Crayon leads a superb five-member onstage band.
Rivera has fortuitously cast four performers who are as capable of acting the songs as of singing them. Barnett is a sublime vocalist who goes directly to the heart and soul of a number. Whether or not one understands the French lyrics, her delivery of "Ne Me Quitte Pas" is heart-wrenching, and she masterfully leads the group in the rousing "If We Only Have Love." Shelton's shimmering soprano brings luster to her offerings, and she likewise imbues the lyrics with passion and truth, at her best in a paean to young love, "I Loved," and the haunting "My Death." Franklin exquisitely sings a wide range of songs. He excels in athletically boisterous comic numbers, as when he leads the hilarious "The Middle Class," backed up by Ford and Crayon, and when he cavorts in the bawdy "Amsterdam." Booming-voiced Ford is a formidable presence throughout and even plays an accordion at times. His finest moment is the shattering dramatic number "Next," about a soldier preparing emotionally for going off to war.
Those in the mood for Broadway-style show tunes will find particular satisfaction in two group numbers: the rollicking "Carousel," which captures the exhilaration of a carnival thrill ride, and the effervescent "Madeleine."
Presented by and at the Colony Theatre, 555 N. Third St., Burbank. April 10–May 9. Fri.–Sat., 8 p.m.; Sun., 2 and 7 p.m. (Also Sat., 3 p.m., April 17 and 24 and Thu., 8 p.m., April 29 and May 6.) (818) 558-7000, ext. 15. www.colonytheatre.org.