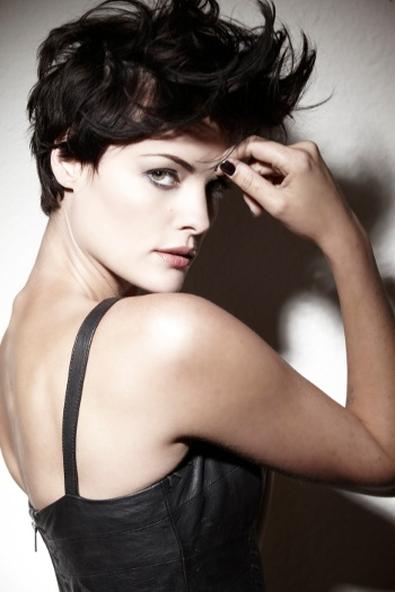 When we meet "Blindspot" hero Jane Doe, she's naked in a duffel bag in the middle of Times Square, her skin covered in tattoos and her memory wiped. "Thor" actor Jaimie Alexander brings Doe to life in NBC's action-packed conspiracy thriller.
On being a blank slate.
"[A] comparison that's being made is Jason Bourne. [It's] good because Jane has a very specific skill set that's quite extraordinary. Even though she has no memory of her past, she still has her primal gut instinct…so the sky's the limit. It's been a really amazing process to get to create this character with the writers and the cast and crew."
On getting inked.
"If I do the full body [of Jane's tattoos], it's about seven and a half hours in makeup. I have nine of my own tattoos. The only one you can actually see is 'E-S' on my left wrist—that stands for 'elephant shoe,' because if you mouth the words 'elephant shoe' it looks like you're saying 'I love you.' I used to do that as a kid. It's a reminder for me to look at things through an innocent eye."
On learning to fight.
"I learn a fight almost every other day on this show. I have a great stunt double, [whom] I've worked with for close to 10 years. Her name's Ky Furneaux. She's a female Bear Grylls—she's a survival expert, she's Australian. We train together and she teaches me to fight. We tag in and out so that we don't wear ourselves out."
On being an action star.
"My biggest pet peeve with action is when there's pointless action sequences just for the hell of it—when they don't actually go with the storyline, they just want to blow stuff up; it's all smoke and mirrors. That's why when I get involved with a project—especially with this one—I make sure all the sequences have great dramatic pull to them. I really enjoy this genre. It uses all of my talents and all of my abilities, and it really keeps me creatively satisfied. But obviously I'm open to other genres. Currently, I'm on this show called 'The Brink' and I get to dabble a bit in dark comedy; it's fun but challenging."
On staying grounded.
"I started the female wrestling team in high school, and it taught me discipline and perseverance, and to really stick with something and not give up no matter how tough it gets. I think I've carried that with me my whole life. I was not a rich kid, and I had somewhat of a rough upbringing. I've never in my life felt invincible, and I think that's good. I think that's how I've managed to stay grounded; my past is always with me."
Like this story? Read more of our Spotlight On interviews!