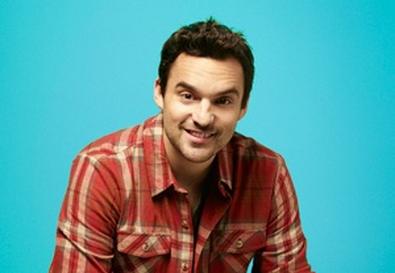 Deadbeats have been great for Jake Johnson. He achieved mainstream fame this year as lovably mopey Nick on the Zooey Deschanel-led sitcom "New Girl," and now he's causing a stir as unmotivated Seattle magazine reporter Jeff in the film "Safety Not Guaranteed." So how would Jeff profile Jake?
"He wouldn't ask questions; he would just give opinions," Johnson says. "He'd be the worst journalist ever. That's why he needs interns to write his stories for him."
Straight from a full day of promoting "New Girl" at the May upfronts, the sheepishly dapper Johnson looks like a cleaned-up version of his television alter ego. His signature scruff is toned down, and he has perfected the J. Crew mountain-man look with a plaid shirt and a crisp V-neck.
Jeff and Nick are of the same genus -- charming losers who win the girl and audiences' hearts -- but Johnson had "never been a love interest guy" before he encountered Elizabeth Meriwether, whose "No Strings Attached" script gave him his first romantic storyline. Then Meriwether, also the creator of "New Girl," made Johnson's Nick the Jim to the Pam of Deschanel's Jess and set up the will-they-or-won't-they scenario that can keep a series running for years. And now Johnson finds himself in the unlikely position of being seen as a romantic interest, on TV and the big screen.
In "Safety Not Guaranteed," Jeff and his interns (Aubrey Plaza of "Parks and Recreation" and newcomer Karan Soni) track down a mysterious supermarket employee (Mark Duplass) who placed a classified ad seeking a companion for a time travel adventure. The film reunites Johnson with longtime friend and collaborator Colin Trevorrow, who makes his feature film directorial debut.
"I like working with people I know; I think it takes the edge off," Johnson says as he fidgets with the cap to his empty Pellegrino bottle. "I like to improvise, and I like to be given some ownership of my own character."
Johnson is so confident in Trevorrow's abilities that he agreed to do "Safety Not Guaranteed" without even having read the script. "With Colin, he knew the way I worked and I knew the way he worked," Johnson says, "so I knew no matter what, I was going to have the ability to infuse things in Jeff that I thought were important."
Trevorrow has the same faith in Johnson. "I love him as an actor," Trevorrow says. "He has a way of being funny in the very classic, broader comedy sense, and he can also be a devastatingly real performer."
In the tradition of great funnymen, Johnson has always viewed himself as a character actor. "What I look for in parts is weirdness," he says. "I grew up with a single mother, so my uncles on my mother's side meant a ton to me growing up. Those uncles were huge characters. Growing up as a little boy, I just looked at those guys as 'Man, they can do no wrong.' When I find a character, a lot of times I'll try to find one of my uncles to connect him to."
Raised in Chicago, Johnson has attended school in Manhattan and worked in Hollywood, giving him an insider's take on all three markets.
"Los Angeles has the most talent," Johnson says of the difference between the three. "People from around the world come to L.A. to work. In Chicago, there's a rawness to it all. You can get a lot of stage time, and you can really experiment and really find your voice. There's a nice kind of mystery and edge to New York with acting, which can get lost in L.A. with the overexposure, and I don't think that exists in Chicago. They're all kind of important ingredients."
One of the great Los Angeles talents for Johnson is his "New Girl" leading lady. But is she as adorkable as the ads claim?
"I don't really know what that word means," he says with sudden seriousness. "Zooey is an unbelievably talented actress, like truly one of our great actors ... Let's not forget there's not a lot of luck involved in what she's doing. She's really smart, and she's talented, and she kind of raises the game for all us."
Creating chemistry with a cast, whether it's on a film set or a sitcom soundstage, is essential to a successful product. Not that Johnson has a system for success; he's just happy to enjoy the ride.
"I like people," Johnson says with a huge laugh. "I like to have fun. The thing that I think about with acting a lot is, we're not saving sick babies in India. We're not doing surgery on dying kids. We're playing make-'em-ups with make up on. We're being paid a lot of money. Better have some fun. This isn't going to last forever, so while we're at work, this is supposed to be a lot of fun."