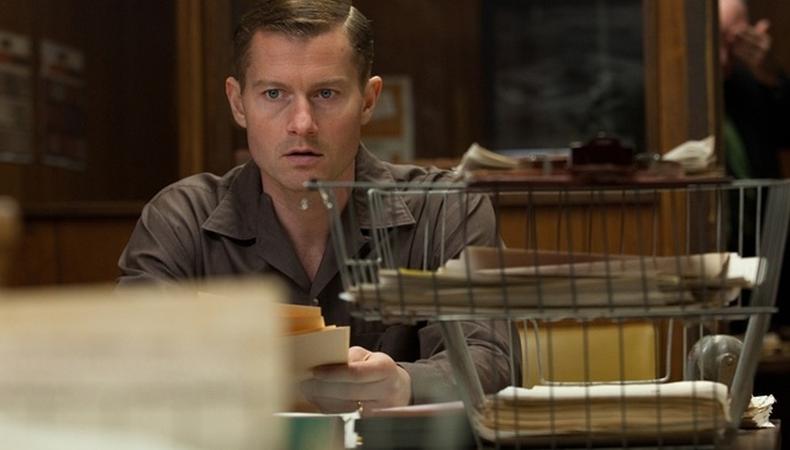 James Badge Dale made a career breakthrough last year with his scene stealing performance in "Flight." After following it up with roles in three summer blockbusters ("Ironman 3,""World War Z," and "The Lone Ranger"), his touching performance as Robert Oswald in "Parkland" breathes sympathy and life into the assassin's brother's life. "Parkland" focuses on the events at the hospital and surrounding city on the day (and days following) the assassination of President John F. Kennedy.
Similar to his audition process for "Flight," Dale once again asked to read for the role despite the fact that Robert was not the role Writer/Director Peter Landesman had in mind for him. When Dale suggested he'd like to take a crack at Robert, he says, "Peter just stopped and he was silent and he said 'That's a really good idea.' " At the time, Jacki Weaver was already attached to the project to play Marguerite Oswald. "I said, 'Who's Jacki playing? I want to hang out with her,' " Dale jokes. But Dale was drawn to the character of Robert and says he loved the writing, particularly in the scenes Robert has with his mother and brother. "I found that part of the story very haunting," Dale says. "As an actor, I found him to be a difficult, challenging character, and I like that," he says.
Go outside your comfort zone.
"Careers are made long term, and when you're young you should try to experience different things and do as many different roles as you can. Don't worry about money. Don't worry about any of that. Get on stage. Do a film. Do a student film. Do whatever you can to take risks, and that's a healthy use of your energy," says Dale. Dale also recently took on another challenge, playing a romantic in "Miss Meadows" with Katie Holmes. "That's frightening to me as an actor and as a person," he says. "So I said yes. I love the script and I love Katie and I can do something I don't normally do." Dale says he's always found romantic movies frightening because it's difficult to do relationship scenes for 12 hours as work and then go home and deal with relationships in real life. "It takes a lot out of you to say 'I love you.' It's a special thing and doing it on film has always been frightening to me," he says. "I never feel like I'm good enough. Maybe I'm not charming enough. Maybe I'm not sexy enough. Maybe I'm not cool enough. Those are all insecurities you have when you're in a relationship with someone. I carry those same insecurities with me into my work, and I think that's a good thing. You want to be open to that part of you. Because those parts of you are what make you unique and different and that's your voice as an actor."
Don't overdo it.
"The strongest film strips away the melodrama," says Dale. In "Parkland," Robert is not moving the action forward; it's happening around and to him. "I think there was a stillness to that character that I had to remind myself of constantly," he adds. "If you take 'Flight,' that character couldn't stop moving… Robert was the opposite. There's a lot going on. That energy is still there, but it's got to be still." In general, Dale suggests cutting dialogue to avoid going overboard. "I'm one of the only actors you'll ever meet, I'll cut my dialogue. Give me less to say. You don't need it," he says.
Use the medium you have.
On top of his upcoming films, Dale is also about to open a run of his friend John Pollono's "Small Engine Repair" later this month at MCC Theater in New York. "I love being onstage; it's the actors' medium and you grow and you change," he says. "You don't see the growth. You don't see the change. You don't really comprehend it, but it's there and I think it's important for actors to stay onstage." Dale feels there's more opportunity to be free in motion and physicality in the theater. He started his first TV show, "24," while finishing the run of his first play at the Flea Theater in New York. "I would do a couple days on the TV show and then I'd get on the plane and I'd do a few performances of the play," he remembers. "The difference in the styles was night and day. [When] you're working in television, they tell you, 'Don't move.' 'Hit your mark.' Everything's done in a close-up, and it can feel constricting, and then I get on an airplane, I get off and I run to the theater and suddenly I can go anywhere. I can do anything."
Be patient.
"Patience is a big thing, and when you're starting out everything means so much and you want everything right away," says Dale. "As I get older I get a little more patient, a little more calm." Auditioning is the never-ending challenge for actors. "I go in there, and I try to treat it like this is the only time that I will ever get to say these words," he says. "I treat it like a playground, and I go in and I experiment. I try to show them what I can do as an actor, not so much what I can do with this material, or if I can get this job. I think we get stuck in this idea that I've got to get this job, and I've got to get this job. It's not about this job. It's about that job two years from now. It's about that job five years from now." He also emphasizes that taking advantage of the time in the room is important. "It's not easy to do, but there is something to be said for owning that space and owning that room," he adds. "That material and that room will only be yours for a moment," he says. "Be kind. Be humble. Be respectful. Look people in the eyes, and then do your work as you see fit, because that's what directors want. Directors want to hire people that can interpret their material. You're a filter. It's not about giving them what they want; it's about giving them your take on it."