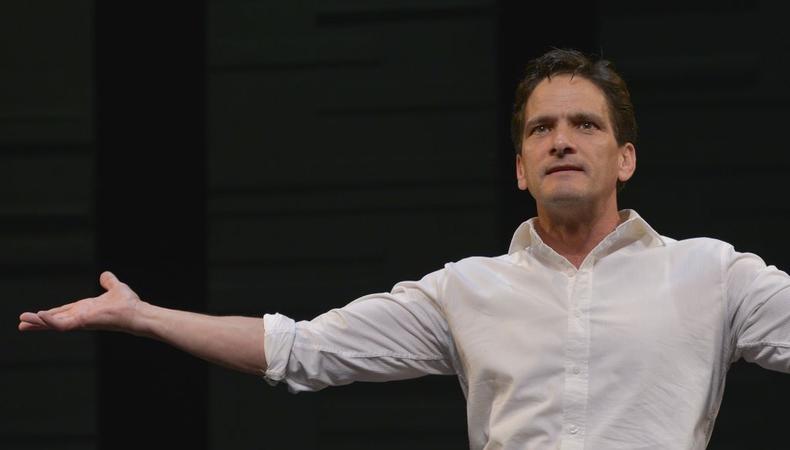 A two-time college dropout, James DeVita went from working on fishing boats to becoming an actor and director of classical theater. DeVita describes his early twenties as a confusing time where he was uncertain of what to do with his life. Then one evening in 1983, DeVita went on a college field trip to Manhattan to watch Sir Ian McKellen perform "Acting Shakespeare," a one-man show of McKellen's personal stories and excerpts from Shakespeare's works. Little did DeVita know, McKellen's play would change the course of his life and inspire a future, personalized adaptation of the same work.

"I knew nothing about Shakespeare, nothing about acting, about language or poetry," DeVita said. "To be honest I hated Shakespeare in school, it made me feel dumb because everybody else understood it and I didn't." But there was something about McKellen's storytelling that developed a love of language within DeVita. "That night I had actually understood and I remember watching [McKellen] and thinking 'I want to do that!' " After that night, DeVita decided to pursue acting and learn everything he could from his teachers and mentors.

Nearly 30 years later, DeVita is telling his journey from the boats to the stage through the lens of Shakespeare in his play "In Acting Shakespeare," DeVita's adaptation of McKellen's play. However, the adaptation began as a re-creation of McKellen's personal stories, and after writing multiple drafts, DeVita soon realized that acting out someone else's history wasn't going to work.

"After six months it was not going well, and we almost didn't do the show," DeVita said. The play's original and current director John Langs pushed DeVita to tell his own story. "John said to me 'The story about the kid who worked on a fishing boat who doesn't like to talk and winds up having a career in classic theater, that is an interesting story,'" DeVita said. "I resisted it at first because it sounded kind of pretentious to write about my life, but that's the thing that started to break open the play." The play became a whole new entity once DeVita replaced McKellen's Shakespeare excerpts with ones that had an impact on his life and swapped out McKellen's personal anecdotes with his own. "The piece became much more about my journey towards a career. It tells a kind of hypothetical story of Shakespeare's journey, which kind of parallels my story."

As an actor DeVita's goal is to create an understanding of the classics and of language within audiences as McKellen did for him. "I kind of believe that if you're not understanding Shakespeare, it's not Shakespeare's fault. It's mine as the actor," DeVita said. DeVita endeavors to make Shakespeare's work more accessible to all audiences. However, DeVita also believes in the transformative power of theater. DeVita says the play reveals "what words and language did for [Shakespeare] and why his words and language spoke to me some 400 years later, [when] I heard Mr. McKellen perform [them]."

With "In Acting Shakespeare," DeVita brings the famous words of Shakespeare into a new context, making them more intimate for an audience. "I talk right to the audience, and by the end of the night we've developed a relationship, which kind of mirrors some of the Shakespeare pieces," DeVita said. "I let [the audience] be whoever they want to be that night and by the end we know each other really well."

"In Acting Shakespeare" opens at The Pearl Theatre on Jan. 10.