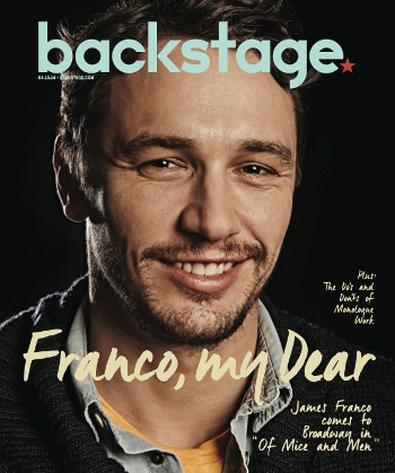 James Franco graces our cover this week, and he chats with Backstage about his starring role in the upcoming "Of Mice and Men" on Broadway. Check out the full story here!
---
James Franco on Critics and Context
James Franco is no stranger to criticism. The epitome of a multitasker, he's found himself on the receiving end of barbs because of his abundant curiosity and refusal to adhere to any one medium.
"I've been working professionally for 17 years, so my relationship with criticism has changed," he says. "When I was really young, I was taught, 'Don't read reviews!' And then I read some, and I really believe this: When it comes to acting, at least in film and television, it's really hard for a critic to be able to assess a performance."
He points to his stint on ABC soap opera "General Hospital" as a turning point for his relationship with criticism, saying, "Context changes everything." Because of the conventions of soaps—the small budgets and tight schedules require long dialogue scenes, preset lighting, and endless recapping of what has previously occurred—his performance was judged on something other than its own merits.
"Before I went on, I thought, Am I going to have to act like a soap opera actor? What does that mean?" he recalls. "Then I went there and realized I'm just going to do what I always do: Adapt to the tone of it and have my character work in this world. I'm just doing what I normally do, but the context is changing how I come across."
That inability to separate an actor from the craft at work around him is what Franco points to when discussing his discontent with most criticism. "If you're going to criticize the movie, OK. But when I design a character, I'm doing it with the director. I view it as the director's creation as much as mine. So if you're criticizing the character, you're criticizing the director as much as me. And I give credit to the directors as well: If I give a good performance, I give at least 50 percent of the credit to the director. That's just the way to work in a collaborative medium."