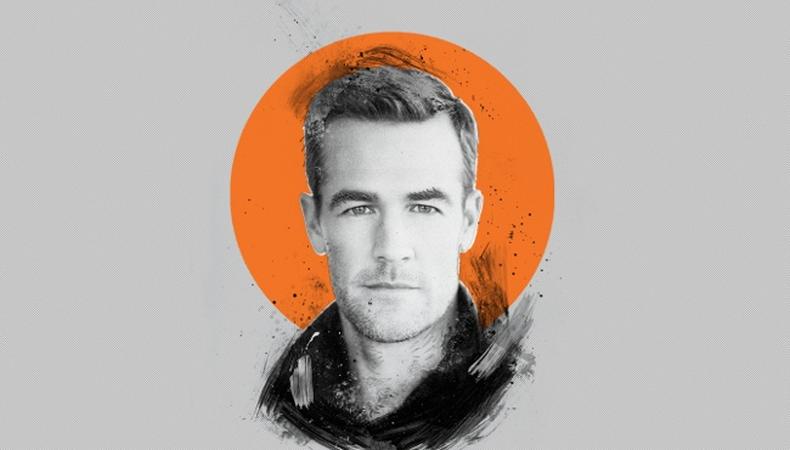 Before he was Dawson, James Van Der Beek was another actor reading Backstage on the train to his auditions in New York City. Now, he's expanding his acting role to include producer and writer for Viceland's first scripted series, "What Would Diplo Do?" What does he hope to share with young actors leafing through these pages? "You're going to have days when you just feel like it's never going to happen—keep pushing through."
You shared with Jimmy Fallon that you walked back into a 'Law & Order' casting to find your headshot in the trash. What did that headshot look like?
I was young, so it was definitely a black and white, three-quarter headshot, denim shirt. That must've been my bad-boy look; I should have been wearing a jean jacket to really sell it in 1994. It might have been that first round of headshots. You come to New York and you have no idea what to do, so you bring four or five looks. There's no shame in taking that really ridiculous headshot that you're going to laugh at years later or making that really bold choice in that audition that totally was not the way they were looking to go. You just keep going and doing the best you can.
Have you ever used Backstage in the past?
I would get the paper version of Backstage and would look through all the open calls and all the theaters that were doing summer productions. I'd show up at 7 a.m. for an 8 a.m. call and be No. 234. I remember reading articles [in Backstage] from people who were actually working. It's crazy to look back on how much you've learned and how much you...recognize that nobody gets into it knowing everything. It's a journey.
What advice would you give your younger self who was looking through the open calls in Backstage?
[Laughs] I'd probably tell myself to go on fewer open calls. Make really good, specific choices and commit to them. I auditioned for a year and a half before I booked anything. The first couple of jobs that I booked, I had been given the wrong character description. I had the right sides and the wrong character description. So I went in and I made choices that were different than everybody else's, and those were the first two things that I actually got hired on. I'd say to my younger self, "Don't worry so much about as coming across as fake, or coming across as not real. Find whatever you want to do and make a choice and commit to it." When you audition, that is your chance to play the role. It's a lot of fun. Don't think of it as a stepping stone. Do all the work that you would do if you were going to step on set and have fun with it. Regardless of the outcome, you learned something, you had fun. None of that energy of any audition, of any character is ever wasted—even if you don't get the role. You're constantly building out other places to go.
How do you typically prepare for an audition?
You always start with [asking], How does this character serve the overall story? If your line is "Would you like some more soup, sir?" it doesn't matter what your character's relationship was with his grandfather. Sometimes you need to get in, say the line, and not distract. When the role is a little bit bigger and the scene is more involved, you think, What can I bring to this? What can I do that's unique, that feels authentic? At the end of the day, it's authenticity that you're going for.
What were other choices that you followed through on that impacted your career?
If you see something in the script that resonates with you and only you, that's your ticket right there. What you need to do is go in and give a performance where you're the only actor who could play the role this way. That's how I got my first movie. I was supposed to play an asshole high school bully. There's a moment in the [character's] speech to the school where I saw a moment of vulnerability. I was not the guy who bullied anybody, I was the theater kid who got bullied. But in my mind, I thought, Wow, this guy has got to have some moment of self-reflection, and maybe it happened while he was giving a speech. It would have been very easy to play the whole speech in one direction and play it very hard and surface-level.... I remember they flew me out to L.A. to screen test for it. They said, "This is why you're here. You're the only one that found this moment and it's so interesting and none of us saw it. None of us thought that this is what the character would be until you decided to do it."
What has working on 'What Would Diplo Do?' added to your acting skills?
It's given me an opportunity to write, produce, and run a show, which I'd never done before. From the acting standpoint...everything is a building block to something else. I got to play a weird-ass version of myself on "Don't Trust The B---- in Apartment 23." That gave me the basis to be able to step up and say, "I think I know how to write this Diplo character and I know how to produce this show."
Were there any challenges while you were considering taking on the role of producer and writer?
I went in expecting there to be an extremely steep learning curve, which there was. And I went in saying, "OK, I know nothing and I'm going to ask questions." Some of my favorite people I've ever worked with, especially recently, are people who had no qualms about asking questions. People who were completely unafraid to say, "Hey, I don't know what I'm doing. Do you have any advice?" I love when people are brave enough and confident enough to ask for advice. One of my favorite questions when I was hiring people was: What questions should I be asking that I'm not, because this is my first time doing this? And I got some really great answers. Once we got on set and got going into production, there were a lot of things that I didn't know, but the big surprise was actually how prepared I was to do it. How much I actually did know by having spent 25 years on set, onstage as an actor.
It's funny how much you learn by osmosis.
By osmosis, and I've always been an actor who asks a million questions of producers, of line producers. A lot of those guys only hear from actors when they want a day off or they have a problem. But I was always curious about where did that scrim come from? Who painted that? Did it come from a warehouse? What happens after we're done with it? If we rent it out five years from now, where does that money go? How did we get this location? Ask questions of those guys, ask them what they do, and you never know when it will come in handy.
Do you find yourself now with a lot of special skills on your résumé?
If you go into any production or any audition, the question "Where can I add value?" is going to serve you so well. Even the technical knowledge that I now have, even knowing how to deal with writers, those are all things that will help me add value whether I'm acting, whether I'm writing, whether I'm producing, whether I'm the friend of a guy on set. The more you know, the more you can help. If you can write and generate content, you have such a better chance of being a part of a product that you love.
Check out Backstage's New York City audition listings!