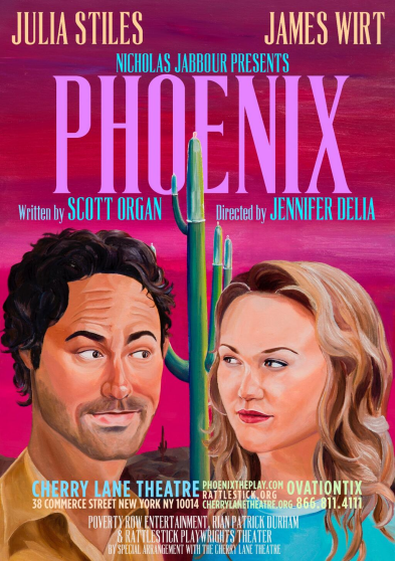 There's no other way James Wirt would rather be spending his summer than starring opposite Julia Stiles in Scott Organ's "Phoenix." Now playing Off-Broadway, the provocative romantic comedy was chosen specifically, says Wirt, from among 10 or 15 plays of which "Phoenix" was his favorite. "It resonated, it had a charming quality, it wasn't cynical. It was a good play for the summer."
"Phoenix" is one of several projects giving Wirt's career some serious momentum after years of working on New York stages. "I got involved because I know the director [Jennifer DeLia]. I did her movie coming out in November called 'Billy Bates,' " he says. "I had met Julia once at the premiere [at] the SoHo Film Festival, and she liked the movie and agreed to do a play with me." Wirt and Stiles will be acting opposite each other again in the upcoming Mary Pickford film "The First."
Wirt chats with us about his relationship with live audiences, the crucial advice he got a decade ago, and—full disclosure—his fondness for Backstage.
On the challenges of performing a two-person play.
"You have to have a lot of trust there, especially with this dialogue which is very David Mamet oriented. There's a lot of 'yeah,' 'OK,' 'right.' It can be really hard."
Working with Stiles in the relatively small Cherry Lane Theatre also proved daunting early in the process. "It's just us two," Wirt says. "There's not a lot of props, not a lot of stage business, just a platform and us two to share the story. The more we're connected and the more we're involved in the story, the more it really lives."
On his love of live theater.
"The actor's medium is theater," says Wirt. "You get the immediate audience feedback… They kind of direct you too, with their truth—they're not faking it…They're as much a part of the experience as the actors are.
"When you get to the first show, that's always when the play feels a little weird because that's when you've done it a lot, but you don't have that third character who's going to come into the room and change and help and shape and coach and pat and love and everything, which is [what the audience does]."
On his beginnings.
"I've been looking through Backstage since I came to New York–for a decade! It's such an actor's publication, it's really special. It's almost like I'm an alumni of it somehow. I spent so much time looking at it and it's so helpful for so many actors."
On following Denzel Washington's advice.
"I was working as a bellman on 44th street. I was there for five years when I first moved to New York, and I went up to Denzel Washington after a show—he was doing "Julius Caesar"—and he was signing autographs in the rain. And I asked, 'What should an actor do? I just moved here.' And he was like, 'Get on the stage!' He said 'If you're not on the stage, stay in acting class.' So I've been taking acting classes for 10 years nonstop."
Wirt often passes this same advice along to other aspiring actors. "You have to keep working," he says. "I love acting classes, I love acting teachers. I think actors who are looking for work should just stay in class, keep working, keep dreaming. It's like having a personal trainer, like going to the gym. You can't work out once a week and think you're going to be in shape. Acting's no different than athletics. You have to be practicing. Get your hours in. Get your reps in."
For more of Backstage's theater coverage, check out "7 Companies Producing Groundbreaking Immersive Theater."