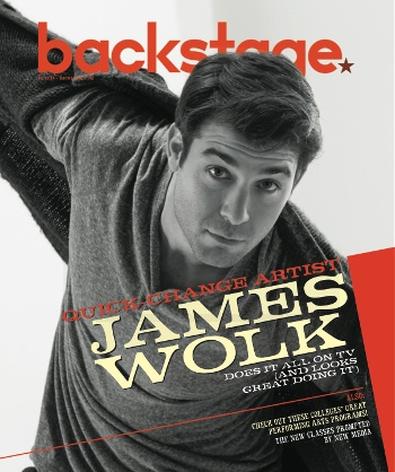 James Wolk graces our cover this week, and he chats with Backstage about his roles on "The Crazy Ones" and "Mad Men" as well as his time in school and his first failed series. Check out a sneak peek from the feature below!
---
James Wolk On Using Music to Connect
Sit down for a chat with James Wolk about acting and there's a good chance that music will become a central theme.
"I loved music as a kid," he says. "Still do. I played guitar and trumpet. We used to sing and dance with my dad in his shoe store and around the house. So when high school came along, I thought, 'Where can I keep doing this?' Musicals. That was the next logical step—it was an outlet for this artistic expression."
When Wolk went to the University of Michigan's School of Music, Theatre & Dance, he decided to focus on straight theater instead of musicals. But music remains at the core of his acting approach, especially when it comes to auditions.
"For 'Mad Men,' I didn't have much time—I think the audition was in a day or two," he recalls. After Wolk got the sides for Bob Benson, the show's enigmatic accounts man, he developed a backstory but also tried to find the right music to connect with the character.
"When I arrived at the audition, there was a bunch of people waiting in the lobby to read. I went in the stairwell, put on some Dean Martin music, and just danced for about 10 minutes. I was getting into the flow of Dean Martin and the Rat Pack era. Even though it wasn't exactly the era that the scene took place in, it led me to a place of, 'This is how people walked, this is how people talked, this was the sense of panache that came with that time.' And then they called my name, I took my headphones off, and walked into the room."
That technique wasn't an anomaly for Wolk. "For the auditioning process, I love to move my body around, maybe dance a little bit, get myself in a really loose place where I'm free to play," he says. "I'm approaching it with a sense of play as opposed to a sense of pressure or anxiety."