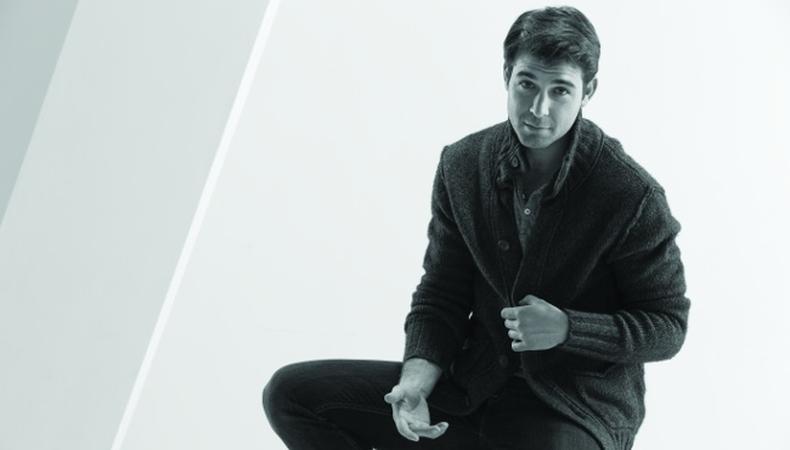 If things had worked out differently—if he hadn't believed he could make it as an actor—the man who brought Bob Benson to life might have been a doctor.
"I was kind of ready to go premed at the University of Michigan," James Wolk says, relaxing in a loft east of downtown Los Angeles on a warm January afternoon. Though he had supportive parents, Wolk admits to feeling internal pressure to consider a more reliable profession. So what kind of doctor would he have been? "I think I'd be a pediatrician," Wolk says. He laughs self-deprecatingly. "My friends that were in some premed classes with me, I don't know that I ever could have done what they've done. Some of them just finished their residencies. I'm just blown away [when they tell me], 'Oh, I just worked 20 hours through the night.' That was my backup? That's a lot of hard work—it just shows you the kind of blind cockiness I had as a 20-year-old: 'I'll be a doctor or an actor.' "
If Wolk, who turns 29 in March, is concerned about coming across as arrogant, he needn't. TV audiences may be used to seeing him playing deceitful or egotistical men—Bob Allen on the short-lived "Lone Star," Zach Cropper on "The Crazy Ones," Bob Benson on "Mad Men"—but in person, he's unerringly polite, happy to answer questions about his burgeoning career and the schooling that helped get him where he is now.
Wolk grew up in the Detroit suburb of Farmington Hills in a household where the arts were appreciated and music was always playing. Theater became an early passion for Wolk, who had plenty of opportunities to perform at his public high school. "We just happened to have these great theater directors who came in and kicked ass," he says. "They made this great program and worked long hours and didn't get paid well for it. But they wanted to do it. It was just a really special thing—I know that in a public school system, that's not the way it always is."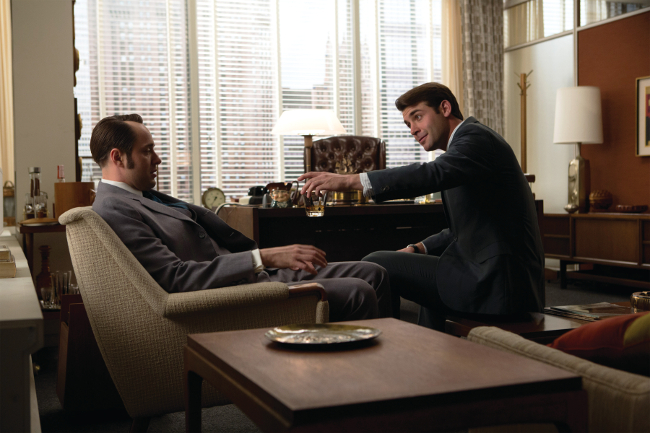 Still, he wasn't positive about applying for Michigan's School of Music, Theatre & Dance. But like so many, Wolk was fortunate to find a mentor who steered him in the right direction. "I had a great theater teacher in high school who ran the theater department. He said to me, 'If you go into [premed], you're always gonna regret it.' So he helped me prepare three monologues; I auditioned [for Michigan], and I got in."
His first class was improv. "We wore crazy masks and ran around the room," he says. "It was insanity, but it was great. I liked it, but I thought, 'No one's telling me where to go.' I was a little nervous."
Those nerves were exacerbated by being around peers who were as committed as he was—maybe even more so. "Honestly, I was like, 'Wow, a lot of these guys are better than me,' " he says. " 'They're great, and they're really serious. Am I good enough and serious enough to do this?' " Happily, Wolk discovered that he possessed an innate confidence to weather the inevitable setbacks that come with pursing acting. "At Michigan, they'd have casting directors come in, and they'd try to explain to us how difficult it is," he says. "But I don't think you really believe it. I think part of you does, but part of you is like, 'But I'm different! I'm gonna make this happen!' "
He laughs at his younger self. "That blind ignorance is so important—otherwise, who would pursue acting? But if you believe it, it's just like a self-fulfilling prophecy, right? Because if you don't believe it, it's definitely not gonna happen."
That self-belief has served him well in his professional life. After graduating from Michigan in 2007, Wolk quickly got work on "As the World Turns" and was the lead in the Hallmark movie "Front of the Class." But it was 2010's critically lauded Fox drama "Lone Star" that seemed to be his big break—until it was canceled after two episodes. "I was super-young and I had an immense amount of heat," he recalls. "That it could all go away felt like, 'Wait a minute, even when I work hard to get something, it's not really there?' "
After "Lone Star," Wolk strove to resist any feeling that its swift end reflected on him. "You always have a fear that you'll be associated with a [failed] project," he admits, "but if you're doing good work, you'll get more work. A lot of stuff, you can't control—I mean, the TV market is so volatile."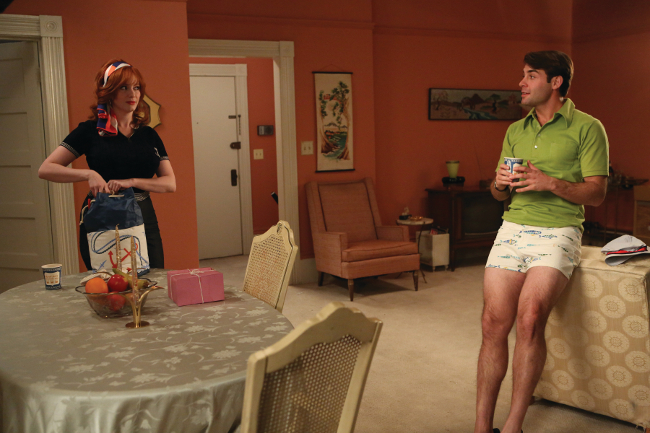 Wolk found something much more stable when he was cast as Benson on "Mad Men," becoming one of Season 6's most discussed and debated characters. Because Benson was such a mysterious figure, only slowly revealing his complicated past, was Wolk concerned about how to create a character whose backstory wasn't even clear to him, initially? "I think you can't let fear guide you," Wolk says. "As opposed to a film, where it's already written, a series grows, and I think it's always better to make a strong choice than to be scared to make a choice. When you make a strong choice, it guides you as an artist, pushes you in a certain direction. It allows the writers to see you're taking ownership of this character—and in any good collaboration, if they feel that you're off course, they'll knock you back on. But when you don't make any decision, it keeps things foggy and doesn't allow the character to unfold the way that it should."
Happily, things are less foggy for Wolk than at any time in his young career. He's finishing the first season of "The Crazy Ones," which gave him a chance to do comedy after mostly pursuing dramatic roles. "You do want to be funny," he says about his performance on the Robin Williams series, "but that's a dangerous thing. If you're trying to be funny, I think sometimes you're not funny and it can get away from the truth—and I think the audience feels that."
As for "Mad Men," Wolk responds, "I can't say anything about 'Mad Men.' " But he is free to comment on arriving at a place of stability in his work life. "It feels great," Wolk says, savoring the moment. "It feels really nice." Still, he's learned that good fortune doesn't always last—that's what you sign up for in this business. "I think as an actor, it's good to become comfortable with not knowing."