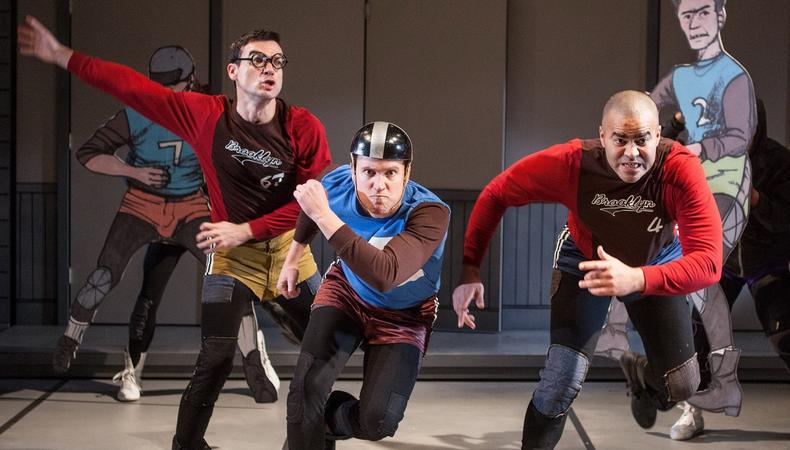 "The Jammer" finds the joy in the small things. The simple story about a common man who follows his dreams of the roller derby doesn't appear to be much from the outset, but under Jackson Gay's astute direction, Rolin Jones' play, led by a revelatory performance from Patch Darragh, tugs at the heartstrings and resonates with the emotional dreamer in all of us.
Taxi driver and cardboard-factory worker Jack Lovington lives a quotidian life in Bushwick, N.Y. He's been engaged to his homely fiancée, Aurora, for two years and regularly attends confession with his priest, Father Kosciusko. Almost too regularly, in fact, as Jack harbors a secret life at the roller rink. When someone discovers his skating talent, Jack decides to leave his fiancée behind for three months to go on the road with the best roller-derby team on the Eastern Seaboard.
While Jack is away on tour, things don't stay well at home. Bushwick gentrifies, Father Kosciusko is demoted, and Father Domingo takes over the parish. Aurora forsakes Jack, and he's left wondering if love or success should be his driving ambition. But Jack doesn't remain so innocent on his wild ride. The adult virgin, who has never ventured outside his comfort zone, faces the woes of the world in unexpected ways and must decide whether he really had it good all along.
Darragh is perfect as Jack, transforming this dopey, naive dreamer into an endearing and lovable leading man who makes a valiant case for innocence and morality above all. Jack could easily be a grating character, as his crucial choice—whether to join the roller derby—is not an entirely captivating one. Todd Weeks makes Father Kosciusko a quirky and humorous priest. Billy Eugene Jones channels suave and slightly sleazy as Lenny Ringle, the manager of the roller-derby team. Jeanine Serralles is wonderful as the hardened, foulmouthed Lindy Batello, who warms up to Jack's big heart. Serralles is an unlikely leading lady, and she and Darragh are great together. The supporting cast rounds out the company nicely.
Luckily, as is not the case with Jack, "The Jammer" doesn't have delusions of grandeur, evident in the appealing cartoonish production aesthetic Gay selects. Wilson Chin's cardboard-cutout set is an appropriate reference to Jack's factory job, while Jessica Ford's attractive costumes fit the look of the piece well.
"The Jammer" isn't groundbreaking, but it does what theater does best: It appeals to the audience's emotional sensibility and delivers a beautiful story in a beautiful way.
Presented by Atlantic Theater Company at Atlantic Stage 2, 330 W. 16th St., NYC. Jan. 22–Feb. 17. (212) 279-4200 or www.ticketcentral.com. Casting by Caparelliotis Casting.
Critic's Score: A-