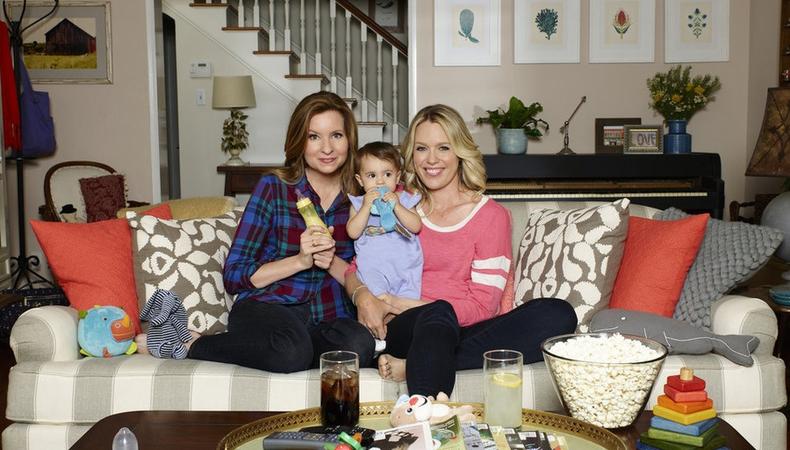 Lennon Parham and Jessica St. Clair are both soaking wet this time. Today, at least, it's on purpose. It's a sunny June day in Agora Hills, and America's best friends are filming a scene on location for the second season of USA's "Playing House" that involves a hot tub and frozen grapes.
"Nothing's too big," Parham says between takes. She looks around her. "We wrote an episode with a paddleboat race on a lake!"
You can't blame them for aiming higher this time around. "Playing House," the comedy about best friends—"or friendsbians"— Maggie (Parham) and Emma (St. Clair) who wind up living together and awaiting the birth of Maggie's daughter, premiered to critical adoration and a small but intensely loyal following. The network waited a couple of nerve-wracking months before renewing the series, and that time gave Parham and St. Clair all the impetus they needed to make Season 2 everything they could imagine.
"It's like we were Rudy—I've never seen it and I never will, but I think it's about a tiny guy who learns how to play football?—and because of that, this time whatever is going to make us laugh, we do," St. Clair says. "And we wrote only for our friends and for various famous people like Kenny Loggins who we desperately needed to meet. We had a board that was like, 'Here are all of our dream people.'"
"It'll be what you came to know and love in the first season with some surprises," Parham adds. "And it's not just the status quo. You will go on a soap opera-ish arc."
"We go hard for the jokes obviously, always, but we would like it to feel more like a miniseries in terms of the arcs," St. Clair says. "Now Maggie and Emma are starting to look around for who they might date and how they affects their relationship. And maybe there's some really hot Jane Austen type stuff."
They proceed to spill spoilers at an almost alarming rate, egged on by their audience's hysterical laughter. But one spoiler they remain mostly mum about is the number of Easter eggs they've scattered throughout the 10 episodes for fans of their delightfully demented podcast "Womp It Up," on which St. Clair and Parham play high school senior Marisa Wompler and former sniper Charlotte Listler.
"DiGiorno was contacted," St. Clair offers in reference to Marissa's preferred pizza purveyor. "They did not want to give us money."
Pretty soon it's back to the scene and the hot tub now filled with "cooze water," but first both UCB alums gush about having the iconic comedy group's founders—sans Amy Poehler—on the series.
"They were like, 'Stop crying and touching us," St. Clair says. "I had Ian Roberts motorboat Marissa Winokur. But Ian Roberts surprise motorboated me and I have never been more shocked He got right in there. I had a rash on my solar plexus!"
"Well," Parham interjects dryly, "I don't want to be rude but Marissa is working with a little bit more. There's a deeper dive." St. Clair cackles, then marvels again at her mentor's face on her sternum.
"He's my mentor! He taught me how to improvise and then he motorboated me." She pauses to ruminate. "The lessons never stop," she adds sagely.
And while the series will return on USA Aug. 4 at 10 p.m., SAG-AFTRA and Equity members can get a sneak peek of the second episode in NYC Aug, 5, when SAG Foundation hosts a screening of episodes 1 and 2 followed by a Q&A with Parham and St. Clair.
Inspired by this post? Check out our television audition listings!