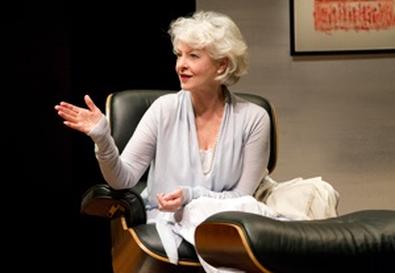 Imagine playing an amorphous figure who may or may not represent impending doom. Not that the title character, Elizabeth, is delineated as such in Edward Albee's "The Lady From Dubuque," now running Off-Broadway at the Pershing Square Signature Center. But she's clearly on another plane, says the patrician Jane Alexander, who's tackling the part in the intense drama centering on Jo, a dying woman (Laila Robins), and her tormented relationships with her spouse and their friends. After a raucous evening, mysterious strangers Elizabeth and Oscar (Peter Francis James) arrive, seemingly out of nowhere, to soothe Jo.
"Edward says you cannot play a character as a metaphor," Alexander says. "Edward won't define her, not even in private. So I play it as I feel it, as a flesh-and-blood woman, who's there as a comforter. That's what Jo needs. Edward says reality is defined by what we need."
Often playing aristocratic women, Alexander has had a stellar career in theater, film, and television and garnered a shelf-ful of awards along the way. She also served as the chair of the National Endowment for the Arts from 1993 to 1997. A lifelong activist—from civil rights to anti-Vietnam protests to feminism—Alexander now focuses her attention on environmental issues, with a special interest in conserving natural habitats for wildlife.
Though she never envisioned a life in government, Alexander had her sights set on acting when she was growing up in Boston. But to accommodate her father, who firmly believed everyone should have a fallback career, Alexander majored in math as well as theater at Sarah Lawrence College. Computers were beginning to appear, and Alexander thought if acting didn't pan out she could work as a programmer. Her junior year abroad at the University of Edinburgh, however, changed the course of her life. She performed with the school's drama club, and her talents were touted by the local papers. No longer open to pursuing backup gigs, she dropped out of college and forged ahead with acting. "My poor dad," Alexander recalls. "But he told me to go ahead with it and gave me two years."
As it turned out, within that deadline she was working as an actor. Throughout her career, she honed her craft and played an array of parts in regional theaters. But a pivotal moment—indeed, an artistic epiphany—occurred when she was starring in "Saint Joan" at the Arena Stage in Washington, D.C. Her future husband, Edwin Sherin, was directing. At the time she had been studying with a teacher in New York—"who will remain nameless," she chortles. "Ed said to me, 'There's only one problem with your acting. You can't be seen, and you can't be heard.' So I jettisoned the method I had been working on and listened to Ed. I learned how to put more emphasis on the vocal and took ownership of my roles."
Her professional watershed was starring opposite James Earl Jones in "The Great White Hope," playing a black boxer's white mistress. It was launched at the Arena Stage and moved on to Broadway in 1968 before becoming a major film. The production established the careers of both actors. "We both got Tony Awards, Academy Award nominations, and were off and sailing in all three mediums," she remarks, sounding thrilled even in retrospect. " 'The Great White Hope' was remarkable especially during the height of the civil rights movement. There were 63 actors in the cast, playing over 200 roles, and more than half of them were African-American. The audience was diverse. It was incredible to be part of that."
A Proactive Career
Never one to rest on her laurels, Alexander decided—after close to 20 years of working steadily—she needed to become proactive and produce her own work. It was not simply to give herself choice roles: "I felt there were stories I wanted to tell," she says. The projects she produced and starred in included "Calamity Jane" for CBS and "A Marriage: Georgia O'Keeffe and Alfred Stieglitz" for PBS.
But mounting self-generated work was not easy, and Alexander soon tired of the relentless struggle. "Being in Hollywood when you're a woman in your late 40s was very tough, especially then," she points out. "There was a lot of pressure and humiliation. Many of the producers didn't know who I was."
Interestingly, for mature screenwriters, she felt there was far more discrimination than for female actors of a certain age. "Producers were known to have said, 'Don't send me scripts written by writers over 35' or some other young age," she recalls. "The only discrimination I felt as an actor is that there have always been more roles for mature men than mature women in film."
A major shift in Alexander's life took place when she was tapped by President Bill Clinton to helm the NEA. It was the capstone of a lifetime dedicated to progressive movements. Still, she was not fully prepared for what came with her new post.
"I became the focus of media attention," she says. "It was during the time of the NEA Four, Andres Serrano, and Robert Mapplethorpe." This was a brouhaha surrounding the public funding of four controversial performance artists and two equally provocative visual artists. "I became the target during the Newt Gingrich Congress," she continues. "During those four years I was shifted into a political arena."
Alexander does not regret her role at the NEA. Indeed, she met fascinating artists and politicians who never would have crossed her path otherwise, she says. "And I have wonderful stories to tell about Newt Gingrich." Still, it took her close to seven years to be viewed as an actor again and make the transition back to the stage. She likens acting to riding a bike. "You never forget it," she says.
Alexander has indeed had a fortunate career. There are no roles she's dying to do. She concludes, "I made that list when I was 16, and I've now done most of them."
"The Lady From Dubuque" will play through March 25 at the Pershing Square Signature Center, 480 W. 42nd St., NYC. (212) 244-7529 or www.signaturetheatre.org.
Outtakes
Mother of Jace Alexander, an actor, a director, and a co-founder of the New York theater company Naked Angels
Appeared on Broadway in 13 plays, was nominated for six Tony Awards, and won a Tony for "The Great White Hope"
Has more than 55 film and TV credits, earning four Academy Award nominations, six Emmy nominations, and Emmy Awards for her performances in "Warm Springs" and "Playing for Time"
Wrote a memoir, "Command Performance: An Actress in the Theater of Politics," and co-wrote "The Blue Fish Cookbook"