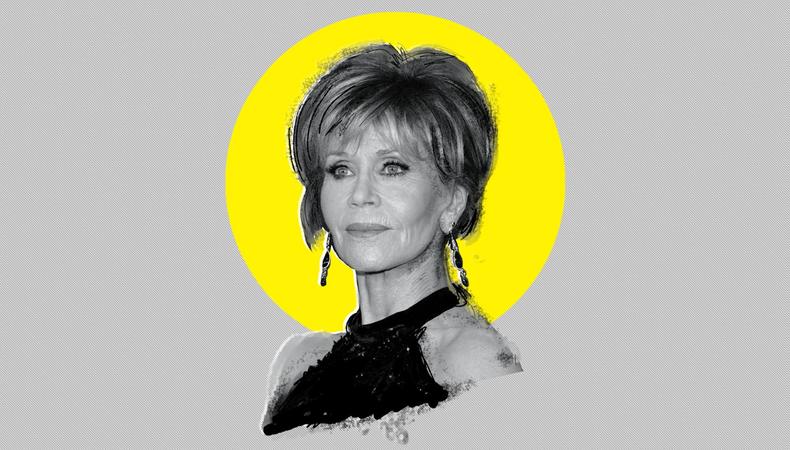 Two-time Oscar winner Jane Fonda is no stranger to the spotlight. And with HBO's documentary "Jane Fonda in Five Acts," she's as revealing and revelatory as ever, diving deep into her illustrious career both on- and offscreen while offering her greatest lessons gleaned along the way. She recently jumped on the phone with Backstage to chat about it all—and it's clear that her latest act is just getting started.
Was your life story always one that you wanted to translate to the screen?
People have always asked me. Every year, literally two or three filmmakers will ask to do a documentary about me. Fundraising for it was always a problem. But then Susan Lacy moved from her place at PBS, where she founded "American Masters," and moved to HBO, where she didn't have to do fundraising. I had known Susan and admired her, and she asked if she could do the documentary for HBO. I love HBO—I had a home there for awhile with "The Newsroom." I knew that I'd be 80 when it came out, and it seemed like I was in good hands there.
Why was Susan the filmmaker to make you say yes?
Well, she's an excellent documentary filmmaker. I have loved what she's done with "American Masters." I saw her documentary on David Geffen [called "Inventing David Geffen"], and I thought it was really fantastic. I know David, and I really admired it. But one of the people who wanted to do a documentary of me, together, we went to Susan to pitch it for "American Masters," and there was a problem of fundraising. I think Susan at the time probably knew but didn't say that she was going to be moving, so when she got to HBO, she asked if she could do it herself. I agreed, and I'm happy. I think she did a really good job.
READ: 8 Acting Techniques (and the Stars Who Swear by Them)
Over the course of the film's five acts, it really does deep-dive as much into your personal life as it does into your career and your activism. Was there hesitancy there, or are you looking back as an open book?
Well, I was an open book when I wrote my memoir [called "My Life So Far"], which came out in 2005 and has been translated into 17 languages. I knew that the story that I had to tell—in spite of the fact that I'm very different because I'm famous and I'm white and I've been privileged all my life—had a universal aspect to it that could speak to a lot of issues for a lot of people. So it's not like I'm suddenly doing a documentary for HBO with Susan Lacy and I've decided to open up. I've opened up before. But the idea of doing it on film with a lot of archival footage—I mean, she's got so much great footage, plus the home movies that my father did. It was a lot of material that people had never seen before. And I just thought that it would be effective. I intend to live for a couple more decades, so there might be another one, who knows!
Which of your roles first made you fall in love with acting?
"They Shoot Horses, Don't They?" with Sydney Pollack. I had made a lot of movies up until then, including "Barbarella" and "Barefoot in the Park," but that really was a turning point for me. And then after that, I did "Klute." That's really when I began to love the profession. I went into acting not because I'd always wanted to be an actor since childhood—I did not want to be an actor. But I got fired as a secretary, and I didn't know what to do. Lee Strasberg accepted me into his class, and I had to be able to move out of my father's [Henry Fonda] house—I was 21 at the time. I needed a job. I needed to work. So it was by default. But it became a passion in '68, '69.
What's something you learned from Strasberg that you still put to use when performing?
I'm kind of hyper, and so relaxing and slowing down was what he worked on with me the most.
You've been working now as much as ever. What does it mean to you to be making work that everyone can enjoy but that is also representative of generations that don't always see themselves onscreen?
When I was in my 40s, I wrote a book called "Women Coming of Age." I said in the preface of the book that I want to give a cultural face to older women. And then when I met Ted Turner in the '90s and married him—I was in my 50s then, and I retired for 15 years. I thought, Well, I guess I'm never gonna achieve that goal; I didn't think I'd ever go back into the business. So the fact that I have been able to resurrect a career—I don't know that that's ever happened before, starting at age 65, and now I'm 80. I feel very blessed.
What's your best bit of advice for auditioning actors?
I was always good at auditions—some people aren't, and it doesn't mean they're not talented. And if you have the passion for acting, then I want to say: Just keep going. You may not get parts for a long time. A lot of very successful, great performers took a long time before they hit. Don't let it discourage you. Just keep digging deeper and learning more about your craft. There are too many people wanting to act now—a lot more than there were when I started out. There's a lot of competition. You have to have some technique under your belt. And that doesn't mean going to class to study how to do commercials. It means really knowing how to dig deep and bring it on when you go in.
What is one piece of advice that you would give your younger self? Don't give up. Don't give up. Don't give up. Just keep trying to get better. Keep trying to learn more. Keep trying to become a better person.