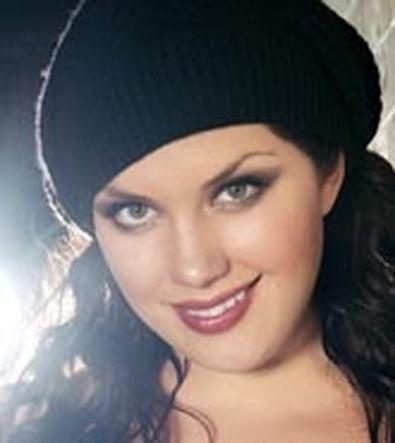 Jane Monheit's voice comes to you as if from deep within the heart of an ancient myth about beauty. It's a stunning sound entirely her own, although reminiscent of two predecessors whom she's known to admire: Ella Fitzgerald and Sarah Vaughan. And who would ever complain about that provenance?
Furthermore, as with the effortlessness common to Fitzgerald and Vaughan, there's nothing vocally she can't do. No matter what liberties Monheit takes with melody, no matter how and why and where she chooses to improvise, no matter what lovely flourishes she's moved to add at the end of a number, she simply does no wrong high, middle, or low. The scatting, the humming during instrumental breaks taken by pianist Michael Kanan, bassist Neil Miner, and drummer-hubby Rick Montalbano are the musical equivalents of cream-filled chocolates.
She's had that ability since she was first noticed in her early 20s. Then, she had an ingénue appeal — a reticence and innocence under which seemed to lurk a sly knowingness. Now 30 and the mother of a 5-month-old, she projects different qualities. She's in full command of the stage. On dominatrix stiletto heels, she sallies back and forth from the mike stand with movement that made me think of the old comment we used to yell at certain girls during recess: "I wish I had a swing like that in my backyard."
Raised on Broadway melodies when a Long Island youngster and then schooled by jazz artists (she's devoted to mentor Peter Eldridge of New York Voices), she sometimes fuses her influences, sometimes treats them separately. It's jazz all the way with opener, "I Was Doing All Right" (Ira Gershwin-George Gershwin and associated with Fitzgerald), and subsequent inclusions like "My One and Only" (again those Gershwin sibs) and the beg-off, "Please Be Kind" (Sammy Cahn-Saul Chaplin).
At other times she plays it high-class-pop-straight, such as what was a merely supernal "Lucky to Be Me" (Betty Comden-Adolph Green-Leonard Bernstein). She intros the ditty by referring to her baby, and you can see her focusing on the lucky tyke throughout. Later she mentions she chose Paul Simon's "I Do It for Your Love" because of the lyric and then proves it through her sympathetic rendition. As she says in one of her congenial and forthcoming asides, she makes a point — as she doesn't write the songs she sings — of selecting material "where the lyrics are really right for me." (Where this leaves the undeniably experienced-adult Howard Dietz-Arthur Schwartz "Haunted Heart" — which she often does but not here — is a sweet mystery.)
Regarding both lyric and tune to the E.Y. Harburg-Harold Arlen "Over the Rainbow" as sacrosanct and still worth occasional judicious altering for emotive purposes, she builds the 1939 Oscar winner to a breathtaking finish, thereby continuing to make it her own, something only Sam Harris has been able to do since Judy Garland put a lock on it. For an instance of her adroitly blending jazz and pop delivery, there's Irving Berlin's "Cheek to Cheek."
It was clear when Monheit arrived young and dewy and laden with talent that she would only get better as she got older. That she would get this much better — that it would be humanly possible for anyone to mature so richly — comes as both a surprise and an inevitability.
Presented by and at Birdland,
315 W. 44th St., NYC.
Oct. 21-25. Tue-Sat., 8:30 and 11 p.m.
(212) 581-3080 or www.birdlandjazz.com.