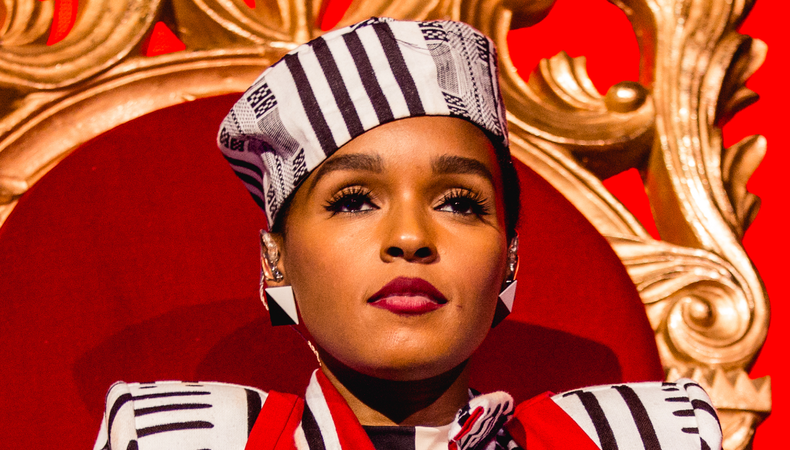 In the Envelope: The Actor's Podcast features in-depth conversations with today's most noteworthy actors and creators. Join host and senior editor Vinnie Mancuso for this guide to living the creative life from those who are doing it every day.
Janelle Monáe has a simple explanation for how she became not only an eight-time Grammy nominated musician, activist, and sci-fi writer, but also an actor in buzzy awards films and the highly anticipated "Glass Onion: A Knives Out Mystery."
"I have clones," Monáe says. "All of my clones go out, and they are representatives for the many things that I put my heart and my spirit into. Sometimes things don't go as planned, but that is life, and I welcome all the highs and the lows, the peaks and the valleys."
She's kidding. (Or is she?) In this episode of In the Envelope: The Actor's Podcast, we unlock the mystery of Monáe's multifaceted output, from turns in Oscar players such as "Moonlight" and "Hidden Figures" to her enigmatic role in "Glass Onion: A Knives Out Mystery."
Monáe first identifies the 'spirit' of her characters—and then leaves room to play.
"I always start with the spirit. What is the spirit of this person? What are they after, what do they want? Depending on the role, they can be a bad person or a good person or everything in between. What's really evil, what's really good? There's a lot to unpack with [her 'Glass Onion' character, Andi Brand]. There's a lot of mystery behind this character. So I started with the spirit. Once I'm locked into that, and I get my body into the clothes, I start doing preproduction, rehearsals, marking up the script, getting into it—that's when I start building.
"But you also leave room for that spirit to reveal more about itself. What else is she trying to say? What else can she do? It will evolve over time, especially after you try it. Sometimes you can have something in your head, and you think, 'This is it.' Then you look at a take and you're just like, 'I don't think that's what's needed.' It's a lot of that. It's a lot of taking risks, being wrong, being right, and having a wonderful director who is open to collaborating and exploring it with you. And allowing you the space to explore on your own."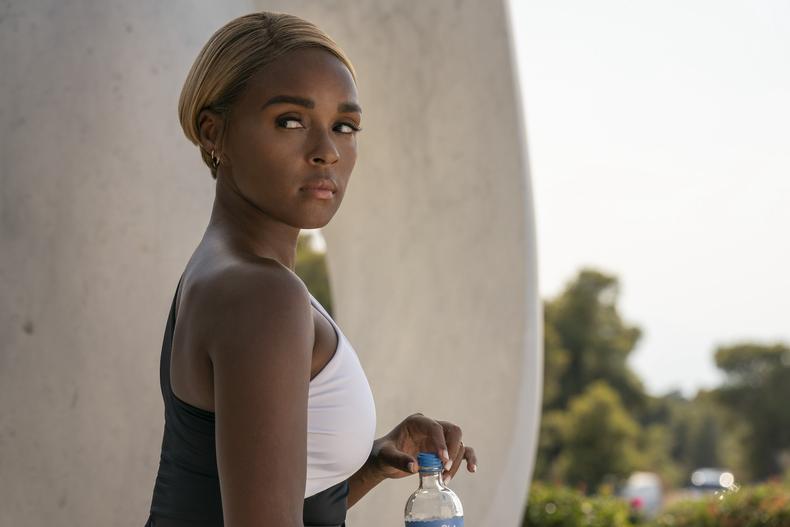 Janelle Monáe in "Glass Onion" Credit: John Wilson/Netflix
The ensemble structure of 'Glass Onion' reinforced the importance of listening as an actor.
"You learn a lot about a person from listening. I can learn about you from just letting you talk for a good solid three, four, five minutes and not interrupting you. When we give people our time, it's a beautiful gift to be able to give somebody something you'll never get back. The combination of giving time and listening allows for you to really hear each other. Not listening to react or respond, but listening to understand. A lot of acting is about understanding—understanding what your scene partner is going through personally, and professionally what their character is going through. Because that helps inform how you're going to respond."
When she hits a creative roadblock, Monáe remembers a story from her childhood.
"I was writing at the Young Playwrights' Roundtable at the Coterie Theatre in my hometown. It was a beautiful program, but they had a no-late policy—you could not be late to the program. I was sharing a car at the time with my mom. My mom was working as a janitor at that time. I would drive to school, leave school, pick up my mom, drop her off, and then go to that program. But there were times when my mom was still cleaning. She had to work overtime. It made me late and I remember them kicking me out of that program.
"I was heartbroken. This is the kind of program where actors would perform your work. It helped define me as a writer. I was like, 'This was the in. I'm never going to be able to do what I love now.' But I would do it all over again for my mother. I would stay after however long she needed me to stay. Because that is my mother and I love her with all my heart. But it just shows that it doesn't always go in your favor. There are moments of doubt, there are moments where you get kicked out of a program and you think, 'This is it, I needed this.' It all works out in the end."
Listen and subscribe to In the Envelope: The Actor's Podcast to hear our full conversation with Monáe: