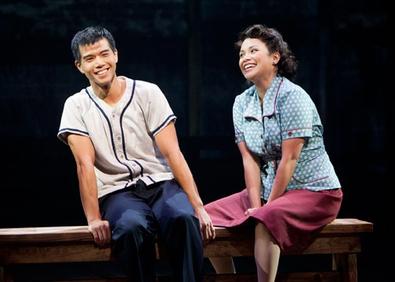 George Takei has already established his place in entertainment history with his role on "Star Trek" and his cult Internet following, but now he can boast of another achievement: as the inspiration behind a unique new musical. Jay Kuo, Lorenzo Thione, and Marc Acito wrote "Allegiance" after learning of Takei's experiences in Japanese internment camps during World War II.
"Allegiance" chronicles the journey of the fictional Kimura family from their farm in California to an internment camp in Wyoming and then on to various destinies following the war. The inevitable challenge of bringing so much history into a two-and-a-half-hour production is that some scenes end up feeling overly expository or rushed, but overall, this show offers balanced amounts of history and plot. As each of the characters struggles with racial identity, patriotism, and family loyalty, the musical gives a thorough overview of Japanese wartime experiences.
Kuo, who wrote the show's music and lyrics, has hits and misses in this score. The most memorable songs are those with a '40s sound or Japanese lyrics. Frankie's (Michael K. Lee) song "Paradise," which sets a rebellious young man's frustrations to perky swing music, is the show's musical high point. Japanese songs "Gaman" and "Tojaku-Ya" are also noteworthy. When Kuo doesn't follow this historical or cultural formula, the results are much less interesting. Many have a generic musical theater sound and rely on clichéd lyrics like "spread my wings and fly." Even with several forgettable tunes, however, the strong cast makes this production a musically enjoyable one.
This show's ensemble numbers are impressive. Music director Laura Bergquist and a cast of talented singers have achieved some chilling choral harmonies—particularly in the second act's ensemble number about Hiroshima. Leading the cast as Kei Kimura, Broadway veteran Lea Salonga (pictured with Telly Leung) gives a flawless vocal performance that stands out even when the material doesn't. Her song "Higher" is perhaps the score's least engaging, but her perfect voice and emotional performance still earned her enthusiastic applause for the number. Telly Leung as Sammy Kimura is also a skilled singer and is believable as a headstrong youngster. Though Takei has gotten the most publicity surrounding this show, his role is really a cameo. Still, his perfectly delivered one-liners elicited many laughs and a standing ovation during curtain call.
This production's technical elements are spot on. Donyale Werle's set, with its delicate paper screens and foreboding barbed wire, creates an appropriately bleak atmosphere. Jonathan Deans' sound design brings to life crackling radios and explosive sounds of war. Costumes by Alejo Vietti are era-appropriate and aesthetically delightful.
With more editing this show could work out its minor flaws, but even as it is, it successfully brings an often-overlooked part of American history to light in a way that is creative and affecting. And for its world premiere, the creators of this show could not have asked for a better group of actors.
Presented by The Old Globe, 1363 Old Globe Way, San Diego. Sept. 7–Oct. 28. Tue. and Wed. 7 p.m., Thu. and Fri. 8 p.m., Sat. 2 p.m. and 8 p.m., Sun. 2 p.m. (619) 231-1941or www.theoldglobe.org. Casting by Tesley + Company.
Critics Score: A-