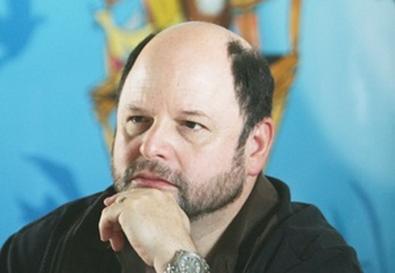 Politicians and movie stars is a story as old as The Rat Pack and honorary member JFK. Now, Sarah Jessica Parker has become the latest actor to take the political spotlight when she hosted a fundraiser for President Obama at her home in New York on Thursday. Parker had promoted the event, which she co-hosted with Vogue editor Anna Wintour, in a national advertisement for the Obama campaign that aired during the MTV Music Awards earlier this month. Parker and Wintour also co-hosted a fashion show fundraiser in 2008 to raise money for the campaign. Parker's activism hasn't been inflammatory, but any time an actor is in the public eye for something other than his or her work, there are risks.
Just ask Jason Alexander, who recently made national headlines when he took issue with GOP presidential nominee Mitt Romney paraphrasing his "Seinfeld" character, George Costanza, in speeches.
"The downside of being a celebrity is that people kind of know about you, and you really don't need them to know about you, you need them to know about your work," Alexander told Back Stage in a recent interview. "When they know too much, and if what they know antagonizes them, it's a little harder to tell your story."
Hollywood has long been friendly territory for Democrats – George Clooney recently hosted a $15 million fundraiser for the president at his Los Angeles home--so backing Obama isn't exactly a career killer. Still, entering the political arena can have repercussions for an actor's career.
Jon Voight, for instance, has become known as an ardent support of the GOP. He campaigned for Sen. John McCain (R-Ariz.) in 2008 and has appeared for Romney this cycle. In those appearances, Voight has been sharply critical of Obama. It's that kind of style that can cause ripples in the thin-skinned entertainment world, Alexander warned.
"The ones that go, 'I'm right, you're wrong, I'm smart, you're stupid,' I don't think that's the approach that you use even if you're not a celebrity," he said. "I don't want to bump anyone's political views, but I worry about the ever-shrinking middle class and I just think the man we have is going to help them a lot more than anybody else that's out there."
However, some casting directors say an actor's politics won't affect whether he or she gets the role—unless his or her views are far outside the mainstream.
"An actor's political affiliation has never been discussed in context with their appropriateness for a specific role," said Marc Hirschfeld, who has cast series ranging from NBC's "Seinfeld" to TV Land's "Happily Divorced."
"I don't think an actor's political activism would affect our casting decisions unless he or she is an avowed Neo-Nazi."