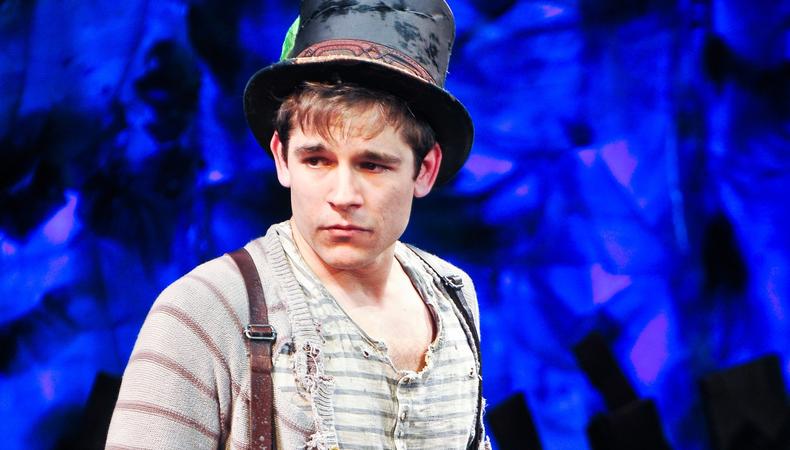 Jason Ralph enjoys being busy. From his stints on "Gossip Girl" and "The Good Wife" to serving as the co-artistic and producing director of his theater company, Strangemen & Co., Ralph usually doesn't have much time for himself—though he doesn't see it that way. That's why, when offered the opportunity to play "Boy" in the Off-Broadway run of "Peter and the Starcatcher," now playing at the New World Stages, he was more than thrilled to take on the role, and tighter schedule. Ralph understudied five roles during the show's Tony-winning Broadway run, which closed in January.
Being a part of "Starcatcher," the adult-friendly prequel to "Peter Pan," is the perfect match for Ralph, who compares his passionate knack for storytelling to that of "Starcatcher." Ralph spoke to Backstage about transitioning from understudy to leading man, his "weeping like a little girl," and his similarities to Christian Borle.
Backstage: What was it like making your Broadway debut in "Peter in the Starcatcher"?
Jason Ralph: It was amazing. When I made my Broadway debut, I was going on as the character Ted and I was covering five roles at the time. I was covering Peter, Ted, Prentiss, Fighting Prawn, and Captain Scott. So the first time I was going on, and as you know the play is very, very physical and there's a lot of components, and as an understudy we got very little rehearsal time, especially rehearsal time with the whole crew…So the first time going on with the lights and the sound and actual people around, I spent most of the show in a blind panic trying not to run into anyone. Suddenly, in the snap of a finger, we were at the curtain call and there's this Broadway house on their feet and I just started weeping like a little girl. It's amazing; there's no feeling like that in the world. I'm so very thankful that I have an opportunity, especially with this show.
Backstage: What's it been like transitioning from being an understudy to playing "Boy"?
Ralph: Fantastic. [Laughs] It was really cool. I had the luxury of knowing everything about the play going into this process and only having to focus on one thing. So, the idea for me was clarifying some story things that I wanted to focus on and creating the arc of the character that I wanted to work on and hone. I just got to go in the rehearsal room the other day with these marvelous actors and just fail and follow every impulse, just to get the old version of Peter out of my body and discover my own. I've never had so much fun.
Backstage: What did working with Christian Borle teach you as an actor?
Ralph: The guy is an incredibly hard worker. While we were in rehearsals for "Peter" the last go-around, he was filming "Smash" at the same time…He didn't complain about it or complain about how tired he was. So then this process, I was doing kind of a similar thing with my theater company; our show was going on at the same time. So I was rehearsing "Peter" during the day and then running over to 59E59 to perform, and it's just like incredibly grueling and exhausting, but seeing the grace that he had when he was doing that really kind of informed the way I went about it. Instead of complaining about it, I got to rejoice in the fact that I was getting to do exactly what I want to do every single day and being exhausted at the end of it and loving every minute of the exhaustion.
Backstage: Where did you get the idea to start your own theater company?
Ralph: With my friend, James Ortiz—we're the co-founders of the company—we were just starting to make stuff and we have these strange talents and we each needed a flag to put our project under. We came up with the name Strange Men and Co., which captures who we are pretty nicely…Recently we had our first Off-Broadway debut at 59 E 59 Theater. We did a play called "On the Head of a Pin," and it was kind of a huge success.
Backstage: What are some of the strange talents that you bring to the company?
Ralph: Puppetry, acting, dance, and song. We just have a different way of coming at work that is kind of odd. I don't have any juggling or fire-eating skills.
Backstage: Do you have advice for actors following in your footsteps?
Ralph: Don't give up. It's hard and it takes time. But you just have to do the things you love and if you're pursuing the things you love honestly for the right reasons, then you'll get what you want.