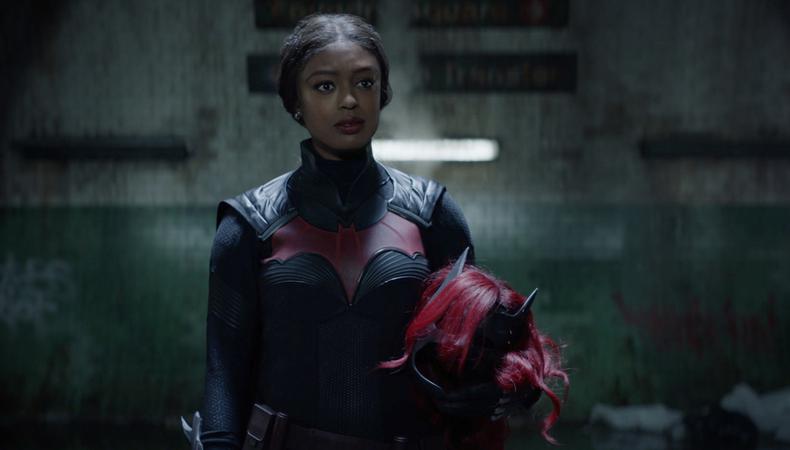 The following interview for Backstage's on-camera series The Slate was compiled in part by Backstage readers just like you! Follow us on Twitter (@Backstage) and Instagram (@backstagecast) to stay in the loop on upcoming interviews and to submit your questions.
Javicia Leslie might not be the hero we deserve, but she is the hero we need. Fans of the CW's "Batwoman" should count themselves lucky, then, that the actor will be donning the Batsuit for Season 2. Leslie is portraying a brand-new character, Ryan Wilder, who inherits the cape and suit after the departure of Ruby Rose's Kate Kane. She's also making history as the first Black woman to don the iconic cowl. Leslie sat down with Backstage to talk about her journey from acting student to Caped Crusader.
Ryan Wilder is a complex character.
"She grew up in foster care, and then she kind of went from home to home. Her mom died when giving birth to her. When she was in her early teens, she was finally adopted by who she considers [to be] her mother now. Life is just going really good for her, finally—and then her mother was killed in front of her. And it kind of changed her life…. And then she stumbles on the Batsuit. When she first gets the Batsuit, it ends up being her way of getting vengeance on a city that has turned its back on people like her. But as her journey goes on, she really becomes the hero that Gotham needs."
Finding the right acting class helped Leslie find success in Los Angeles.
"I started with Krater Studio, which is an amazing studio. I think that most actors that first move to L.A. should start with Krater Studio, because we do on-camera work, and I think that that's really important in class. A lot of classes don't do on-camera work, and it allows you to see the things you do…. And then I moved [to] the Imagined Life, which I felt helped me more with my connection to [bringing] the humanity to all of [the] lives that I play. And then from there, I started doing television…. It's been a beautiful journey. It's had its ups [and] it's definitely had its downs, but I'm glad I didn't give up."
Leslie believes that everyone deserves to play the hero, and she hopes that her tenure as Batwoman will be inspiring.
"When I was growing up, I was very connected to the Batman franchise. I mean, it's the most epic franchise. It's Batman—come on! So it's just like, to be able to see a Black superhero [in] those roles is very epic. And I feel like it's necessary, and I'm honored to be able to play [her]. And so now, to bring in a woman of color to play the role—I just feel like it's more inclusive. Here's the thing—and I think this is something that's really important to understand: The suit itself already represents a hero, you know what I mean? Anyone can put the suit on. I'm really happy that my grandkids will be able to say, 'My grandma was Batwoman.' "
Training in martial arts helped her get into the role.
"I was already studying muay thai and bo staff before I booked the role. So when I booked the role, it was kind of like a coincidence that it all connected like that…. When I came to the stunt team, we already knew what each other were talking about; we already spoke the same language. And it made it so much easier for us to do our stunts and our choreography. I am unable to do all of my stunts, obviously. One, because of time. Two, because of ability. But what I love about my stunt team is that they have so much trust in me to allow me to do so many things."
Her advice for actors: Own what makes you unique.
"It's simple: You are not even enough, you're more than enough. Everything that makes you different and unique is going to be what makes you win. Don't walk away from it. Stop trying to blend in. Don't try to be like anyone else. Stop trying to find actors that you admire to emulate. Be yourself, and be the highest and best version of yourself, and constantly continue to contribute to your craft, continue to grow in your craft, [and] continue to take classes. And understand that everything that you do to build on [your craft] is going to play [out] at some point in your career."
Looking for remote work? Backstage has got you covered! Click here for auditions you can do from home!