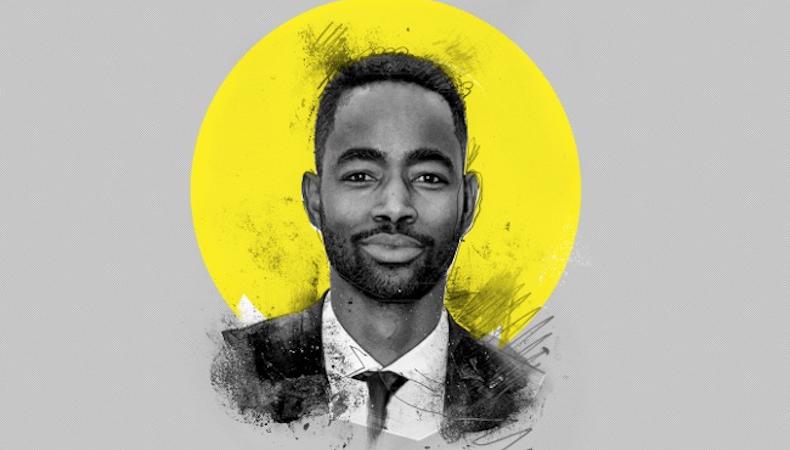 Jay Ellis got his start as a model handing out gym towels and locker keys in the WME building, hoping to land an agent. While he didn't get one then, he did eventually, and went on to feature on BET's "The Game." Now, he's starring on Issa Rae's massively successful HBO show "Insecure" as Lawrence, Rae's onscreen on-again, off-again boyfriend. Heading into the highly anticipated second season, Ellis looks back on his early days trying to make it as an actor in Los Angeles—from his numerous survival jobs to his audition room faux pas—as well as chats about his character prep process, "Do the Right Thing," and what he wishes he'd realized starting out.
What has working on 'Insecure' added to your acting skills?
Episode 7, for example, where Issa and Lawrence break up, forced me to look at the material not just from the perspective of a half-hour comedy. There are moments that are fun and light where people laugh, and there are moments right around the corner that are dramatic and heartbreaking. [I also learned to] take apart the white space on the page and think about what helps us get from moment to moment.
How do you typically prepare for an audition?
I read the script first to get the perspective on the whole story, the writing, and how the character I'm auditioning for is talked about by other people or relates to other people; from there I go into the sides. It depends on how much time I have, but I take a couple of hours to sit with the sides by myself somewhere quiet, in a space that I'm comfortable and familiar with—usually my couch—and I find out who this person is, what's going on in their head, and the moments they're living on the page. I run the material, always with two people, sometimes three. We all see things so differently, so to get a couple of people's perspectives on what I'm doing and the material itself is insanely helpful for honing in on what to take into the audition room.
What advice do you have for those looking to be actors in L.A.?
There are a lot of things you have to know about when you come in, like what you need from a neighborhood; to me that's one of the most important things. You always have to think about how you're getting from Point A to Point B. Are you going to live in the Valley, where it's cheaper but it's going to take you longer to get places? Or are you going to live in the city, where it's more expensive but your drives are shorter?
Then [it's about] really knowing the agency system. Although there are tons of agents and agencies here, you've got to take the time to study who you're specifically reaching out to and why. Agents run a business, and their business is their talent; some are more general and broad and can rep a little bit of everything, some are more niche. You have to be specific with who you approach and how.
What was your most memorable survival job?
I sold sneakers, women's shoes, denim; I was a bartender; I worked the front door at a bar; I worked the front door at a nightclub. I've had a lot of odd jobs just to make ends meet. But my most memorable was probably at what's now an Equinox, on the bottom floor of what is now the WME building—back then it was just Endeavor. I used to hand out towels and locker keys. I got a job there thinking, One of these agents is going to see me and be like, "Oh, my God, dude, where have you been? We've been waiting on you! You're the next Fresh Prince. We've got a show for you, and here are three movies to choose from! Which one do you want to do?" I used to be...handing out all these towels and locker keys to all these agents and attorneys, just grinning every single day knowing one of these people was going to give me a job—because that's how it worked in my mind. Meanwhile, they were probably just complaining to management about my breath at 5 o'clock in the morning.
What is your worst audition story?
I auditioned for Lamorne Morris' part, Winston, on "New Girl." In the scene, the character was eating a mayonnaise sandwich. I thought, Nobody else is going to go into the audition eating, and this is how I'm gonna set myself apart. I get these Nature Valley whole grain bars—the honey and peanut butter ones. I even pre-unwrapped them and had them in my pocket. I go in, sit down, and start the scene. The moment comes, I'm in the zone, I feel so great about it, I casually reach in my pocket, pull out this Nature Valley bar, and I just start crunching on it. Two things [happened]: one, it was peanut butter, so it stuck to my teeth. I was gargling the entire time. And second, there were crunches flying out of my mouth at the casting director and the casting assistant behind the camera. I get through it, and the CD just stops and looks at me and goes, "Oh! You made the choice to eat during the scene." Me with a massive smile and all the pride of a young actor who pulled a trick out of a bag, [I] say, "Yeah, yeah, yeah! I thought it'd be great to really show what Winston was doing. So much of the comedy is in that." He's like, "Let's just try it again." So we do it again, and of course I have my second Nature Valley bar ready, thinking he was blown away by my choice. I have not been back in that casting office since.
What movie should every actor see?
"Glengarry Glen Ross" [stars] five or six of some of the greatest talents out there. David Mamet wrote and James Foley directed, and the monologues are so clean and crisp and are so filled with life and truth. The second for me is "Do the Right Thing" by Spike Lee. It showed the black community in a completely different and new way. The use of both comedy and drama in the film is such an amazing balance.
What advice would you give your younger self?
Go in being confident with you and your choices. [In front of casting directors] I used to think, Just tell me what you need; I can do it if you just tell me. What you realize is they don't know until they see it. So you can take that pressure off of yourself; go in, have fun with the material, meet a new casting director, and make a great relationship.
Want to take Ellis' advice to the small screen? Check out Backstage's TV audition listings!