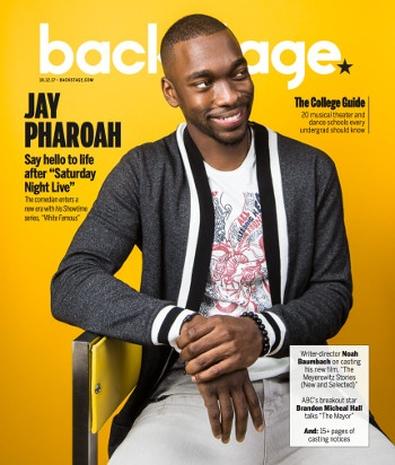 You might recognize Jay Pharoah for his impressions of everyone from President Barack Obama to Kanye West. Or you might know him from his impressive career as a standup, or for his six-season run on "Saturday Night Live"; the young comic has without a doubt infiltrated pop culture. But Pharoah is still—as his new half-hour Showtime series reflects—working to become "white famous," that coveted place where everyone, including audiences that don't look like you, knows your name.
He explains over lunch on Manhattan's Lower East Side: "Wherever between Eddie [Murphy] and Will [Smith] is, that's where I'm trying to go. Both of them are my idols—and both of them are white famous."
Those two stars, in addition to luminaries like Dave Chappelle, Chris Rock, and "White Famous" executive producer Jamie Foxx, are the inspirations for the series and for Pharoah's character, Floyd Mooney—a young, talented comedian finding his place in the entertainment world. "Scripts [for the show] were coming in, and I immediately connected with the material, because I've lived that life," Pharoah says of the single-camera comedy created by Tom Kapinos.
Pharoah made his standup debut at 15 in his hometown of Chesapeake, Virginia. And despite a lack of local comedy heroes, he hasn't stepped back from the "life" since. "We have a lot of artists and football players, a couple of basketball players, but comedians?" he ponders. "There's not that many from our area who are known." He soon became a big fish in a small pond.
Pharoah caught his first break at the Virginia Beach Funny Bone when friend and fellow comic Freez Luv asked him to do a set. Unbeknown to Pharoah, Luv had set up an impromptu audition: The late Charlie Murphy—Eddie's older brother and a standup legend in his own right—was in attendance that night. Murphy approached Pharoah after the show with a simple question: "You ready to go on the road?" Their first stop was Carolines on Broadway in New York City. Pharoah was 18. Murphy helped guide his young protegé from that point on.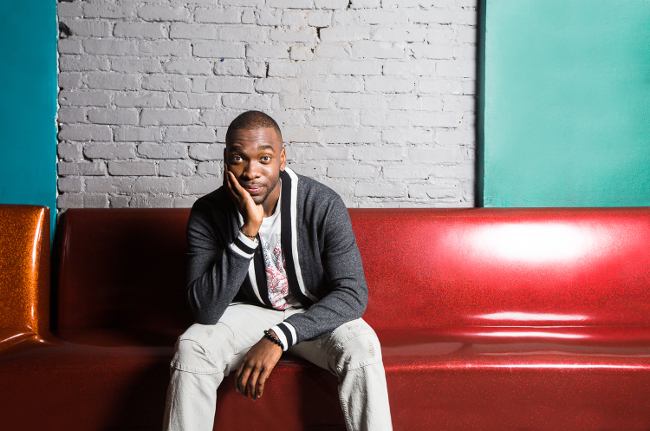 Shot on location at Max Fish in NYC.
"He always told me, 'Don't forget where you came from. Bring God on the stage with you all the time. Keep him with you. Stay prayed up, and never do coke.' And I still, to this day, will not touch it."
Now, after almost 15 years of putting in stage time, developing an online and small-screen fan base, and finally leading his first series, it's safe to say the Chesapeake native is at the very least "known."
Pharoah's early-career internet fame helped get him exposure. "Jay-Z, Nas, and 50 Cent were supposed to do this thing called the 'Empire State of Mind' remix, and I did it. Just me," Pharoah recalls. (The video, posted in 2009, was later blocked by Universal Music Group.) The spoof took off and brought attention to other videos on his YouTube channel, including a mock interview with Will Smith and Denzel Washington, both played by Pharoah. Lenny Kravitz showed the clip to Washington; Smith saw it, too. With a lengthy repertoire of spot-on impressions, "SNL" creator-producer Lorne Michaels came knocking in 2010.
"When ['Saturday Night Live'] happened, I was like, Yes, this is where I'm supposed to be." Pharoah played a handful of original characters, but the bulk of his time on "SNL" was spent doing pitch-perfect impressions of celebrities like Chris Rock, Drake, sports personality Stephen A. Smith, Shaquille O'Neal, and former President Obama.
Many comedians dream of joining the cast of "SNL," but few make it. Of those who do, none stay forever. At some point, every cast member has to ask, what's next? Pharoah understood that. "I'm always thinking 10 years ahead," he says. "I knew that ['SNL'] was just a start." His mentality was, "Work. Do as much as you can. Show your talent. Build that fan base, and then there's something broader."
After six seasons, Pharoah was released from "SNL." He found that transitioning to "something broader" is more difficult when you're known for one specific skill. Asked if he finds the title "impressionist" limiting, Pharoah answers, "It puts you in a box if you can't do other things." He cites Jim Carrey as an inspiration. "[He] was the best impressionist. [And he's a] phenomenal actor. When he finally got to show that, people were like, 'He's good. You can't stop him.' "
While he was a cast member on "SNL," Pharoah befriended Foxx, who hosted the show in 2012. "He was always looking for something for us to do together," Pharoah recalls. When Foxx came to him with "White Famous," not only did Pharoah see himself in the character of Floyd, he also saw an opportunity to show fans and critics his range while reaching a bigger audience. (Pharoah breaks into an impression or two in "White Famous," but the show is not a vehicle for faux-celebrity cameos.)
When we first meet Floyd Mooney, he's onstage in present-day Los Angeles, killing the crowd with an off-the-cuff ease that only comes after a decade of hard work. He's the king of the club, but it's a small kingdom. "Being on the chitlin circuit, being a hot underground comic and trying to cross over, I know how that feels," Pharoah says.
Floyd, both satisfied with his success in standup and ready for something more, gets an unexpected opportunity when his run-in with a rambling (and racist) studio exec is posted online and goes viral. "People cross boundaries sometimes," Pharoah acknowledges, without calling anyone out by name. "I have encountered folks who are totally blind to what they're saying. In their world, it's normal—they don't see anything wrong with it."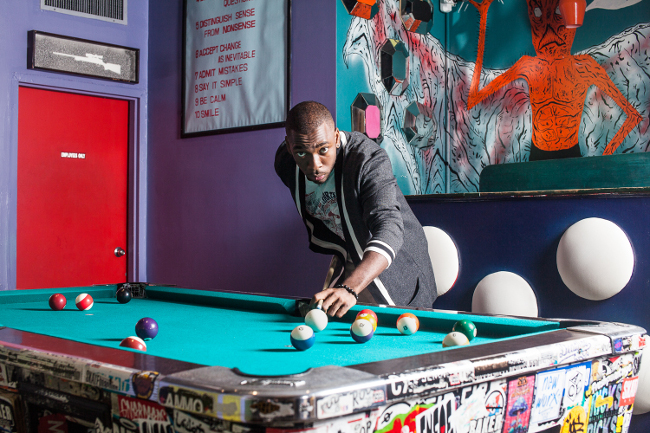 Navigating unintentional and often intentional racism in Hollywood as a black actor is only one of the topics the show addresses. Floyd is asked to sacrifice his self-respect when, following his 15 minutes of internet fame, he's offered a sizable role in a new film.
"Floyd doesn't feel like he has to compromise himself," Pharoah says about his character. "Me neither. Anything you don't feel comfortable with, you don't gotta do it." While that may sound easier said than done, Pharoah believes staying true to yourself pays off in the long run. "You might take a little [knock] on the chin, but you're gonna come back, man. People are going to respect you." Pharoah continues, " 'I respect you for that' means more than 'I think you're funny.' "
The parallels between Pharoah and Floyd are many, and may especially resonate with young black actors and comedians. While Pharaoh's ability to achieve "white fame"—on his own terms—remains to be seen, he's optimistic about the impact the series will have on his career. "It takes a village to raise a child, and it takes a village to build a show," he says. "We have a great village."
Check out Backstage's comedy audition listings!
Styling by Olivia Miles-Payne. Cardigan by Zara, T-shirt by James Bay for Topman, jeans by Hudson. Jacket by Zara, T-shirt by Zanerobe, jeans by Hudson, shoes by Common Projects.