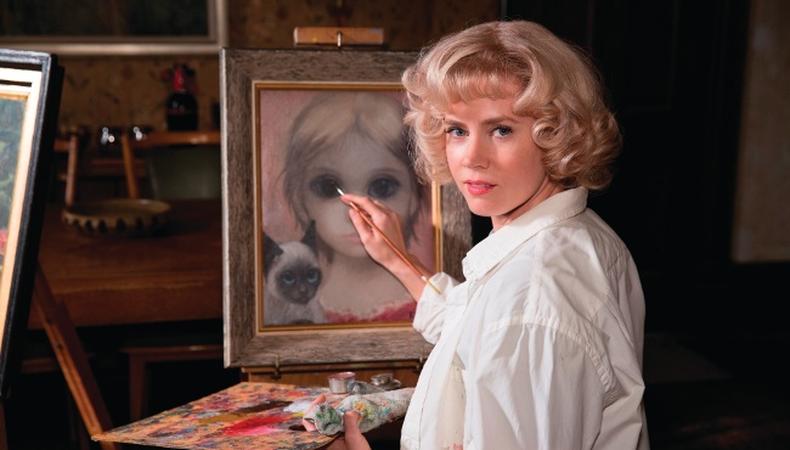 When casting director Jeanne McCarthy read the script for "Big Eyes," she clicked with the film's story immediately.
"I just loved it," she says. "It was one of those altogether satisfying experiences; it just had this rhythm."
Written by Scott Alexander and Larry Karaszewski ("Man on the Moon") and directed by Tim Burton, the film follows 1950s painter Margaret Keane (Amy Adams) through an emotional and legal battle with her husband Walter (Christoph Waltz), who took credit for her work under the reasoning that "sadly, people don't buy 'lady art.' " It wasn't until the wild success of Keane's paintings of huge-eyed children that she finally found the courage to take the credit, eventually challenging Walter to a paint-off in court to prove she was the real artist.
While the fact-based film is a departure from Burton's usual fare, we see his signature flair in Margaret's stress- and guilt-induced hallucinations, as well as in the contrast between the pastel world of 1950s California and the story's more menacing subject matter.
Casting the Oscar-winning Waltz and Oscar nominee Adams was an easy decision for McCarthy, who says Burton is one director who knows what he's looking for. "He communicates what he wants pretty clearly and he knows it when he sees it," McCarthy explains. "Tim goes exactly to what makes sense for him and he doesn't need to keep going once he's got it; he's amazing in the casting process because he'll just go right to it."
At the time of casting, the director was in London for preproduction and watched many of the auditions on tape, but it didn't hinder the process in the least. Along with Waltz and Adams, self-proclaimed Burton "superfan" Krysten Ritter ("Don't Trust the B---- in Apartment 23") joined the film as Margaret's supportive friend.
"Krysten Ritter, to me, seemed so much like somebody who should be in a Tim Burton movie," says McCarthy. "I know she adored him and the writers, and I had talked about this movie quite a bit even before Tim was directing, and we all thought Krysten would be perfect for that part.
"She auditioned along with a lot of other people and Tim was like, 'That's it, that's the one,' " she explains. "There were better-known people who were interested in the part, but that's not the way he casts. He wanted somebody who fit the tone of what he was doing and who was going to get the time period as well."
Also in a supporting role is Jason Schwartzman as an art dealer. "Jason came in and read for the part, which he only did because he really wanted to work with Tim," McCarthy says. "He doesn't read for movies a lot, but he came in and nailed it and Tim loved him.
"I already love casting," McCarthy adds, "but getting to work with people like Tim is like the hot fudge sundae of casting!"
Inspired by this post? Check out our film audition listings!