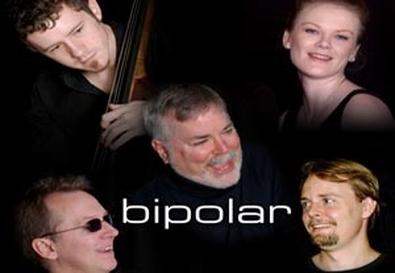 About midway through Bipolar's set at the Metropolitan Room, trumpeter-flugelhorner-founder Jed Feuer puts his instruments aside—those he can put aside—and applies a more than acceptable vocal instrument to Irving Berlin's "Stepping Out With My Baby." Other than some occasional scatting, which is also appealingly deft, he doesn't sing again, nor do any of the accomplished sidepersons making small big-band sounds along with him venture any trilling.
The nonsinging associates are alto saxist Stephanie Long, drummer Barbara Merjan, bassist David Ostrem, and pianist Craig Swanson, who writes the original tunes for the group when Feuer doesn't. Together they make the kind of now-traditional combo jazz that for a couple of reasons puts me in mind of the Eddie Sauter–Bill Finegan Orchestra, active in the 1950s and now practically forgotten.
One reason is the bright and bracing music made; another is the jaunts into unexpected musical territory. Feuer—taking himself farther than the Sauter-Finegan predecessors—thinks nothing of retooling, for instance, Ludwig von Beethoven (as he does with "Opus 31") or Johann Sebastian Bach (as he does in the "Kyrie" from the "Mass in B Minor"). You could say the result of such jovial treatment is that they emerge all fugued up.
Feuer announces his intentions with his opener, Richard Rodgers' "The Sweetest Sounds." From there, he and his ensemble—each of then getting more than one chance to shine as soloists—make sweet sounds, not just with refurbished classical themes but in various genres. After flavoring the Beethoven with a South American swing, the group gets bluesy on Swanson's "Saratoga Bluesprings," then film-noir underscoringish on Swanson's "Avenue of the Pines," then bossa nova–like on Feuer's "4 A.M." The mood darkens considerably on Feuer's ballad "A Total Loss," which sounded to me as if the melody longs to have words added. Perhaps man of many talents Feuer already has some in mind, something about an ended affair not being a total loss. Leastways that's the message the mournful melody sent me.
One of those Feuer talents is his way with a funny comment. His influences in the area aren't mysterious. Telling a funny Richard Rodgers story after "The Sweetest Sounds," he mentioned he knew Rodgers, thereby obliquely referring to his show-biz upbringing as the son of Broadway figure Cy Feuer. The son of any man who produced the first
Guys and Dolls
, among many other Broadway hits, was brought up among wits and likely to pick up their polished, though often broad, verbal acuity.
Feuer's spoken wit is echoed in the title of Bipolar's CD,
Euphrates, Me Jane
, and also accounts for the wit behind the music. And believe me, wit in a cabaret room these days is nothing to sneeze at.
Presented by and at the Metropolitan Room
,
34 W. 22nd St
.,
NYC
.
April 20
–
27. Mon
.,
7 p.m
. (
212
)
206-0440 or www.metropolitanroom.com
.