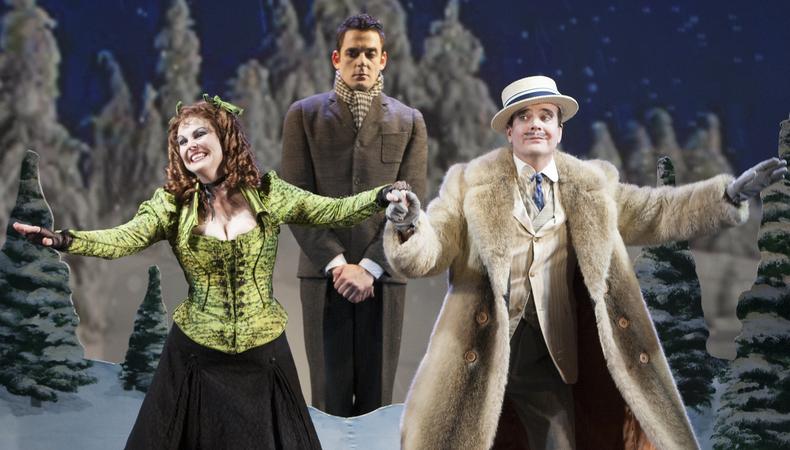 After experiencing its world-premiere production at San Diego's Old Globe Theatre, it's not so difficult to understand why Robert L. Freedman and Steven Lutvak's "A Gentleman's Guide to Love and Murder" took eight years to come together. Like the music box that springs open in the first scene to reveal important letters to our anti-hero, the musical is a contraption of delicate and decidedly tricky parts—from a patter-stuffed tongue-twister of a score to the synchronicity with which leading ladies Lisa O'Hare and Chilina Kennedy negotiate a pair of songs to the octet of aristocrats, squires, hams, and boobs played in a tour de force by the remarkable Jefferson Mays—that must mesh just so. All these elements are present and clicking like a freshly unwrapped metronome, but under Darko Tresnjak's direction you're never pulled out of the fun long enough to wonder how it's done. The show is constructed in the style of early-20th-century British music hall, and blamed if it doesn't entertain like a dream.
Based on Roy Horniman's novel "Israel Rank"—also the source for the film "Kind Hearts and Coronets"—"A Gentleman's Guide to Love and Murder" finds Monty (Ken Barnett), a British commoner, discovering that he's ninth in line to inherit the Earldom of Highhurst and electing to murder the members of the odious D'Ysquith family standing in his way. In the process Monty keeps a mistress, Sibella Hallward (O'Hare), and courts the comely young Phoebe D'Ysquith (Kennedy). Barnett is tall, sallow, and a bit vampiric, largely playing things straight, despite a wicked gleam in his eye, while surrounded by high comic mayhem. He possesses a strong and nimble voice, and while the shape-shifting Mays will get many of the plaudits, Tresnjak has chosen his leading man wisely.
Ditto the dames. O'Hare convincingly takes Sibella from a vapid social climber—resplendent in Linda Cho's formfitting pink gowns—to a conflicted lady who is living with the consequences of a bad choice. In song and speech she is seriously sexy. Kennedy, as the good girl, matches O'Hare at every step. "I've Decided to Marry You," a delectable trio for Monty, Sibella, and Phoebe, is a feat of vocal dexterity for the performers.
Scenic designer Alexander Dodge frames the action inside a decorated music hall arch that somewhat resembles a box, creating a playground for Mays, who changes so quickly from D'Ysquith to doomed D'Ysquith that one almost can't keep up. The performance requires a healthy amount of song and dance, to say nothing of marches, emoting, aristocratic what-whatting, and all manner of hilarity. If "A Gentleman's Guide to Love and Murder" makes it to Broadway, Mays will likely have to clear off his shelf for a round of awards. To the show's credit, however, Mays is but one—or make that eight—of many delights.
Presented by the Old Globe, in association with Hartford Stage, at the Old Globe, 1363 Old Globe Way, San Diego. March 13–April 14. (619) 234-5623 or www.theoldglobe.org. Casting by Jay Binder/Jack Bowdan, Binder Casting.
Critic's Score: A