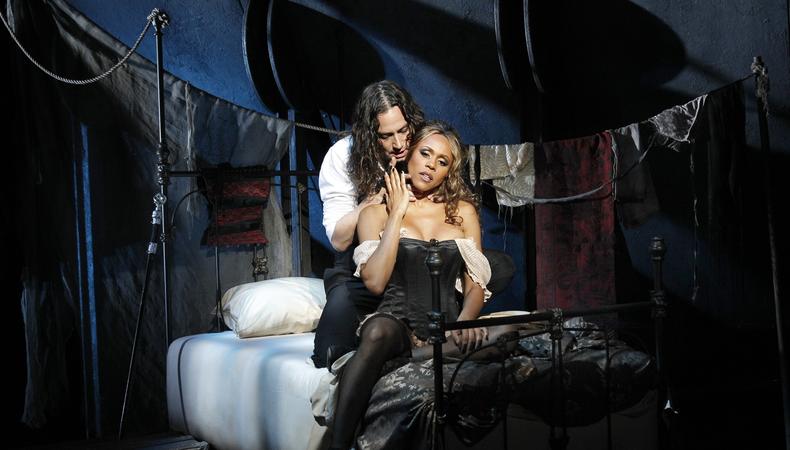 The bill for stage smoke must be a big one over at the Marquis Theatre. The stuff billows forth in unrelenting profusion during director-choreographer Jeff Calhoun's expressionistic, would-be steampunk revival of "Jekyll & Hyde," composer Frank Wildhorn and book writer–lyricist Leslie Bricusse's monumentally dumb 1997 Broadway musical adaptation of the classic Robert Louis Stevenson novella. Unfortunately, it never achieves the critical mass necessary to obscure the proceedings.
It's hard to understand why Wildhorn chose loud rock music as his vocabulary for this show. It has no connection to time, place, and character, and it works actively against the depiction of severely repressed emotion, a hallmark of Victorian society and so necessary to the story. Rock does provide energy and the opportunity for extreme vocal pyrotechnics, and in light of Bricusse's barely there book and soporific, simplistic lyrics this production smartly takes full advantage of both.
Though the original ran a little more than three years and developed a devoted cadre of followers known as Jekkies, it failed to recoup its investment, which may be why the producers have headlined the current version with two stars—"American Idol" runner-up Constantine Maroulis and Grammy Award–winning recording artist Deborah Cox—and limited the Broadway run to 13 weeks as part of a much longer national tour. This last fact is probably responsible for the spareness of Tobin Ost's bits-and-pieces set, something somewhat compensated for by Ost's lush period costumes and the always excellent Jeff Croiter's heavily atmospheric lighting. Daniel Brodie's cheesy projections, however, are another matter entirely.
Neither Maroulis, as Dr. Henry Jekyll and his evil twin Edward Hyde, nor Cox, as London prostitute Lucy Harris, is a stranger to the Broadway stage, which shows in their committed performances. That they are one-note performances is the fault of the writing, not the stars. Both struggle with uncomfortable-sounding English accents, which they happily divest themselves of when singing—and boy can they sing. Maroulis is tautly understated in his bits of recitative, and he powers his way through the big songs confidently, delivering an impassioned "This Is the Moment" (possibly the most vacuous theater song in existence) and providing some electric rock-tenor screaming as Hyde. (Now there's an idea: What if only Hyde sang rock, and everyone else sang in a vocabulary flavored by the era's music? Ah, but that's another show.)
Cox does well by Lucy's two big ballads, "Someone Like You" and "A New Life," as effective in their quiet sections as she is successful in negotiating that inevitable "American Idol" build to pop wailing. It's too bad that Calhoun never lets her cut loose on "Bring on the Men," a raunchy music-hall turn that the director-choreographer tries to stage too sensuously, missing by a mile. (Indeed, much of Calhoun's staging is unaccountably awkward, including a head-scratching instance when, after Lucy has visited Jekyll at his home, the good doctor says to her, "I'll see you out," then abandons her in his parlor, where she sings most of her next song to an empty room.)
The attractive Teal Wicks, as Jekyll's fiancée, Emma Carew, also displays powerful pipes but can't make us believe that Emma would still go through with her wedding after all she has undergone with her man. Laird Mackintosh is appropriately increasingly disconcerted as Jekyll's loyal attorney, and Broadway veteran Richard White wisely plays things close to the vest as Emma's loving father.
Cox was interrupted twice in mid-song for cheers and applause generated by a note she had just produced. Obviously, those were patrons unconcerned with being in the dramatic moment, and that is undoubtedly the audience for "Jekyll & Hyde."
Presented by Nederlander Productions, Independent Presenters Network, Chunsoo Shin, Luigi Caiola, and Stewart F. Lane/Bonnie Comley at the Marquis Theatre, 1535 Broadway, NYC. April 18–June 30. (877) 250-2929 or www.ticketmaster.com. Casting by Telsey + Company/Justin Huff.
Critic's Score: D+