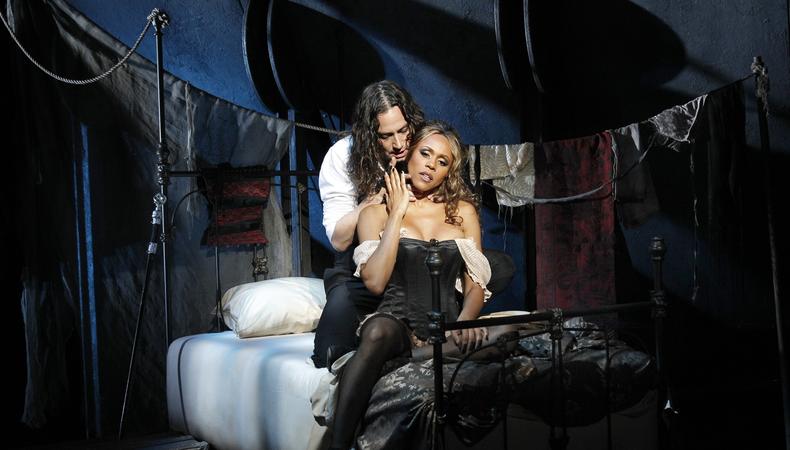 "Jekyll & Hyde" originally played a lengthy national tour during which tweaking the script and score became something of a cause célèbre. A subsequent production had a long stay on Broadway, where this musical adaptation of Robert Louis Stevenson's classic story won the hearts of audiences but not many critics. Now, under the ingenious leadership of director Jeff Calhoun, the good doctor is on the road to the Main Stem again.
Frank Wildhorn's operettalike score and Leslie Bricusse's book and lyrics appear to be basically unaltered, but what Calhoun and his designers have brought to this reinvention is a bold new sexiness and a visual splendor that heighten the experience. This is especially true of Tobin Ost's towering set. No wall is vertical, and it moves and shifts like a hydraulically enhanced version of "The Cabinet of Dr. Caligari." Still, the new take is not without distractions that do not serve the story. The show feels like a Victorian-themed pop concert rather than musical theater. The multiple high-note hitting, overly amplified stuff that reality shows such as "American Idol" have made popular to a whole new and infinitely more forgiving audience, is the attraction. Purists will be disappointed; MTV and "Glee" audiences will jump to their feet.
"Idol" star Constantine Maroulis has an incredible voice that's able to leap tall buildings in a single bound. However, after establishing his range and power in his first two numbers, "Lost in the Darkness" and "I Need to Know," the rest of his songs become repetitious. We know he can hit that one amazing note, but doing it over and over again loses its punch. The same is true of R&B singer Deborah Cox, as his bargirl obsession Lucy, another performer possessed of showstopping vocal calisthenics, but the show is stopped too many times before the final curtain for both her character's and the musical's good.
Maroulis mumbles and whispers through his incarnation as proper gent Henry Jekyll, offering an unsure English accent and creating such a 98-pound weakling milquetoast that he almost fades into the scenery when not hitting those high notes. When the performer emerges as the dastardly Hyde, loosening his signature ponytail to unleash his Medusa mane with a toss of his Clark Kent glasses, he turns more into a strutting lead singer for a 1980s heavy-metal band than the ominous Hyde.
Teal Wicks, possessed of a lovely, lyrical quality in both voice and performance, emerges as the company's winner, properly understated as Henry's suffering fiancée, Emma. The evening's highlight is the minimally staged duet for Emma and Lucy, "In His Eyes," in which the women sing their hearts out from opposite sides of the stage. But it is with Emma's character that the musical's basic flaw is revealed: Briscusse's painfully hackneyed lyrics, such as in "His Work—and Nothing More," in which she is forced to sing "I dream and pray/Everyday/That Henry will/Find his way." Bravo to Wicks for getting through it so admirably.
Presented by Nederlander Presentations at the Pantages Theatre, 6233 Hollywood Blvd., L.A. Feb. 12–March 3. (800) 982-2787 or www.ticketmaster.com. Casting by Telsey + Company/Justin Huff.
Critic's Score: B-