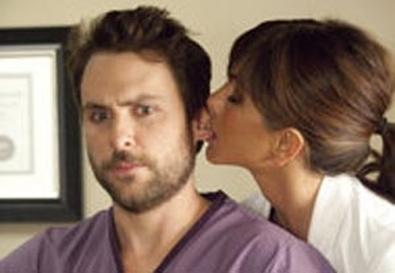 NEW YORK (AP) — In her new film, "Horrible Bosses," Jennifer Aniston's character is one you haven't seen her play before. She's a dentist who sexually harasses her assistant, complete with lewd dialogue, revealing outfits and outlandish advances.
She's the latest actress to take on a raunchy role usually reserved for men, following the recent trail of trash talk from Cameron Diaz in "Bad Teacher" and the cast of "Bridesmaids."
Better known for playing sweeter characters in romantic comedies, Aniston acknowledges that her "Bosses" role is a "departure," but she says she couldn't resist sinking her "teeth into something this juicy." "The minute it showed up at my door and I read her first scene I was dying to do it," the actress said in a recent interview to promote the film, which opens Friday.
Aniston also admits, however, that when it came time to do the character, she wondered what she had gotten herself into.
"The truth is when you get there you go, 'Oh God, now I have to do this like in front of people,'" she said.
Aniston refers to one scene where she's trying to blackmail her assistant (Charlie Day) into having an affair with her using photos she took of him while he was unconscious.
"It's like, you think it's so hysterical and great," she explains, "but then comes the day when you actually have to straddle sweet Charlie Day with his pants down and it's just that day, you're like, 'Oh God. I choose to do this, right?' Yes."
The 42-year-old actress declined to comment on her reported relationship with Justin Theroux, her co-star in the upcoming film "Wanderlust" and someone she's been seen with around New York City.
She does concede she's spending more time in Manhattan these days, amid media reports she just purchased a West Village apartment. But while she loves being in New York, Aniston says she hasn't abandoned her home base in Los Angeles. Instead, she says she'll "be bopping back and forth" for now.
As for reports that she "stole" Theroux from his girlfriend, Aniston says she just blocks out that sort of press as much as she can. "You turn it off. You can't listen to it. It's toxic. It's noise. It's soap opera stories. It's headlines. It's selling magazines," she says.
Aniston says while such news coverage is "part of our culture, unfortunately," she doesn't understand it. "People don't like good news. People want bad news sometimes."
---
Copyright 2011 Associated Press. All rights reserved. This material may not be published, broadcast, rewritten, or redistributed.