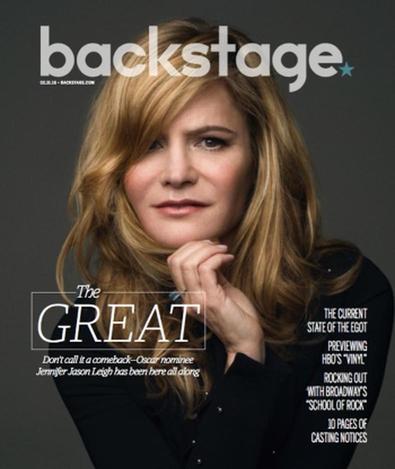 Even Jennifer Jason Leigh has to audition for her roles—and she's considered by many to be one of the most exhilarating actors in film over the last 30 years, from her iconic performance in "Fast Times at Ridgemont High" to her go-for-broke work in "Georgia." Not that she minds, of course.
"I read for ['The Hateful Eight']," she says shortly after her Backstage photo shoot. "I don't mind. I really don't. I'm shy. I'm great at acting; I'm not great at chatting. When you get to a point in your career, you don't read anymore. But I'm sure I've lost jobs having coffee with a director. Not that I'm horrifically boring or anything, but I'm really good at acting. That's what I do."
The key to Leigh is in that statement of fact: She's good. There's no false modesty about her, but neither is she one to flaunt her talent. Her best performances (including Daisy in Quentin Tarantino's bloody Western "The Hateful Eight," for which Leigh earned the first Oscar nomination of her career) find her burrowing deep into a character, which has made her a consummate actor but never a "movie star." And one gets the sense that she wouldn't have it any other way.
"If you watch children play their make-believe games, that they're knights or playing house or whatever imaginative play that they do, they take it very seriously," she says. "But they're playing. And you feel the complete absorption in what they're doing—the complete focus—and also the play. That's really what acting is. There's something very childlike about it. I can play all these different people whose lives I would never want to have. But they're great parts, and they're the best parts. I don't have to live it at all, but I get to play at it. And it is really fun. Acting is fun."
Fun isn't necessarily the word one would use to describe either of Leigh's roles in 2015. Not Lisa in Charlie Kaufman's heartbreaking, stop-motion-animated "Anomalisa," and certainly not the battered and bruised Daisy, the prisoner at the center of Tarantino's gory good time. Surrounded only by men—including Samuel L. Jackson, Kurt Russell, Walton Goggins, and Tim Roth—the condemned Daisy has nothing to lose. And during filming, Leigh locked into the character during frantic guitar lessons to learn not only the guitar from scratch but how to pick with both hands.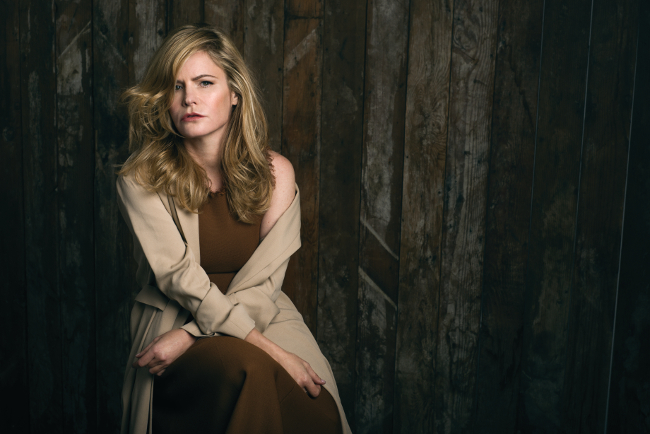 "When Quentin Tarantino says, 'You can do it, I have faith in you,' you're not gonna let that guy down, you know?" she says "I felt incredibly vulnerable because I didn't want him to see [my fear]; same with Daisy. So there was always this motor underneath of, 'I've got to get this right, I've got to learn this thing.' It was this incredible gift that he gave me, this insurmountable thing to do in the movie that was so foreign to me. I love him for giving me that."
Their well-matched collaboration was apparent from her first reading with him, though it was initially a terrifying experience. When she arrived at Tarantino's house to read, Leigh had studied the entire script save the last act, which she hadn't been given, and was attracted to Daisy's silence. "The fact that Daisy didn't say a lot was, like, 'This is my wheelhouse. This is something I know!' " Leigh says with a laugh. "I am very comfortable keeping my mouth shut."
Until, that is, Tarantino handed Leigh the final act and told her to look it over before they read together. As it happens, Daisy bursts out with a torrent of words near the end of the film, something that Leigh definitely hadn't been expecting.
But then Tarantino, whom Leigh describes as "goodness," sat beside her on a couch. "Instead of having a director watch you from 6 feet away, he's reading with you, he's in it, he's enthusiastic, he's in your corner," she says. "You feel not only his energy but you feel his affection, you know? Quentin Tarantino is just a really good guy and he genuinely loves actors. He loves everyone on his crew. And you just go for it and you have a great time."
Leigh's other great time recently released in theaters was "Anomalisa," maybe the most melancholy stop-motion-animated film ever made. In it, she voices Lisa, a woman who attends a conference in Cincinnati to hear inspirational speaker Michael Stone (David Thewlis), for whom everyone else in the world shares a face and a voice and who is drawn to Lisa's oddness and quietness.
"Anomalisa" originally began life as a staged reading of the script written specifically for Leigh, Thewlis, and Tom Noonan, something Leigh still marvels at. "He wrote it for everybody who was in it, so that was hugely flattering because I've always thought of my voice as being a bit… In my family, I have the weakest voice," she says. "So for Charlie to write this for me meant a lot. It's all about the voice, and it was written for me! It gave me a little confidence in a place where I didn't have much."
That even Leigh can still lack in confidence should be a lesson to every actor: No matter what level you reach in your career, good actors will always strive to keep learning and growing. That's why Leigh—who has a reputation for prodigious research—advocates staying open to all methods, whether you use them or not.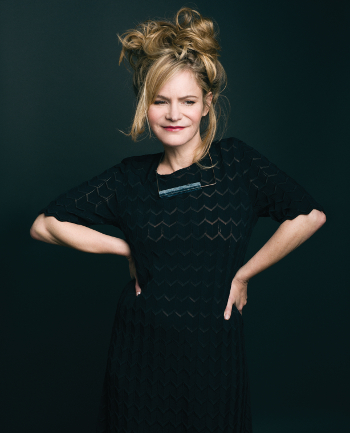 "There have been some films where I've spent time pacing or staying up all night or trying to get in the head frame in a different way. I don't judge anyone for the way they get there," she says. "I think all opportunities are valid, and all should be experienced. If you let yourself be open to that rather than box yourself in... if you just stay open, you can get to those places easier. And when you're working with great actors, staying in the moment is so easy because they just drag you in. It's like a magnet."
As for her suddenly busy 2015, Leigh takes it all in stride. "Anomalisa" was recorded over three days, but then took years (and a Kickstarter campaign) to complete before the film premiered at the 2015 Telluride Film Festival to acclaim. And "The Hateful Eight" shooting went on for nearly six months, though Leigh happily points out that it was an experience that no one involved wanted to end. "And that's rare," she adds dryly.
And when it comes to memorizing the massive script, Leigh has one piece of advice: "Know that motherfucking script backward and forward. You get new things with it every time. And with a good screenplay, you're constantly surprised."
Same with a good actor.
Want to read more? Check out our Backstage covers here!