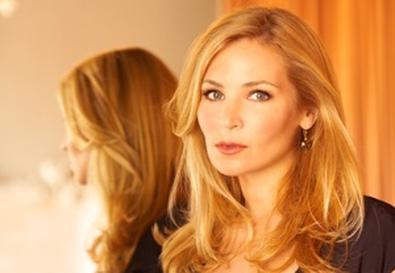 With her three films, Jennifer Westfeldt has explored the pivotal phases of life. In "Kissing Jessica Stein," which she wrote and starred in with Heather Juergensen, Westfeldt played a single New Yorker who attempts a lesbian relationship after a series of disastrous dates with men. Her script for "Ira & Abby" cast her as a twice-divorced woman who marries a virtual stranger. And in her directorial debut, "Friends With Kids," Westfeldt and Adam Scott play best friends who decide to have a baby together while continuing their pursuit of love with other people. "I didn't even realize it until I finished the last one what I had done," Westfeldt says with a laugh. "I made three films in 10 years that form a weird trilogy of subversive rom coms about the stages of life I was experiencing: dating, marriage and divorce, and having kids. I was observing what was happening around me with all the friends in my life and trying to find an artistic response to those life stages."
"Friends With Kids" premiered at the 2011 Toronto International Film Festival, where it proved a hot ticket thanks to its ensemble cast, which includes Kristen Wiig, Megan Fox, and—not least—Westfeldt's longtime love, Jon Hamm. Though the film quickly sold to Roadside Attractions and will hit theaters March 9, Westfeldt says the September premiere at the 1,200-plus-seat Ryerson Theatre was a nerve-wracking experience. "We'd never screened the film for more than 30 or 40 people at a time, and I had absolutely no idea how it would go over," she says. "I spent most of the time huddled with Jon in the back, my head buried into his shoulder. It's a very vulnerable thing."
"Friends With Kids" (Roadside Attractions)


The response to "Friends With Kids" has been positive, with Scott earning raves for his leading-man performance and Westfeldt being praised as a filmmaker to be reckoned with. While the film starts out as a fairly conventional romantic comedy, it takes a dramatic turn midway through and poses some big questions about the nature of love and commitment. But to focus on such depth in what is generally considered a breezy genre is to overlook just how funny the movie is. Westfeldt seems to specialize in approaching a familiar story in new ways. "If my three films have a common thread, it's that they're all asking the same question, which is 'I know it usually goes this way, but why can't we go this way?' " she notes. "With 'Jessica Stein,' it's about if you find a girl who's really great, why can't it work out? With 'Ira & Abby,' it's the idea that if half of marriages end in divorce, don't you have as good of a shot with a perfect stranger as you do with someone you've been with for years? This film is about why can't we turn the system on its ear and co-parent as dear friends and find romance elsewhere? Why can't we turn the norm on its head?"
Becoming 'Jessica'
By now, the Cinderella story of Westfeldt's first movie is indie film legend. After matriculating at Yale University, she attended a five-day retreat for artists in 1997 where everyone was encouraged to do something in another creative field. "So directors had to act, and actors had to write," Westfeldt says. "I'd never written before then, except for papers in college. But I wrote one little scene that was about this terrible date." At the retreat was Juergensen, who had also written a piece about men and women failing to connect. "We sort of clocked each other and said we should put up a night of bad-date sketches sometime," Westfeldt says.
Later that year, Westfeldt journeyed to Los Angeles for the first time and landed both an agent and a pilot within a week. "It was a strange, lucky confluence of events," she says. The pilot, "Two Guys, a Girl and a Pizza Place," went to series, but it was pushed to a midseason show, giving Westfeldt seven weeks off with nothing to do. She promptly called Juergensen, and the two agreed to put up their night of sketches at a small theater in New York City. One of the pieces was about two girls at a spa discussing their bad luck with men and how they should become lesbians. "Once we wrote that sketch, we felt like a narrative thread was forming, and it led to a jumping-off point for a second act where this experiment was pursued by these women," Westfeldt notes. "It became this little play we had written at the end of seven weeks called 'Lipschtick,' and we performed it three nights in the basement of a church, a little theater called The ArcLight Theatre." Their final performance was on a Saturday night. On Sunday the set was struck, and Westfeldt returned to L.A. to start her show. "On Monday my agent called and said, 'Ten studios have called to option this into a film,' " Westfeldt recalls.
Though their pitch for the film that would become "Kissing Jessica Stein" sold quickly, years of development hell and turnaround ensued before the pair bought back the rights and got the film made and released in 2001. The critical and financial success of the movie changed Westfeldt's career. "To this day, it's the role people identify me with, more than anything else I've done," she says. She credits the film with leading to her Broadway debut in 2003's "Wonderful Town," for which she received a Tony nomination. "It's kind of hilarious because theater was how I had envisioned my career, and I had to do television and film to have that happen. I guess that's the nature of this business; you never know what the thing will be that helps you get the other thing."
Birthing 'Kids'
Westfeldt says that after "Jessica Stein," she was sent a lot of scripts with "lesbian themes and uber-neurotic characters," and she took precautions to avoid being typecast. "As actors, we're always looking at what's out there and how you can feed your creative self," she says. "And honestly, there aren't that many interesting roles for women in TV and film unless you're on the list of five girls who get to choose what you want to do." Between her films, Westfeldt worked regularly in television, perhaps most memorably in story lines on "Grey's Anatomy" and "24," and she tries to get back onstage every two years. "I'm so grateful for television, because you can't really survive doing independent films and Off-Broadway theater," she says with a laugh. "It's been nice that I've been able to bounce back and forth between these various mediums."
Westfeldt knows she's not alone in being pigeonholed and cites the casting of Scott in "Friends With Kids" as an example. "Adam's been a dear friend for 14 years, and we've seen him do everything, from drama onstage to being unbelievably dramatic in 'The Vicious Kind,' " she says of the stark drama for which Scott earned an Independent Spirit Award nomination. "And when we were putting the movie together, people were watching him on 'Parks and Recreation' and saying, 'We get that he's totally charming and comedic, but does he have the dramatic chops?' I was like, 'Really? Please, don't speak to me again until you've watched "The Vicious Kind." I'm not even going to have this conversation.' It was this funny thing that he was suddenly identified as this comedic actor, and they forgot he has these dramatic chops we've seen on his HBO series ['Tell Me You Love Me'] and onstage. He can do anything. His range is tremendous, and that's what we needed for this role."
Though the role wasn't written with Scott in mind, Westfeldt says he performed it at her first reading. "After that moment, it was really hard to imagine anyone else doing it," she says. The first reading occurred in February 2010, and Westfeldt says she had planned it before finishing the screenplay. "I'd given myself a deadline as a writer and invited over these great actors before the script was done," she says. "I had to pull a couple all-nighters. The script was literally printing as people were arriving. Jon was pouring wine for everyone, and I was furiously highlighting pages."
Westfeldt wasn't originally going to direct the film; she had never considered the possibility. "Like the writing, it sort of happened to me," she says. "Jake Kasdan was going to direct, which I was thrilled about. But with every independent film, it's so hard to get it made, and all the elements have to come together in the same four-week chunk. You're dealing with actors' availability and the money coming together and et cetera, et cetera, et cetera. It became clear we had this one window with this cast and if we didn't take it, we weren't going to be able to make the film. The way to keep on track and on schedule was for me to step into the director's role." Kasdan stayed on as a producer, and Westfeldt cites his involvement, along with the cast and crew, for aiding her with the steep learning curve. "I was nervous about it, and the only reason it worked as well as it did was because I had an amazing group around me," she says. "So I'm incredibly grateful for the challenge, even if I wouldn't have necessarily chosen it."
Perhaps the most difficult scene to shoot occurs at the aforementioned midway point in the film when the tone shifts more to drama. Four couples are vacationing in Vermont when a tense discussion erupts at the dinner table. "That scene was a real risk," Westfeldt says. "It's incredibly odd and not screenplay structure to have this 10-minute real-time scene in the middle of a romantic comedy. It's a strange and scary choice that I wasn't sure would go over. And we had to shoot it in one day, and our days were short. Everyone really had to be on their game, which everyone was. What an amazing cast; what a gift."
Although Westfeldt wouldn't have initially chosen writing or directing, she is proud to list herself among the women filmmakers working today. "It's really been a year of sisters doing it for themselves," she says. "At Sundance there were, like, five movies where women were writing roles for themselves. And the success of women like Lena Dunham and Miranda July and Tina Fey and now Kristen [Wiig], among others; it's a pretty cool time to see how much has evolved in that regard." She hopes that this will breed more interesting roles that speak to women directly. "I'm happy to be part of that wave, and I'm inspired by how much of that is going on. It feels like there's a wave happening of women taking a little more control of their own creative fates."
---
'Bridesmaids II'?

In "Friends With Kids," Adam Scott and Jennifer Westfeldt play single buddies who hang out with two married couples, Leslie and Alex (Maya Rudolph and Chris O'Dowd) and Ben and Missy (Jon Hamm and Kristen Wiig.) Wait, so how did half the cast of "Bridesmaids" end up in the film? "It's a coincidence, oddly!" Westfeldt says with a laugh. "Kristen was someone we went to early, and she really responded to the script and this role—I think because it's different from what she's had a chance to do before. She was sort of informally attached before she even shot 'Bridesmaids.' And Chris O'Dowd we found in the casting process. I didn't know him, and I sat down and took this meeting and he was just the most charming person ever in the land. I had always pictured Alex as this oversize teddy bear, this wildly likable guy. And that was him." As for Hamm, Westfeldt knew he would be in her film from the start. "But Jon only shot a day and a half on 'Bridesmaids.' He didn't even know if he would be in the movie. A lot of people get cut from Judd Apatow's films because he shoots so much and there's so much ad-libbing and improv. So we didn't even know that Jon would be in the movie; we didn't even think about that. It actually all happened very organically."
---
Outtakes
She is in the midst of developing a series to star in, with Alan Ball as executive producer: "I can't really say much about it yet. But it's exciting to dive into another juicy world."
Other TV work has included series-regular gigs on "Holding the Baby" and "Notes From the Underbelly."
She says directing her friends wasn't a strange experience: "With this group, they're all so amazing, it's not like they're ever going to be far afield. You're really just helping them find the best version, the most nuances, the most choices for the editing room. It's not like directing them whole cloth; it's more about shaping and molding them and helping them find the nuances in the characters."